Have another workshop clearout of parts, lots of top kit, all interest on here FIRST, then pm to seal the deal.
All prices are posted to the UK and discounts for multiple buys. More to be added when I get time.
USE Black Alloy 25.0mm post full 440mm long with a few shims lower worn, but this will be in the seat tube, £32 SOLD
RockShox Indy C in fine condition 190mm Ahead 1-1/8th steerer, no decals £30 posted SOLD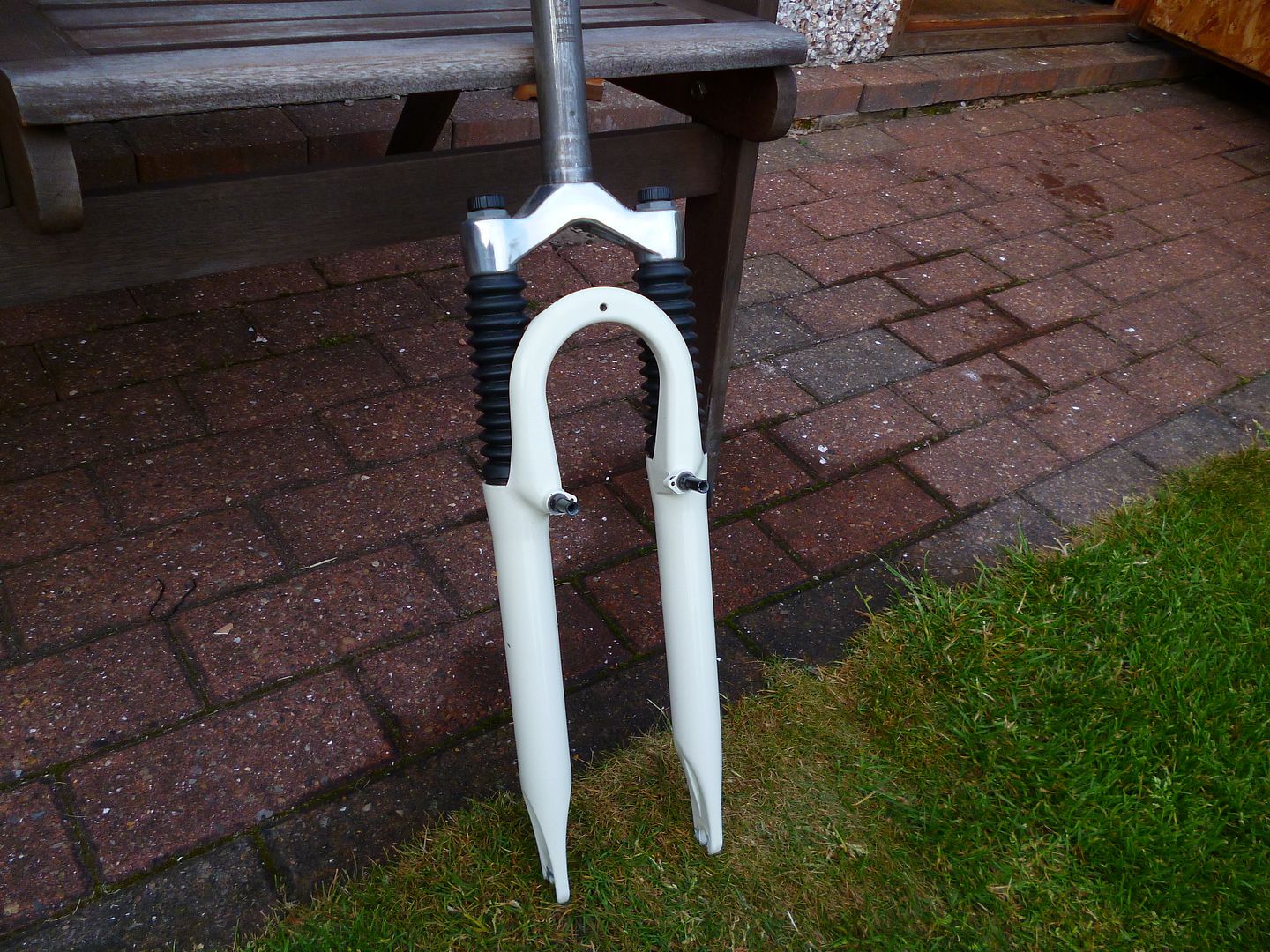 WTB Pure race Titanium railed saddle, little ridden very comfy (have several of these) Not heavy either, as used on Yeti's for some years £32 posted SOLD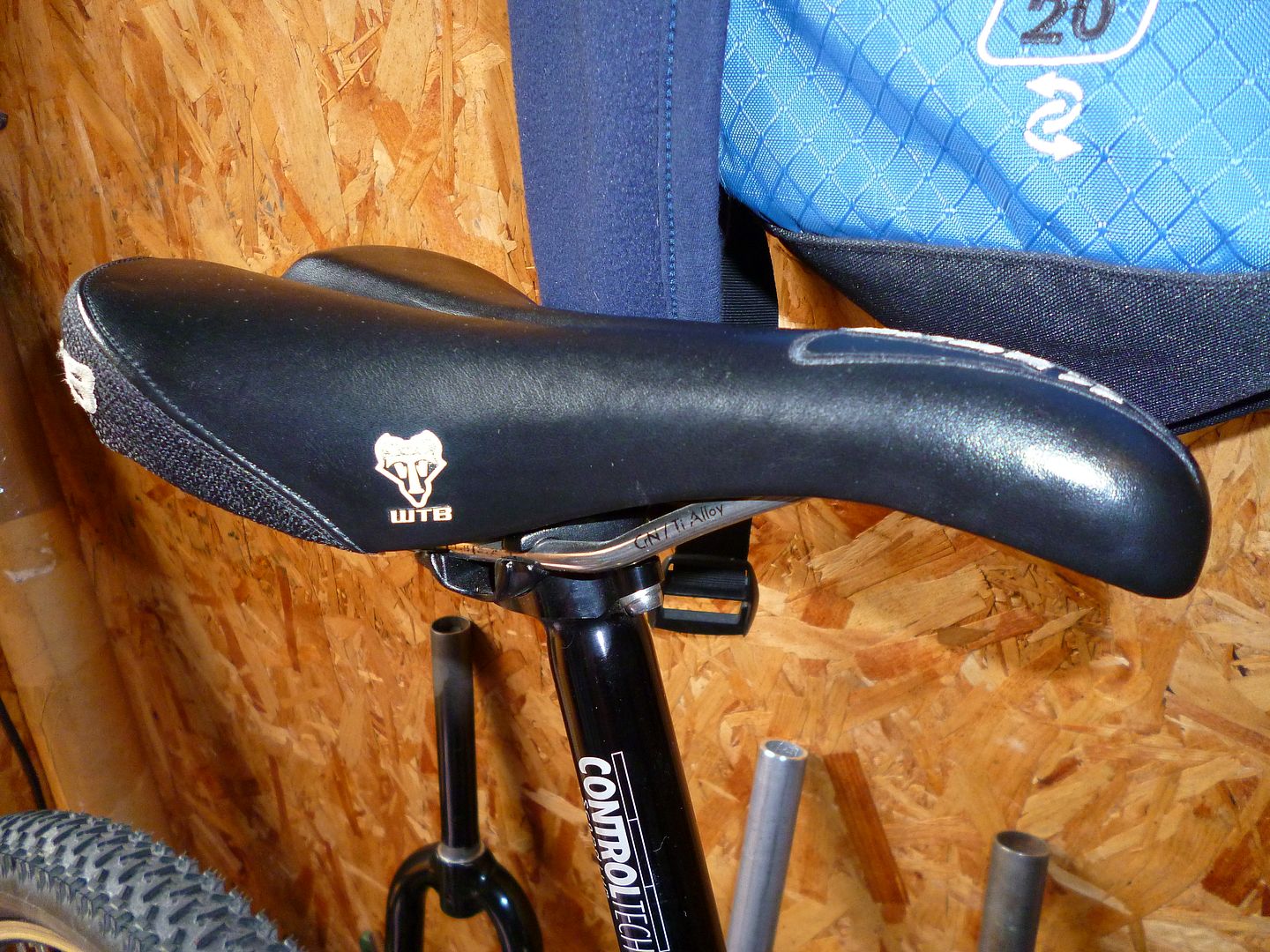 Cannondale P-Bone forks 188mm 1-1/8th steerer and 40cm axle to crown, so the shorter version, tidily resprayed black. Was keeping these for a build, but too short for the frames I have, so £45 posted SOLD
Control tech cnc Canti set, Full set in Black, barely used, all Ti hardware probably as light and efficient as any Canti's you can buy. Spare set of Silver arms included £120 SOLD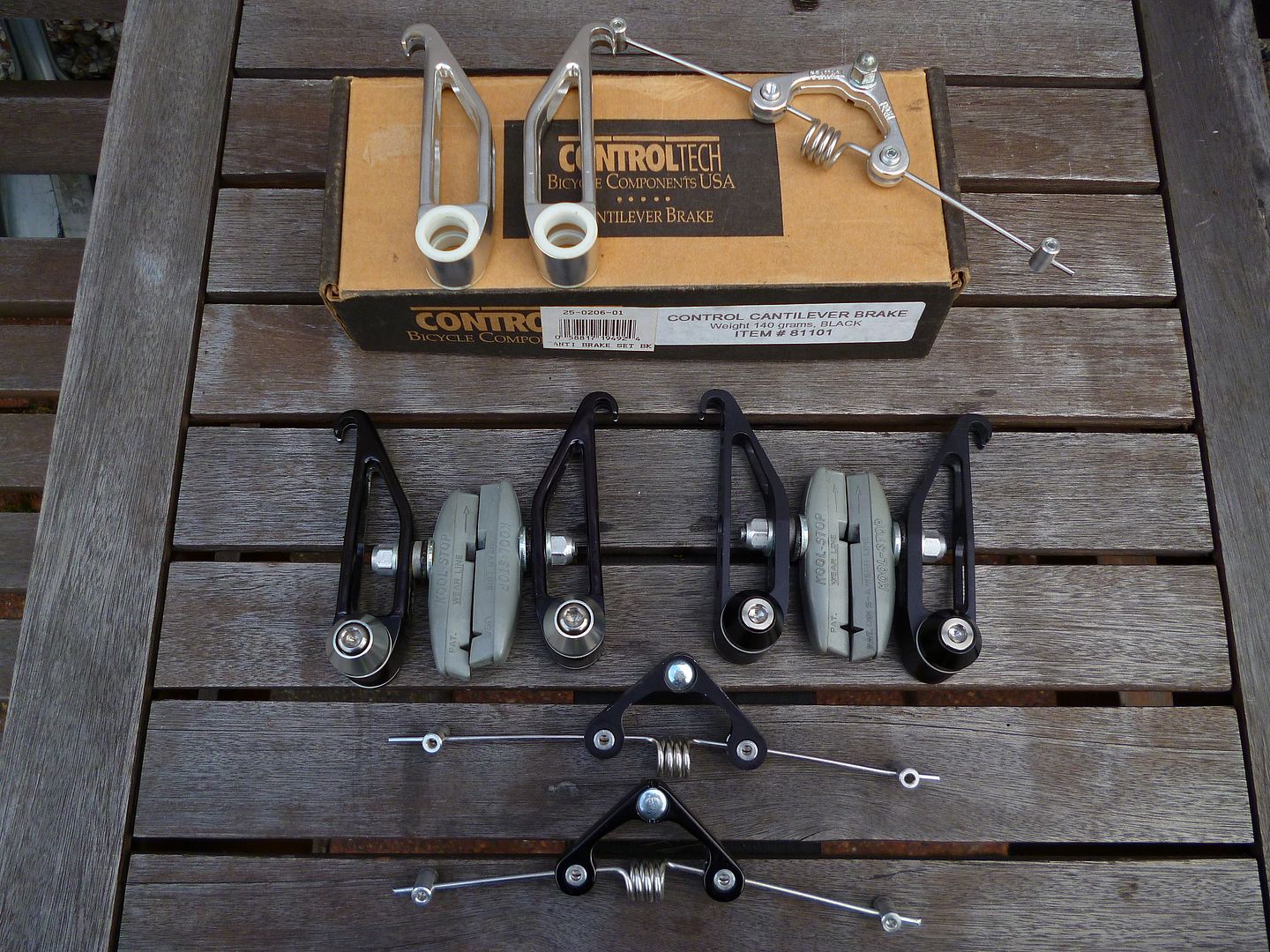 Hope Ti Glide 32H wheelset. Mavic 719 rims DB spokes, little wear to rims, Includes Control Tech Titanium skewers pictured (these are only 44g) Bearings are all silky smooth and the freehub has the wonderful Hope sound, rims are true. £135 posted (Cassette near new 12-26 available with for another £20) SOLD
Control tech Ti skewers, allen bolt £25 only with the wheels. Not for sale separately.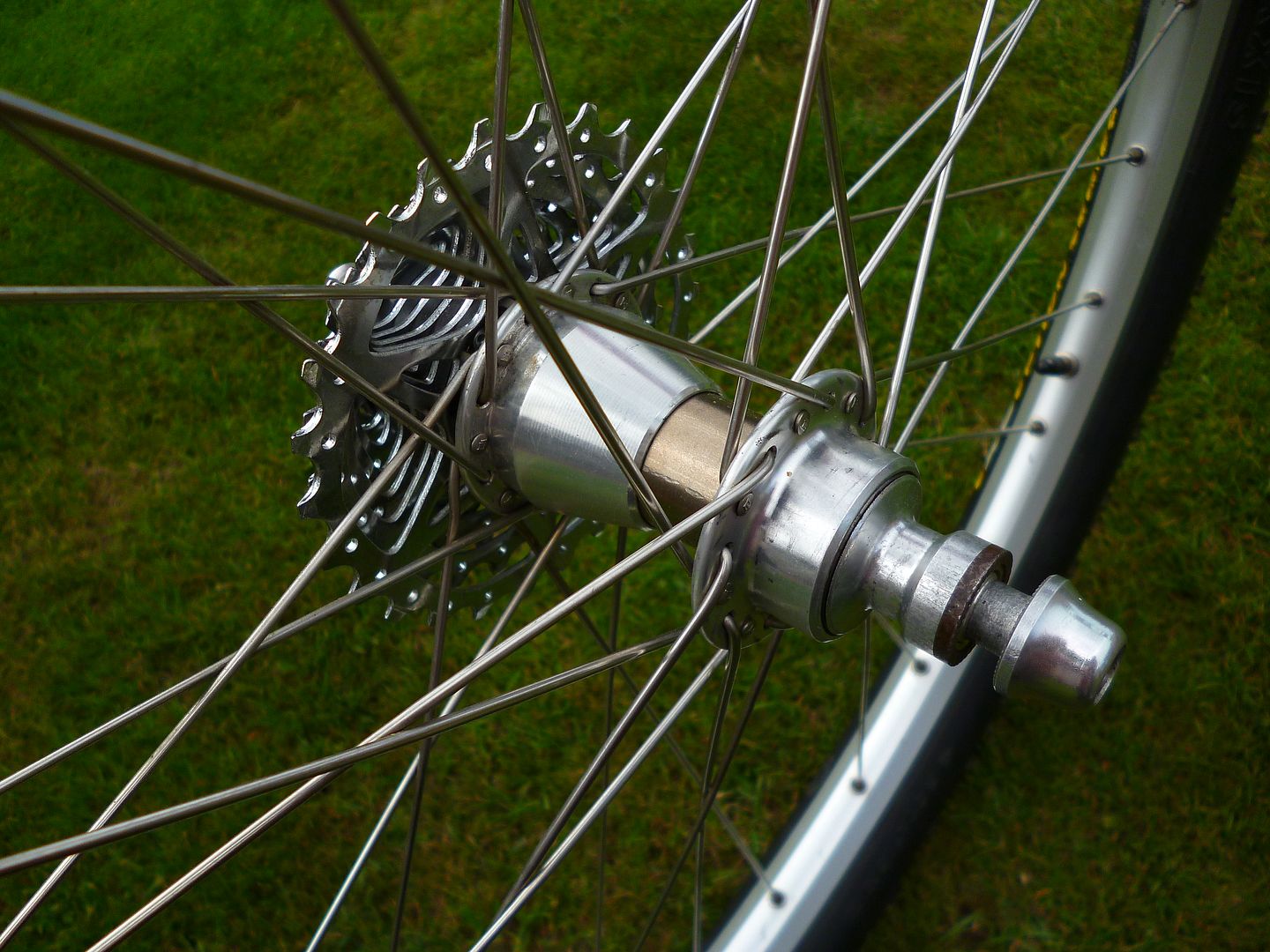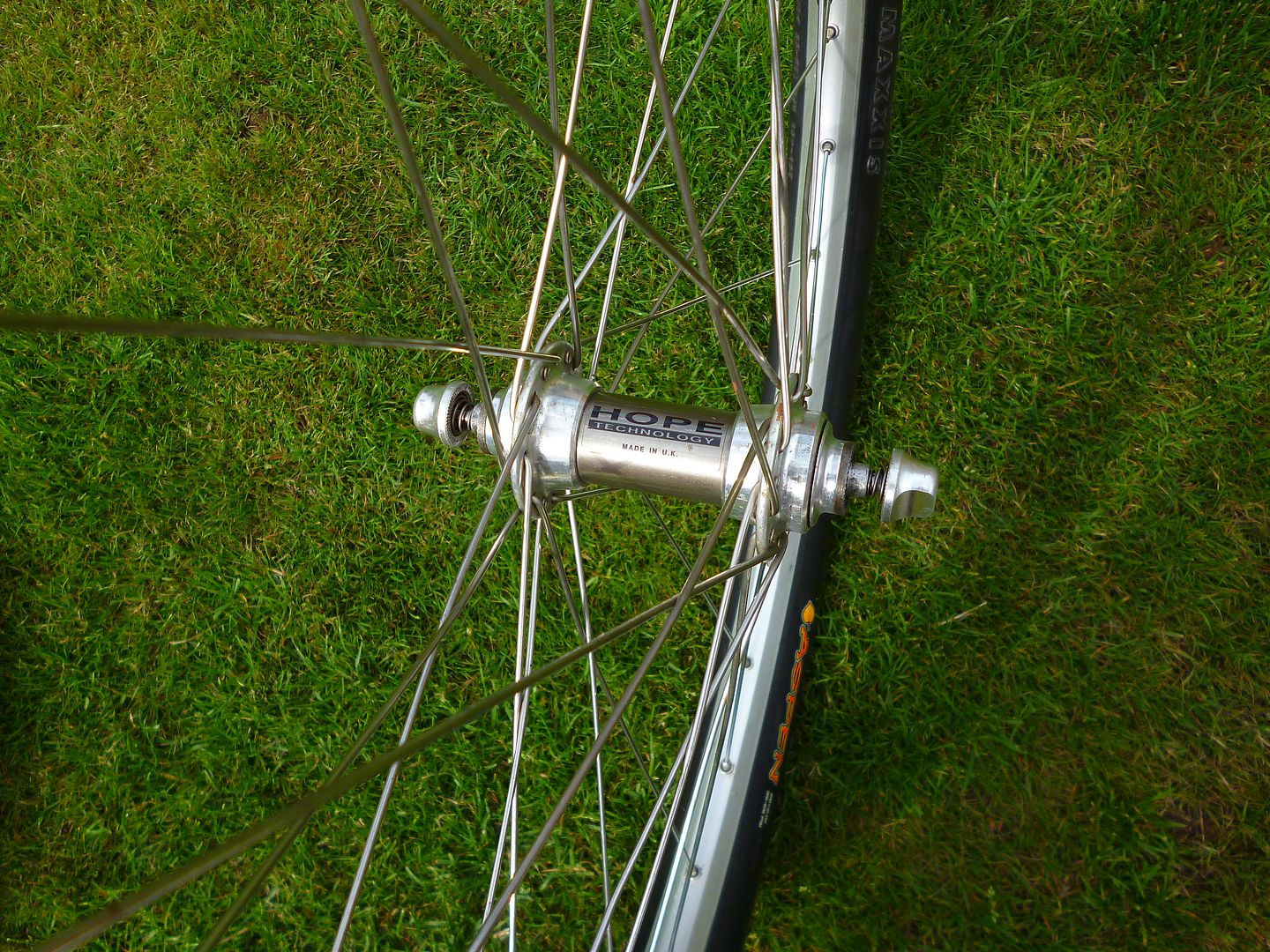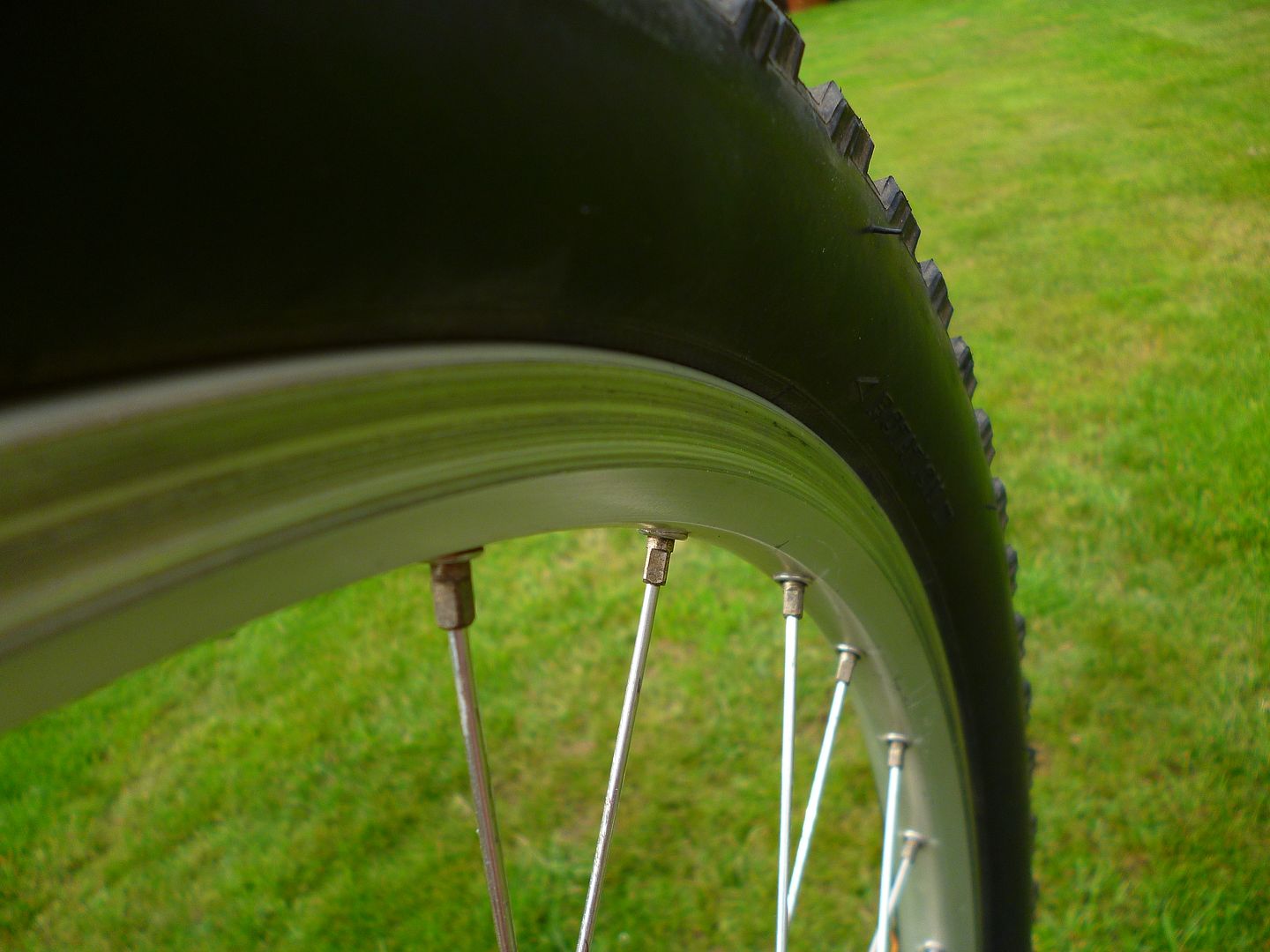 selection of stems various rises/lengths (ask) all very tidy and 25.4/1-1/8 but a Bonty one 31.8 clamp and 100mm all £12 posted
3 top end stems Ritchey 90x5x25.4x1-1/8 sub 100g £25
Pace CNC 50mm no rise £45
Control tech 90x5x25.4x1-1/8 new £35
XTR Sti's M950 8 spd as good as they get £50 SOLD
XTR M952 rear mech mid cage, Carbon sealed Jockeys and alloy hardware (Jockeys cost me £40 alone) £45
XTR M95 E type Carbon mount unused frt mech top pull Bottom swin £25
XTR M953 frt mech 31.8 top pull bottom swing mint £25 SOLD
XTR M950 frt mech 31.8 bottom pull top swing £25 SOLD
XTR M950 28.6 bottom pull bottom swing £15 SOLD
XT M750 BP B swing 31.8 mint £15
Black cage Odyssey flat pedals mint £22
Affix 100mmx5x1-1/8x25.4 stem Mint £22
Purple Canti's one set £12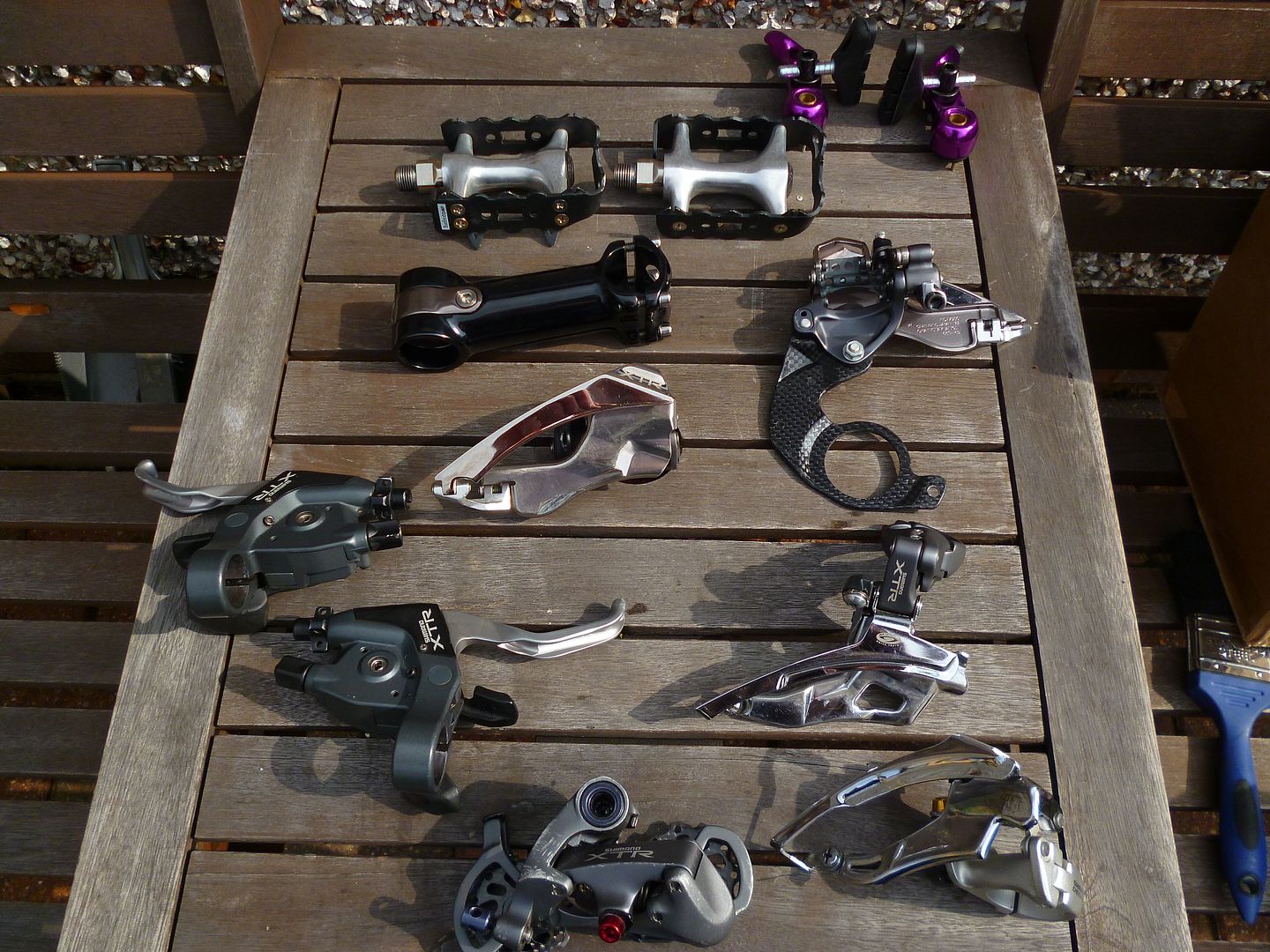 Chain ring set Compact 42t Pace CNC extruder type plus Shimano 32t plus Pace 20t Granny £45 all 3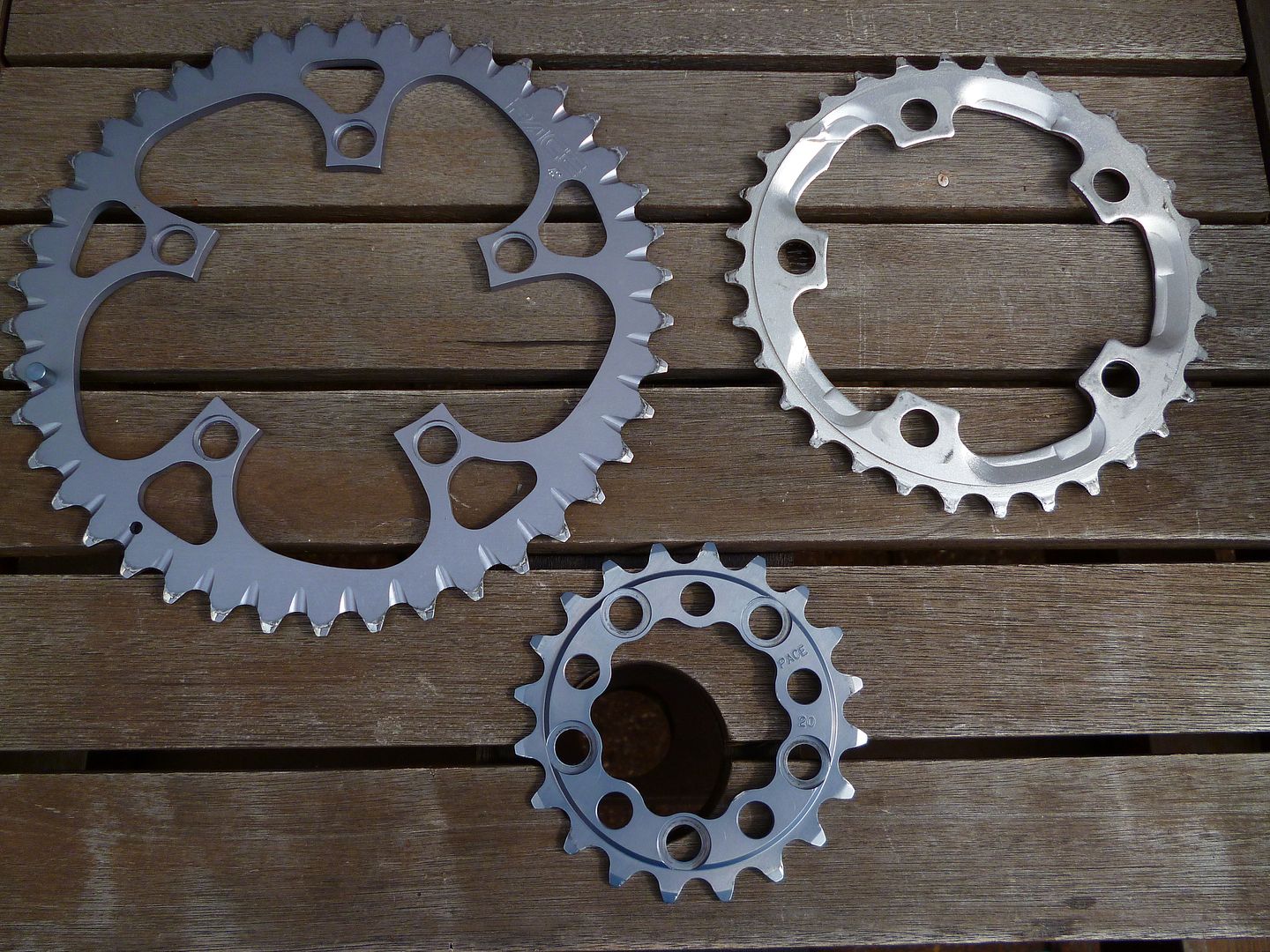 Lightweight red Cage pedals, sealed bearings, top quality and
ONLY
255g have two setd of these another in silver, not bothered which goes £42 great for weight weenie project and silky smooth bearings!!!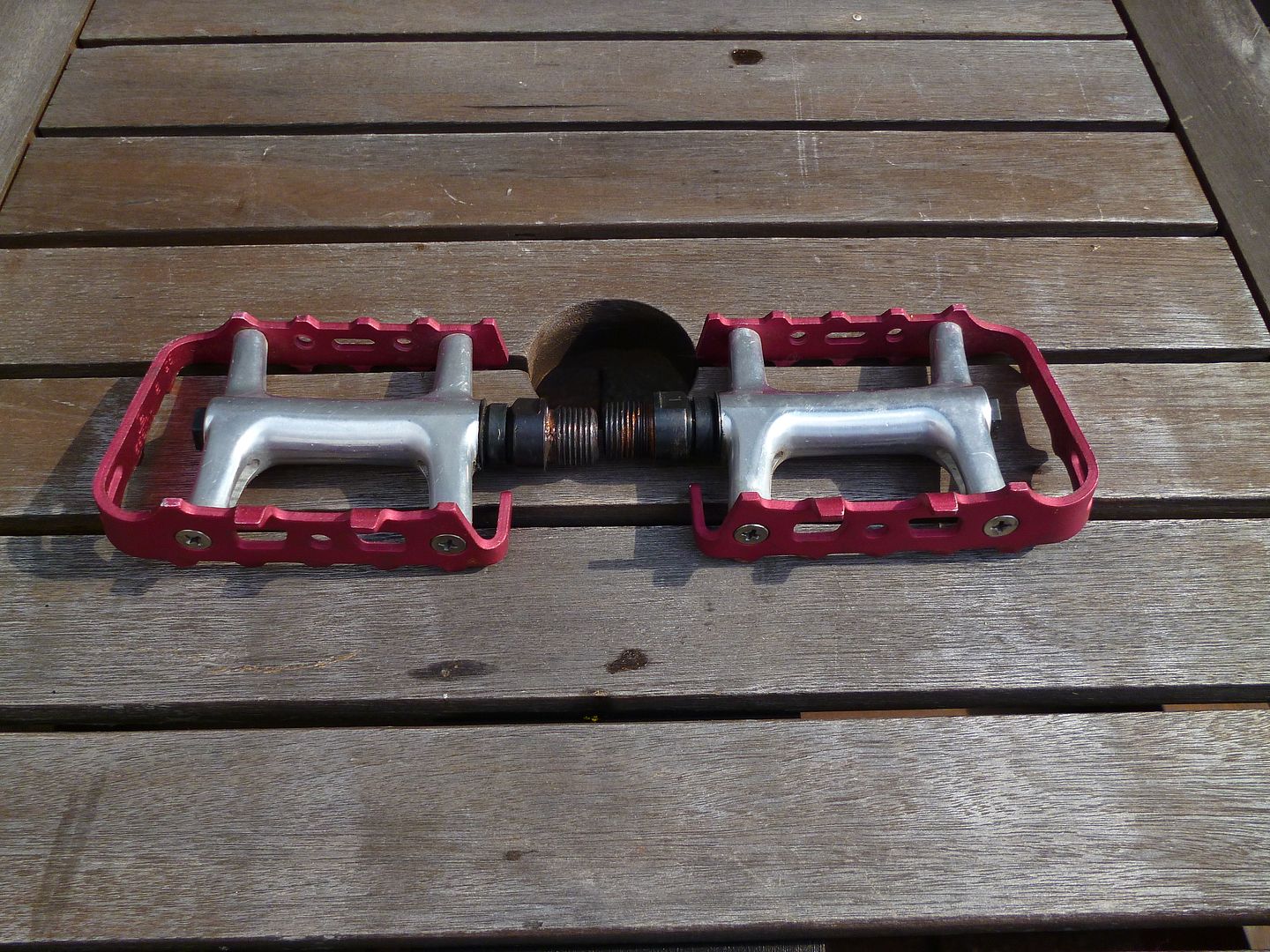 Race Face Turbine Compact red cranks. All spacers and tidy condition minor heal rub £55 SOLD subject
Mega light at sub 90g 580mm X 25.4 Carbon Zoom bars barely used £55 Bar end braced too
two Alloy steerers both with lower bulge 260
SOLD
and 200 useable length 1-1/8 mega light £10 each
Zoom 29.4 by 350 seatpost £30
SYNCROS Titanium double row sealed BB 107 by 68 used this with the RF cranks on a Pace £50 very, very light, well below 200g.
Rocky Mountain top cap 1-1/8 £12 SOLD
Salsa 3DV seat clamp 32mm £12
Salsa blue seat clamp 30mm £12
UNO bright 31.8 3-dv clamp £10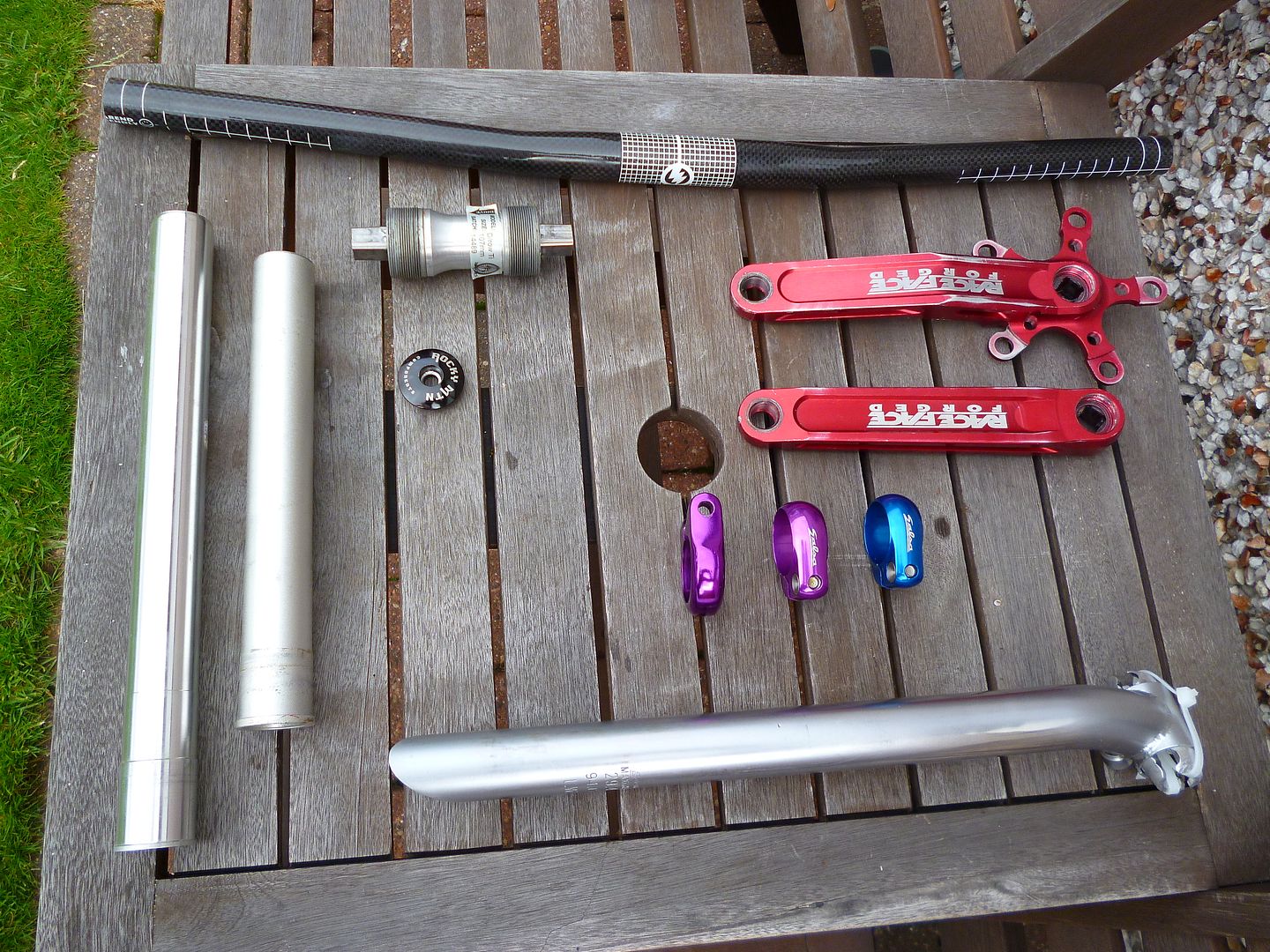 _________________
Live the dream-Ride on!