Time to clear out some of the clutter in the shed if I'm going to be able to hide in there when it gets a bit warmer.
My preference for payment would be bank transfer but I could do Paypal at a push. Cash on collection is always welcome. I'm in London every day and most of these will fit in my bag. There would be a discount for collection. I live in Twyford, to the East of Reading. By all means dib the stuff in this thread, but I will act on private messages and the order in which they are received. I'll send the items as soon as I can, but realistically it will be the weekend before I can package things up. I'll send all components second class standard service at the recipient's risk or you can pay the extra for recorded delivery if you prefer.
There are a few additional photos in the Photobucket albums.
FRAMES
1996 Bontrager Privateer frame in dark green with black and gold decals. Built up and ridden maybe ten times. Tried it with real components then relegated it to single speed road duties. Eventually had to admit it's just too big for me too. It's still in pretty good condition. The odd chip here and there from being in a crowded shed, a large chip on the headtube from storage before I got it. The only other thing to mention is the slightly damaged cable stops on the top tube. You'll need ferrules for these or run hydraulics or full outers like I did. Afraid I really can't post this. I go from Berkshire to London and back every day and could meet up in either if it helps. Otherwise, come over and have a cup of tea while you collect it. Other bits in the photo aren't for sale at the moment. £120 collected
Measurements:
Centre to top of top tube 19"
Top tube 22.5"
Head tube 4" and takes 1" steerer
Needs a 28.6mm front mech and a 26.8mm seat tube
Album:
http://s32.photobucket.com/albums/d43/tbjj1977/Bikes/Bontrager%20Privateer/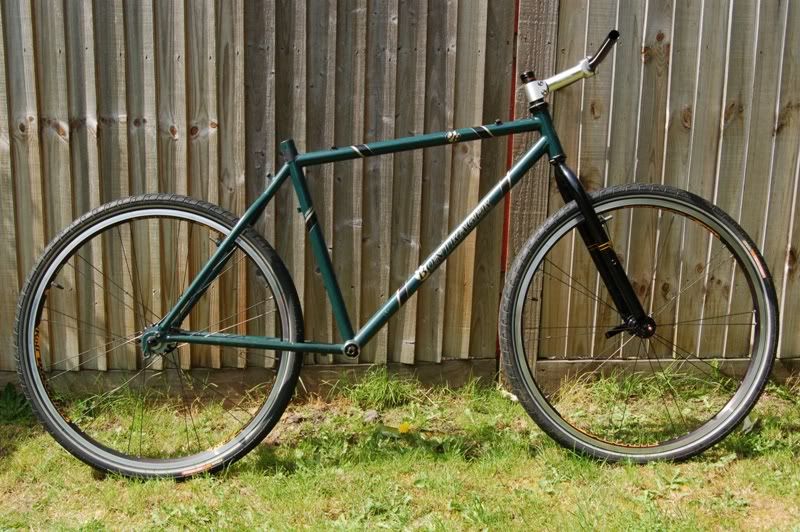 Unbranded Fuji Stoutlite steel frame with Ritchey dropouts. I bought this new from HSW in Drayton in 1996 with money I had saved from working in Woolworths the previous summer and didn't spend on drink in my gap year. I forget what they called it, but it had no decals on it when I got it. It was a very cool nickel-plate finish that was quite hard wearing for a while. There are plenty of patches of surface rust around the bottom bracket and a bit around the headtube. This was a lovely bike to ride for about twelve years until I found this place and started robbing bits off it. There's a small ding in the top tube where it slipped out of my hand while I was locking the front door one day. I was gutted. Would build up into a nice pub bike or something along those lines. Same deal as the Bontrager, I can't post this. Willing to meet up somewhere between Berkshire and London or come on over. £20 collected
Measurements:
Centre to top of top tube 19"
Top tube 22.5"
Head tube 4.25" takes 1.125" steerer
Needs a 28.6mm front mech and a 26.8mm seat tube
Album:
http://s32.photobucket.com/albums/d43/tbjj1977/Bikes/HSW%20frame/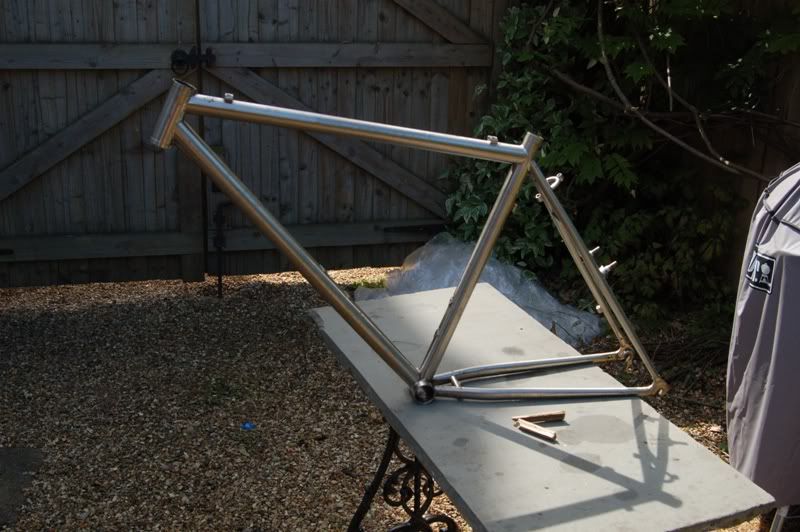 COMPONENTS
(
http://s32.photobucket.com/albums/d43/tbjj1977/Bikes/Bike%20components/
)
Yellow KORE stem measuring 135mm, no rise. I bought this at the same time as my first set of Judy SLs as they matched and it's what Zaskars had back then. I never got a Zaskar. Again, some rust in the fixings. Most of the decals rubbed off. Otherwise OK. £10 posted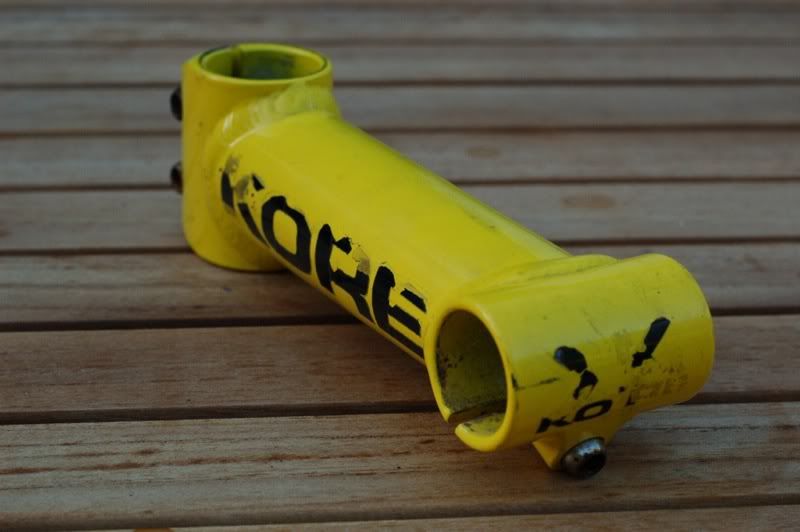 Pair of Magura Evo 2 brake boosters. One still in packet. Other never been used. Tried installing these but then realised you needed the full kit, including the clamps. Sold the brakes a while ago £10 posted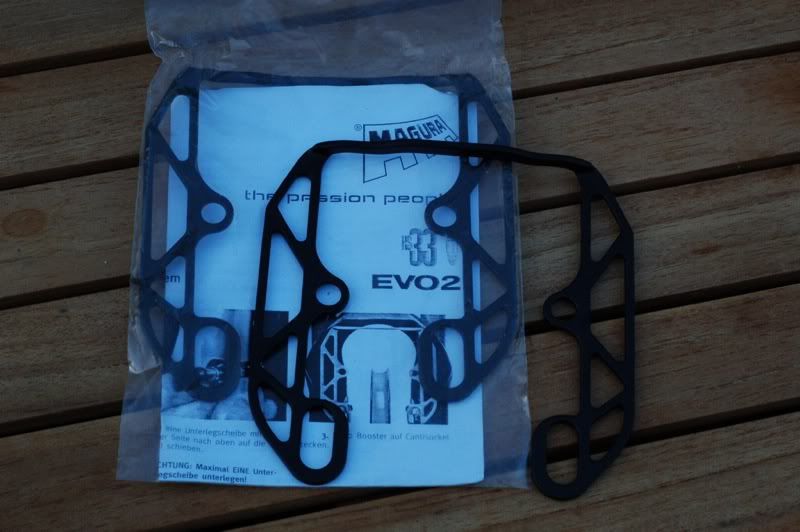 Shimano CS-HG50 8spd cassette. Good condition. £15 posted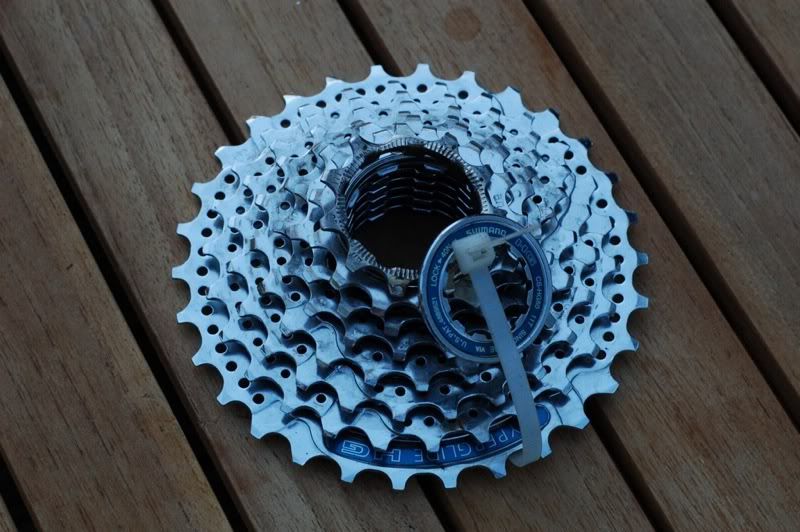 Silly looking alloy brake booster. Came on a bike I bought and I've never seen the need for these. £5 posted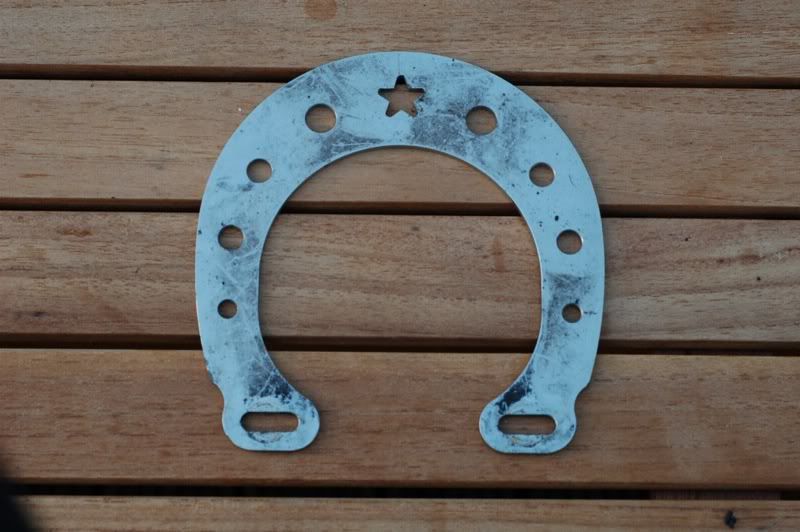 Profile alloy 1.125" quill stem. 120mm and steepish rise - 10deg? £10 posted
MBR mudguard. Came free on the cover of the magazine. Call it two quid posted? I'll throw in some cable ties.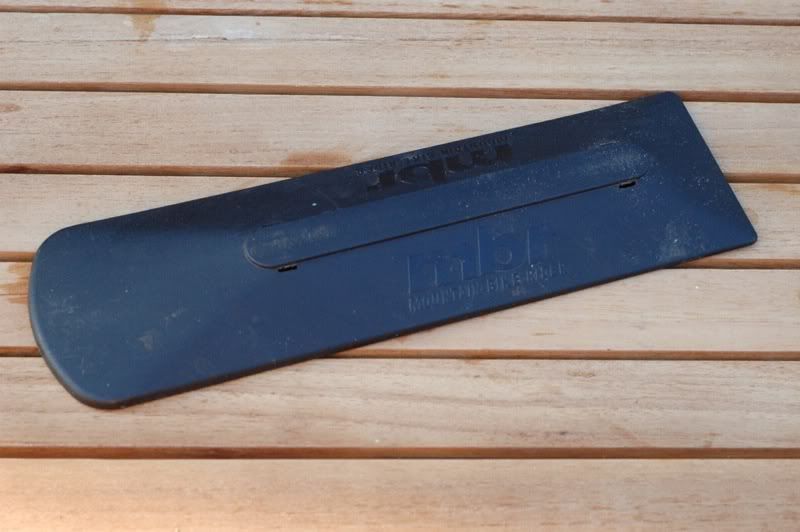 ART alloy 1" ahead stem. Mounted once but never ridden. I found something else in its place. 110mm, maybe 5-10deg rise. £10 posted
Giant carbonfibre bar ends. These are actually alloy inside with carbonfibre laid on the outside. Look nice but nothing special really. Clamps a bit beaten up from leaning the bike against chip shop walls as a kid. Bit of touch-up paint and they'd look rad again. £15 posted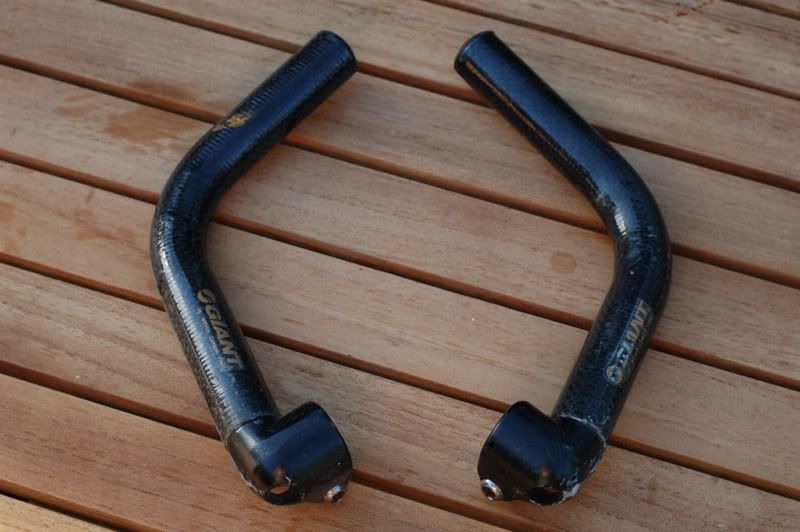 Minoura steel anti-chainsuck plate. No bolt because I had to cut off the original one after being on the same bike for about fifteen years. Looked like M6. I'll see what I have that might be suitable. Served me well. A bit of rust but remarkably well preserved. £6 posted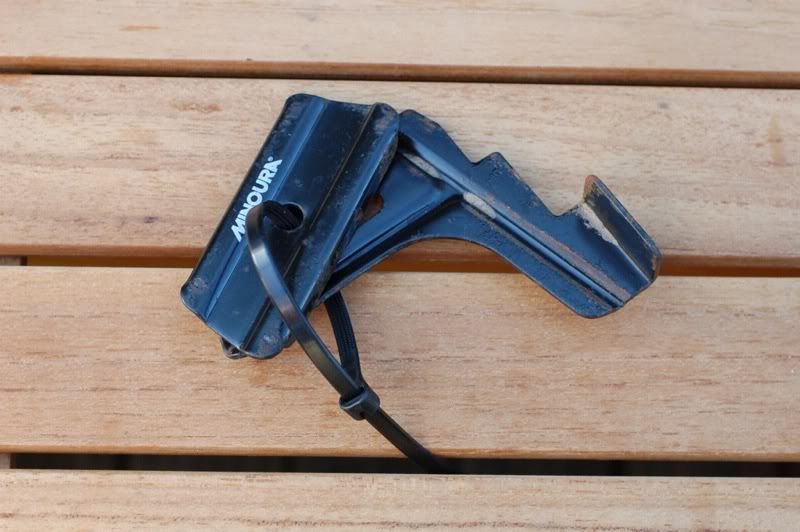 DX thumbshifters, seven speed with the hidden eighth click. I cleaned them up but they could do with the brackets being re-painted. Work really well but I just couldn't get used to them. £20 posted.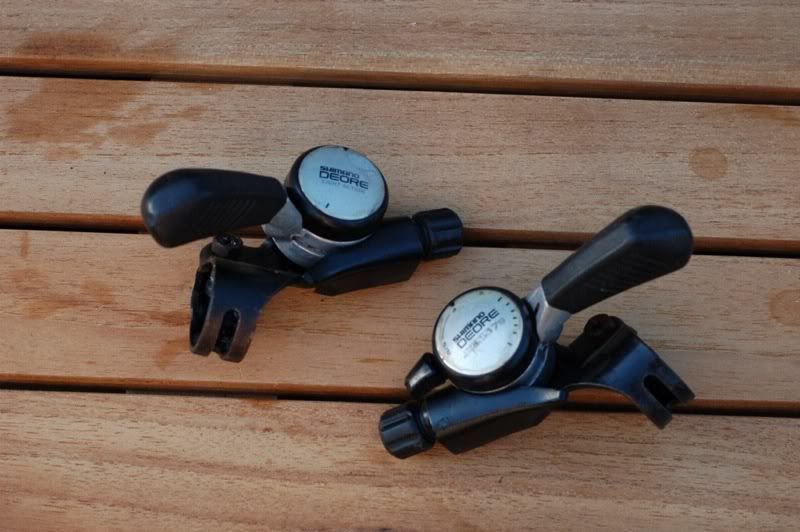 Shimano LX front mech, top pull. 28.6mm clamp. Rust on the inside of the cage, otherwise good. £12 posted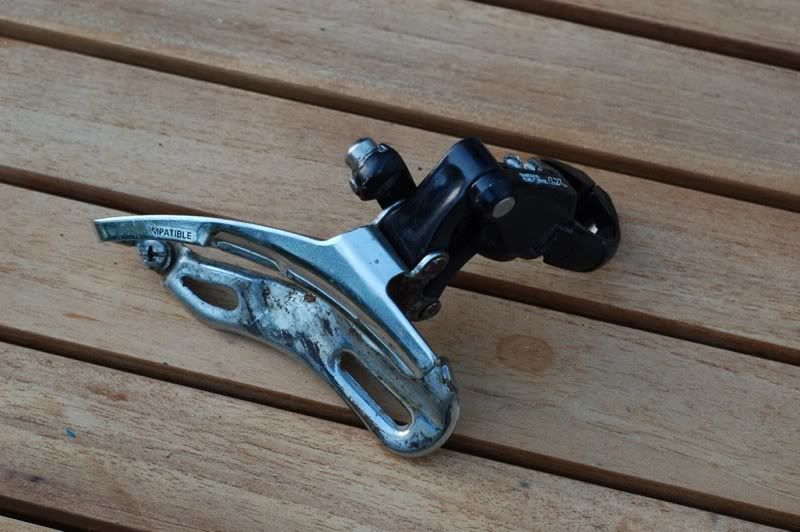 Modern and ugly Shimano square taper cranks. FC-MC20, 175mm. Cleaned them but they still look awful. Not bad condition. Threads and tapers are OK. £10 posted. They aren't light.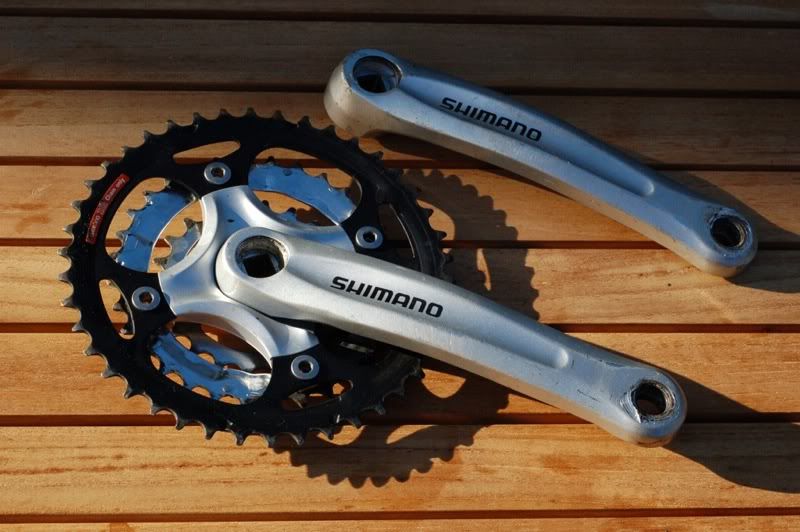 1.125" Pace steel steerer tube. 235mm long overall. £12 posted
SRAM 5.0 Gripshifts. 3x8 speeds. I think these only work with an SRAM rear derailleurs so I'll throw in the 5.0 rear mech too. Can't find one of the sleeves that fit inside the grips at the moment, but I'm confident it's out there somewhere. All in good working order but the grips seem to have shrunk back a bit, possibly due to heat. £20 posted for the lot
Specialized bottom bracket. Spindle length is 107mm. Not sure about the body length I'm afraid. It came from a 2000 M2 Pro if that helps. I will measure it if anyone's interested. I think it's in good working condition. £12 posted
Shimano XT front skewer. A bit beaten up. £7 posted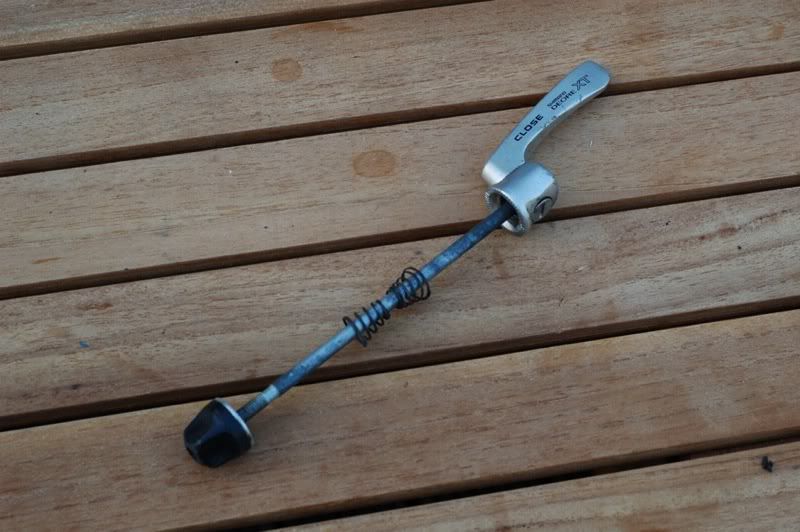 Alloy brake hanger in black. Clamps to fork crown. Has a K on it. Could it be a Kona? Comes with a short mounting bolt. Slight damage to the leading edge but still works fine. £8.00 posted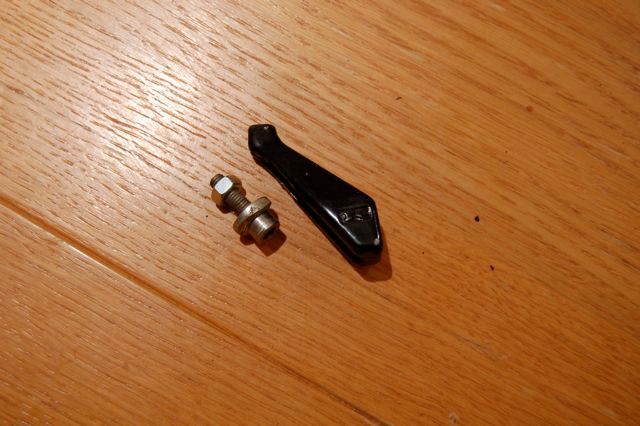 Avid SD 1.9L V brake levers. Have adjustment screws to be used with canti brakes as well I believe. Quite rough and look to have been left outside for some time. Work well though and ripe for polishing? £8.00 posted
SOLD STUFF

X-Lite bar bungs in blue anodised knurled alloy. Badly scratched but still do their job I suppose. Whatever that is. £5 posted
SOLD, posted 23/02/13
One full set of Onza HO cantilever brakes. Photos show them missing a plastic spacer that I've since found again. Silver Chill Pills included but I have no pads for them - the old ones had perished. Rust in the recesses of the fixings, but nothing an overnight soak in Coca Cola wouldn't fix? No guarantees but I can't see any cracks on them. £30 posted.
SOLD, posted 23/02/13
Full set of Avid Arch Rival V brakes. Can't find the noodles at the moment and the boots ripped and were thrown out. Installed them but never used them. Seem OK. I'll hunt for some useful bits (bolts and noodles). £30 posted
SOLD, posted 23/02/13
On One single speed chain tensioner. I bought two of these by accident. Very good condition. In fact, I've got a brand new one in a bucket out there you can have instead of this one I think. £7 posted
SOLD, posted 23/02/13
Shimano DX STI levers - 7spd for cantilever brakes. Brake levers quite worn from wearing cheap gloves for years. Functioned perfectly last time they were used, which was only about three years ago. Couldn't find the plastic cover for one of the cable barrel adjusters. It will probably show up. £15 posted
SOLD, posted 23/02/13
Shimano SPDs. PD-M540. Cleaned and re-greased by me. Work very well but no longer needed. £10 posted
SOLD, posted 23/02/13
Pace 1" threaded steerer. Measures 176mm overall with top 30mm threaded. Nice condition but missing the circlip form the base. Easily replaced. £12.00 posted
SOLD, posted 25/02/13
Alloy brake hanger with noodle thing. Clamps to a 1.125" steerer. Unused. £6.00 posted
SOLD, posted 25/02/13
Shimano M760 XT rear mech. Rapid rise is not to my taste. I forget why I got this at all. £15 posted
SOLD, posted 28/02/13
Shimano LX cranks. FC-M550, 175mm. Had these on a single speed bike for a while. Sturdy, no-nonsense cranks. Tapers and threads good. Would look good with a little elbow grease. I'm all out. £12 posted
SOLD, posted
Shimano M760 XT front mech. Clamp 34.9mm. Looking at it it should be top or bottom pull I think. Pretty poor condition. Thread insert in clamp bolt hole, steel bolt in place of Allen-head original. Someone's engraved their initials on it. Go figure. £5 posted
SOLD, posted
SRAM ESP 9.0 composite V brake levers in black. Say they're made of composite. Very light and stiff. Used these for years and loved them. Could do with a clean, but in very good nick otherwise. £15.00 posted
SOLD, posted