i'm selling my yeti PRO F.R.O.
i bought the bike at retrobike abuot 3 years ago. since building it up i have ridden it once. that's why it needs to go.
Current Images: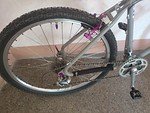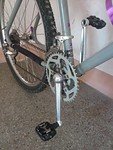 more images at
http://fotos.mtb-news.de/s/35912
(high res pictures are available if you press "Original" on the bottom right!)
parts list:
Frame Yeti Pro F.R.O.
Headset Chris King 1 ¼ threaded black
Bottom Bracket Real Crankcase
Fork Manitou 2
Stem Answer ATAC silver 135mm 0°
Bars Answer Alumilite Riser
Cranks Cook Brothers Racing RSR Compact
Chainring1 Blackspire
Chainring2 Middleburn
Chainring3 Blackspire
Pedals Shimano XT M737 SPD
Brake Levers Shimano XTR M900
Brakes Paul Stoplight MC & Moon Unit
Hubs Shimano XTR M900
Rims Campagnolo Stheno
Cassette Shimano XTR M900 TI
Tires Specialized Ground Control S
Grips Yeti Hardcore Black
Seatpost Cook Brothers Racing 26,8mm
Saddle Avocet O2 AIR 40
Front Derailleur Shimano XTR M900 28,8mm down-pull
Rear Derailleur Shimano XTR M900
Shifters Shimano XTR M900
Skewers Ringle Twisters 3DV Ti
Frame:
toptube (m-m) ~56,5cm
Seattube (m-e) ~47cm
i cavity sealed the frame with terosol when i got it. the frame has no rust issue but there are tiny rust spots on the
the ferrules are repros from some guy at mtb-news.de.
powdercoating is original but the are plenty of marks and scratches (see photos!).
the anodisation of the chris king headset has faded.
the fork crown shafts length fits perfectly.
chainrings are new, but they fit visually and work perfectly.
the 3DV anodisation varries a bit.
i put a combination of spring and elastomers in the fork. it works quite ok for a fork of that age, but don;t expect too much...
the wheels were a huge pain to build. the campa rims are pretty soft (NOS when built!) so it took a lot of time and patience. these wheels work but they are not for big fellas!
den laufradsatz habe ich damals selbst eingespeicht. ich behaupte nicht ein profi fahrradmechaniker zu sein aber in anbetracht dessen, das die campa felgen ziemlich weich sind, ist mir der lrs gut gelungen. da habe ich verdammt viel zeit reingesteckt.
the cook cranks caps are original and were NOS when i built the bike.
Price:
lets start at 1500euro
Splitting:
will only split when frame has sold. 500euros including ferrules and headset btw.