Hey folks, I have this 1989 Cannondale SM900 Red Shred with the glorious 13" high BB. Aside from the non-original cheapo seat, this bike looks to be complete and as built in 1989...even the white bars are still on it, and the original grips-Onza bar ends were added at some point, but they didn't move or cut the grips. Please note the tires are mine and not included with the sale, and the saddle was just thrown on there for the pics so that will not be included either....pretty sure you don't want it anyway.
The condition is very good, some paint loss as seen in the pics, no cracks, no dents. There is paint loss on the stay, but no damage or scarring from chainsuck. The little plastic bits on the seatstay and chainstay are still there protecting the paint. Cool!
Hubs have some cosmetic oxidation typical of this parts group. Wheels are quite true, BB spins nice, hubs spin good, brakes work, shifting is spot-on. The build is Deore II with hard ano RM-20's (and American Classic spokes), original Strong PM-30 seatpost is there, Tioga T-Bone stem Tange Falcon headset, Boipace HP rings, etc. If you check out vintagecannondale.com, you can see that the bike is to spec. It has some parts that I don't see on other bikes...band clamp Deore II FD, Black Deore II SLR brakes with blacked out handles on the levers, and the black U-brake on the back. It's faded, but when I was looking at other pics of this bike I noticed that it's faded even on bikes that are in showroom condition, so I suppose it's common. Pedals are Tioga MTP-126 Low Fat in black.
Size is 18" as measured by Cannondale's method for these bikes. Top tube is 22.5".
http://www.vintagecannondale.com/year/1989/1989.pdf
I'm asking $450 USD plus postage to wherever you want, bike will ship from the USA. Payment via regular paypal. Last pic is of the Red Shred with my '88 SM700, was hoping to keep the pair but the Shred is not right for Miss K, so I gotta let it go. The big fella is a keeper! You can see some of the year to year differences, most notably the larger diameter downtube. It's also a little less 'brick' red. They both have Hite Rite stickers though!
If you have questions, just ask.
Dibs are Via PM, but feel free to comment in the thread.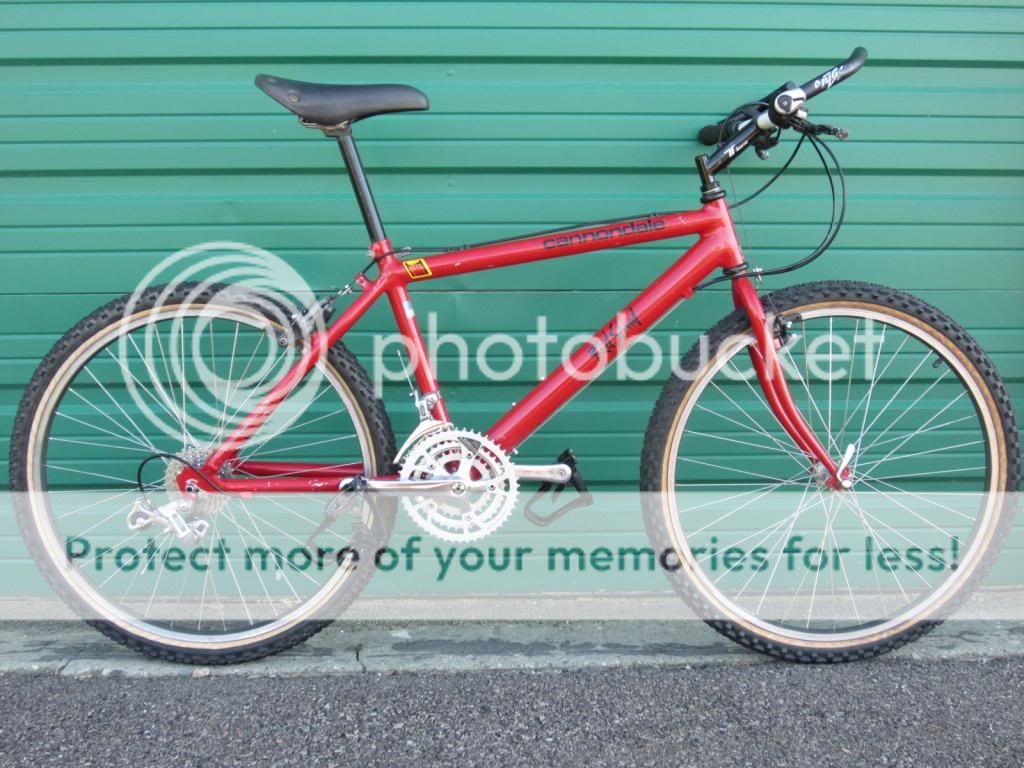 _________________
Current Stable: ///84 Ritchey Timberwolf///86 Ritchey Timber Comp///87 Ritchey Ascent///87 Ritchey Ultra///88 Cannondale SM700///89 Teesdale Quintana Roo Superform///89 Santana Moda///90 Monster Fat///1996 Ted Wojcik Sof-Trac FS///1997 Ted Wojcik Sof-Trac FS///85 Shogun 400///85 Shogun 500