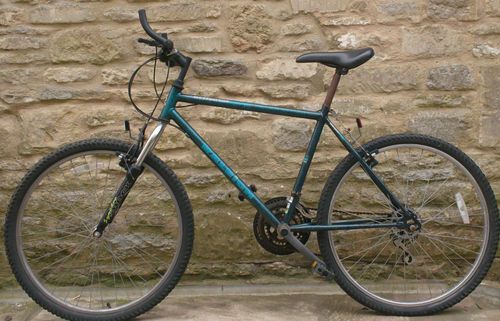 As you can see I'm a 1991ish Raleigh Activator 1. My first owner chose me because of my glistening metallic flec green/blue paint that simply dazzles other bikes. However, over time my paint has lost it's sparkle so I need a new owner to love and polish me. That's not rust on my seat-post it's period oxidisation of steel. I do my best to enable you to sit comfortably but unfortunately my seat bolt is rather loose so you'll have to excuse my constantly slipping saddle.
I'm more than just a pretty lady though and when I was new I came with 21 Shimano gears and despite being over 20 years old my gear shifters still feel as crisp as the day I was bought, I even have the still have my sticker on my front derailleur, yet despite this I really do need some oil and a tune up.
My party piece though is my super shiny chromed suspension forks, if you really hit a curb hard I might move them for you just a little bit to prevent chronic damage to your wrists.
Unfortunately my previous owners were a little tight fisted and so my tyres are not very good, they are a pair of Chinese Cheng Shins and my rear tyre is bald just like the old man that used to own me.
If you feel you could give me a home I'd be most grateful if you'd give my current owner £15 and wrap me up in your shed. Ps. I will need collecting

_________________
1988 raleigh Cobra (always falling apart), 1993 Raleigh Mtrax Ti1000 (in bits),