I keep this thread up to date so everything you see below is available. Descriptions first, pics after.
All prices include UK delivery (tracked courier or recorded post depending on size etc). Will post internationally at cost if requested. Payments by Paypal gift or you pay the fees. Please post in thread followed by a PM. Dibs at my discretion. Always open to some gentle haggling especially for multiple purchases.
XT M730 cranks 175mm
Good used condition with the usual scrapes and heel rub. All chainring bolts and granny spacers included but consider these to be foc as they are rusty, though perfectly useable. One pic below with a couple more
here
£25
nos Tioga Bio Grip II and nos Tioga brake tamers
I needed some of the grips so did a bit of a mini bulk buy to try and make the most of the combined shipping from the US. I figured that I could sell some on to try and keep the cost of mine down while still giving someone a reasonable deal. I have two pairs of grips and three pairs of brake tamers for sale.
Grips £9.50 posted, brake tamers £7.50 posted or both for £14.50
Control Stix blue stubbies
With original Control Tech end plugs. Decals still present but peeling at the edges. Ano is still pretty good and looks better in real life than the in the pics. Some scratches and a bit grubby. Bolt heads are rusty
£13
M734 XT Low Pro canti's in black
In very nice clean condition with just a little rust to the bolt heads.
Pads not included but everything else is there. One of plastic spring cases is split a bit where the spring has pulled through which is pretty common. One of the 'Shimano' logo's is missing.
£18
Ritchey FD seatpost 29.4 x 300mm
Anodising on the bottom half is well worn but the top half's not too bad. Logo a little worn
One pic below with a couple more
here
£15
Wellgo V8 Copies in white
I bought these new and fitted these to my Kona Humu and rode about 15 miles on them before changing my mind on the build. Currently selling for £12.99 at CRC but out of stock at the moment.
£8
STX front mech 28.6mm clamp
Reasonable condition and perfectly functional
£5.50
Deore MT62 short cage rear mech
Used with scrapes and scratches but perfectly functional
£15
Silver Tioga 52T outer ring, 110 bcd
Pretty damn good condition
One pic below and more
here
£10
Kona Sniff front tyre
Obviously used but in pretty good condition with plenty of life left. Side walls not too dry and only minor cracks
£11
Lizard canti's - one pair, boxed with original pads, straddle and hanger
I don't think these have ever been used or even fitted to a bike
£9
Pair of Specialized alloy bottle cages
Paint flaking in places, one is nice and straight, the other needs bending back in shape slightly
£6
Ritchey Mod Quad 2.0 blackwall pair
A bit grubby but otherwise VGC from a '93 Rocky Mountain Fusion
£13
Rare red Syncros Cattlehead in 1 1/8"
Very good condition with Sycros top cap (bolt missing)
Good bit of rise and around 130mm reach to be confirmed.
I believe these were fitted to some GT's which someone can maybe confirm or deny.
One pic below, a couple more
here
£35
Feimin V8/V12 copies
A bit tatty looking with rusty pins. Bearings are really silky smooth
£7
1" quill stem in polished finish, approx. 120mm with a little rise
A few spots of surface rust which will easily polish out. Top bung is long gone
£5
Controltech ahead stem for 1" steerer
150mm long with maybe 5 degree rise
Fantastic condition, all decals perfect
£13
STX FD-MC34 front mech bottom pull
31.8 clamp size, sticker missing and a bit grubby but otherwise great working order
£5.50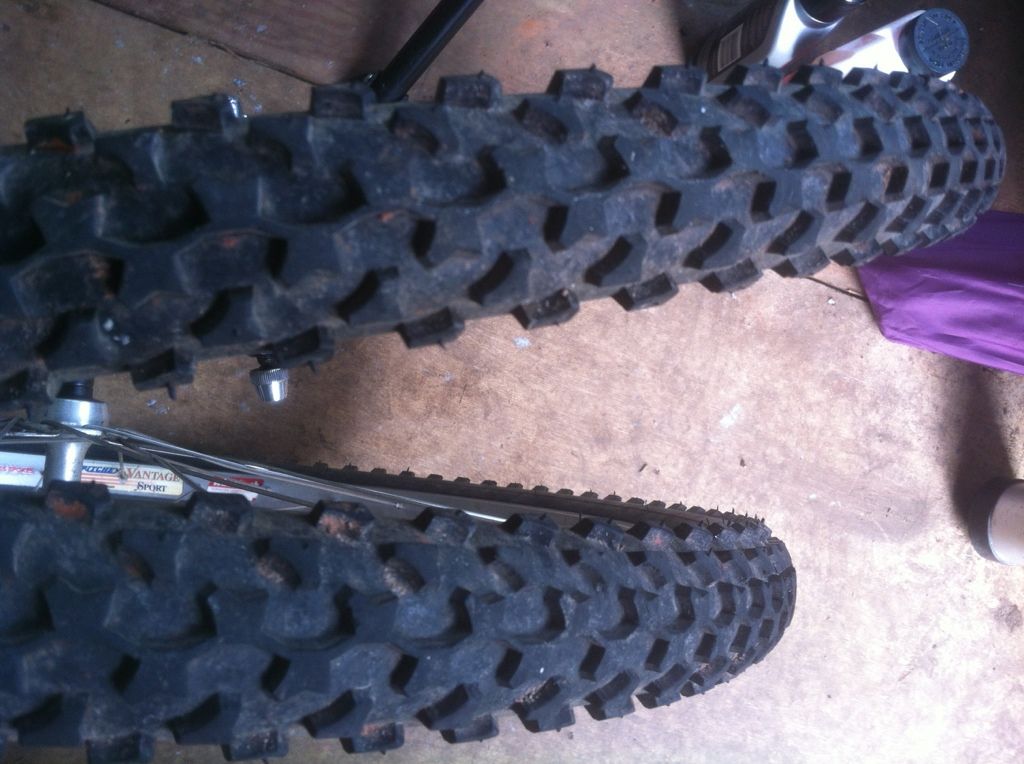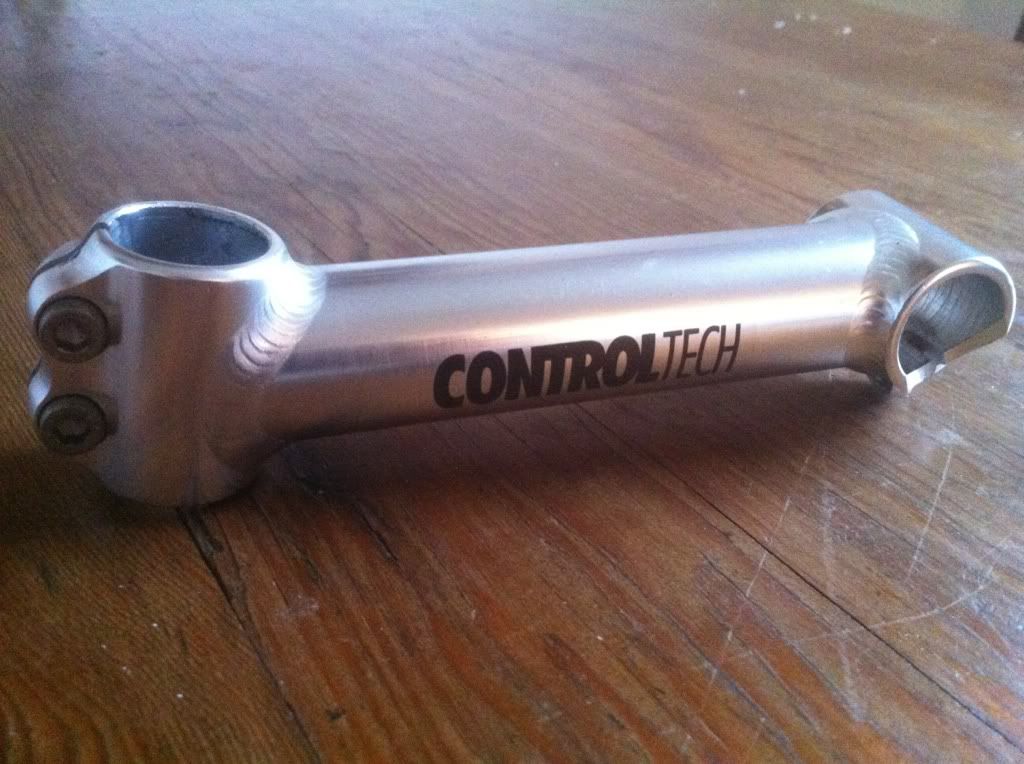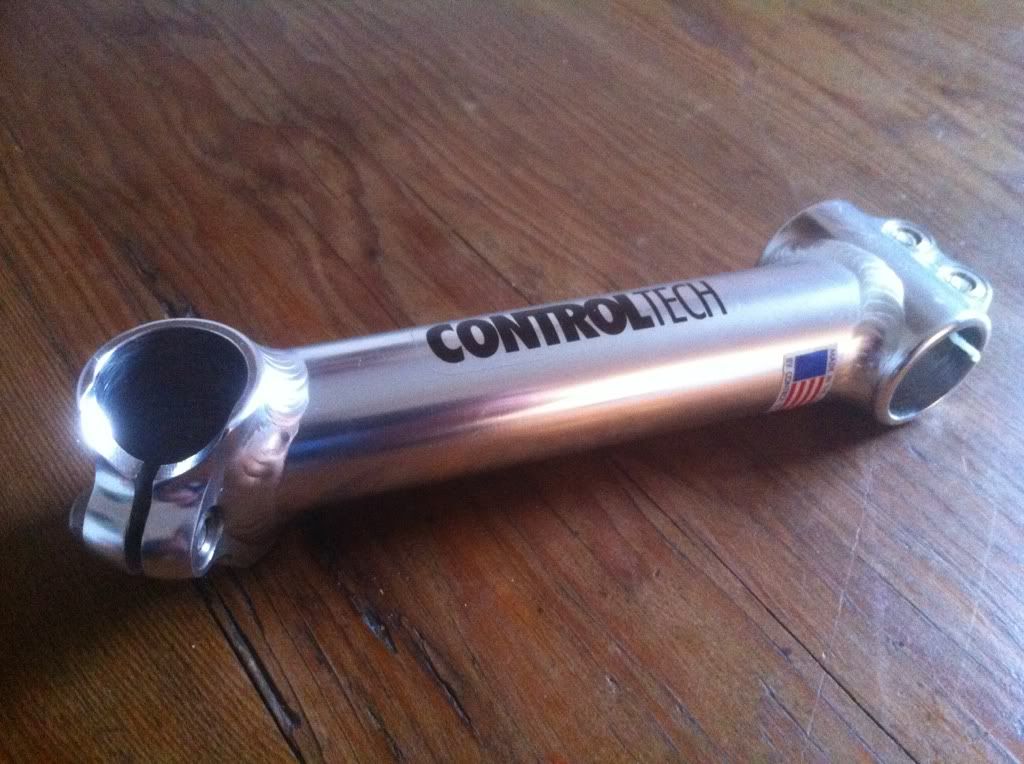 LX rear mech SOLD FOR £8.50
Velo Jet Titanium saddle from 1992 SOLD FOR £7.50
Pair of Electra Hotster white wall tyres SOLD FOR £40
Kona Racelight bars SOLD FOR £12
Avocet Racing saddle SOLD FOR £35 posted to Germany
Ritchey Vector Wing saddle SOLD FOR £20
DX front mech bottom pull SOLD FOR £7
92 Lavadome frame 19" SOLD FOR £30
White Rolls saddle SOLD FOR £11
Suntour XC Comp front & rear mechs SOLD FOR £19
1987 Turbo Bio Lycra NOS SOLD FOR £30
Black leather Rolls saddle SOLD FOR £25
XT M733 u-brake SOLD FOR £28.50
Suntour XC Comp cranks with chainring bolts SOLD FOR £15
USE seatpost shim 25.0-26.6mm SOLD FOR £4
X-Lite silver stubby bar ends SOLD FOR £6.50
Triple butted P2's, Impact headset and Velocity stem SOLD FOR £60 posted to Denmark
XT Thumbies and 42T Tioga chainring SOLD FOR £33
Shimano BR-CT91 canti's (full bikes worth)SOLD FOR £10
Onza L bends in black SOLD FOR £8.50
Suntour XC Pro 7 speed thumbies SOLD FOR £30
Kona Curve levers SOLD FOR £10
Uncut Kona 165 bars SOLD FOR £12
Suntour XC Pro levers (with rubber covers) SOLD FOR £17.50
USE seatpost gold SOLD FOR £17
DX thumbies and levers SOLD FO £30
Kona RH brake lever SOLD FOR £4
Ritchey Logic 1" threaded forks SOLD FOR £40
Syncros 27.2 post 425mm long SOLD FOR £45
Chromed Tioga Prestige T-Bone 1 1/8" 130mm & Ritchey SPD pedals SOLD FOR £30
New 7 speed cassette Shimano CS-HG50 SOLD FOR £7.50
Onza 'ski' bar ends SOLD FOR £6.50
DX front and rear (short cage) mechs SOLD FOR £20
Pace RC30 with 1" threaded steerer 150mm long. Includes crown race collar £107.50 + postage
LX RD-M567 rear mech SOLD FOR £17
Gripshift SRT-400 SOLD FOR £6.50
Pair of Mavic 238 on STX/Kona SUS 99 SOLD FOR £35
Pair Wolber AT-18 on LX hubs with 7 speed cassette £25 9collected)
Pair of wheels - Mavic X221 on Deore/Unknown with 8 speed cassette £30
Trans-X ski bends SOLD FOR £5
Ritchey Logic Pro WCS bar ends with plugs SOLD FOR £10
XT V brakes BR-M739 (one pair) SOLD FOR £15
NOS Ritchey Vector Wing saddle SOLD FOR £20
1" Tange Prestige Switchblades with 145mm steerer SOLD FOR £69
Middleburn RS2's with blue spider and rings + spare red middle ring SOLD FOR £113 to NZ
Kona Velocity aluminium quill stem SOLD FOR £10
Syncros Rev's with Ti Crank-o-matics & BB SOLD FOR £310 to Germany
Ritchey Logic levers SOLD FOR £27.50 to Holland
19"1996 Lava Dome frame, seat clamp & dog collar SOLD FOR £50
19" 1997 Cindercone frame & seatclamp SOLD FOR £50
Thomson Elite x4 stem with Thomson top cap, 0 degree, 100mm, 31.8 SOLD FOR £35
Kona Race Light seatpost 27.0mm £15
Maple leaf Flite NOS £28
X-Lite Chicken Stix & Ti seat bolt both blue £32
Ritchey Vantage Sport on LX hubs pair £35
Controltech Ti allen key skewers in blue £35 to Germany
Syncros Cattleprod polished, mint £40 to Canada
93 Rocky Fusion frameset, bars, stem, post & bb £80 to Sweden
Profile XC Durango bars £13 (Spain)
Black LX chainset, f & r mechs £35
XT threaded headset and M560 STI's £35
Odyssey Aerator 300mm seatpost 26.8 £7
Syncros skewers (with circle logos) £14
Deore DX thumbies lot £19
Syncros skewers £23.50 (France)
DiaCompe 1" Aheadset & Scratch/Sniff tyres SOLD FOR £22
Bontrager Race 5 degree 2014 T6 bars SOLD FOR £10
DX BL-MT63 Levers SOLD FOR £9
STX chainset, Cattlehead and Kona Race Light saddle SOLD FOR £55
STX chainset SOLD FOR £14
Mavic 238's on STX/Kona hubs SOLD FOR £60 posted to NL
PD-M545 SPD pedals SOLD FOR £14
Syncros 27.2/330 Ti post SOLD FOR £75
Azonic double wall risers SOLD FOR £10
Deore XT ST-M008 8 speed underbar shifters SOLD FOR £20
Thomson Elite 330mm, 27.2mm post SOLD FOR £34
USE Carbon Pro saddle SOLD for £33
X-Lite XLT Pro Ti bars SOLD FOR £32
WTB Rocket V saddle SOLD FOR £12
X-Lite Silver bar ends SOLD FOR £10
Kona Velocity stem SOLD FOR £5
PD-M520 SPD pedals SOLD FOR £7.50
Kona Curve brakeset SOLD FOR £35
FC-M550 LX Drive side crank 170mm and rings SOLD FOR £9
Exage BR-M320 canti's full bikes worth with pads, straddles etc £KARMA
Bontrager saddle £KARMA
Specialized Air Gel saddle £KARMA
Shimano Acera (or similar) V-brake (single pair) £KARMA
Dia Compe ST-2 1 1/8" threadless headset £KARMA
Avid 1D V-brake (single pair) £KARMA
Manitou Mach 5 Comp £KARMA
3DV Anti chainsuck device £KARMA
1991 Fisher Aquila frameset £KARMA