*UPDATE*
Sold, ebay, $389 plus postage.
Alright, I have to sell this along: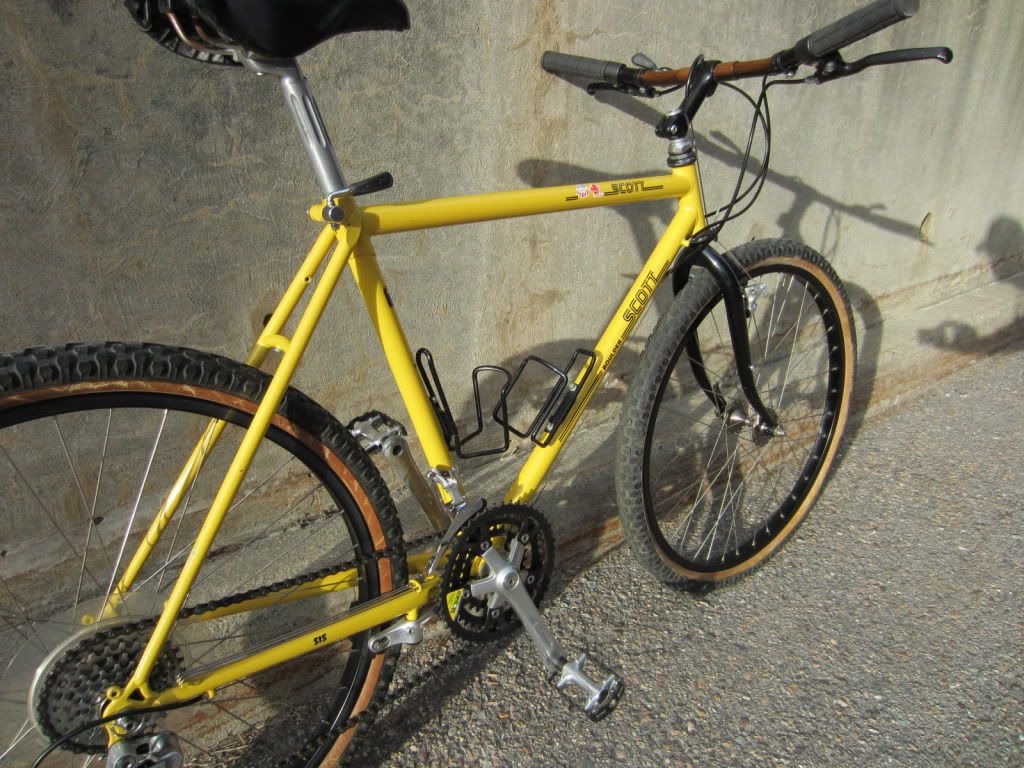 1988 Scott Boulder, all original except for seatpost and grips. Shimano Deore FD, RD, Pedals, Shifters, canti front/rear U brakes-note that the shifter bodies and brake levers are black-I've never seen that before with Deore parts. Scott branded, gold ano bars, Scott saddle, Tange Levin CD headset. The wheelset is freaking sweet-black Weinmann 26x1.75 hard ano concave rims laced to stunning high flange, pewter anodized Suzue touring hubs with sealed cartridge bearings. Original ChenShin tires, all cables and outers original, original Shimano brake pads (cracking).
The frame is awesome, Tange 'Special' double butted chromoly with a partial wraparound seatstay, spare spokes/chainslap protector on the drive chainstay and a curved seatstay bridge. Fork is most likely Tange, it's in beautiful shape and has rack/pannier bosses-how handy is that? The paint is yellow metallic-it's hard to see the metallic effect in the pics, but in direct sunlight it really pops.
Condition is mostly spectacular, some rust on the skewers, fresh paint chips on the top tube (short-term previous owner's careless lock placement
), minor chainsuck, a few scratches on the chainstays (also very recent) and the BB needs to be tightened/greased but feels fine. The cap for the left shifter is a little marred up as well, and the brake levers have a few scratches.
Size is 19" (48cm) measured center of bb to top to top tube, with a 21.5" (44 cm) top tube and a standover height of about 30" (76cm).
I've searched around quite a bit, this appears to be a pretty rare bike, and the build is totally unique and well thought out. It's an absolute joy to ride, I was grinning as wide as the handlebars cruising around before I took the pictures.

_________________
Current Stable: ///84 Ritchey Timberwolf///86 Ritchey Timber Comp///87 Ritchey Ascent///87 Ritchey Ultra///88 Cannondale SM700///89 Teesdale Quintana Roo Superform///89 Santana Moda///90 Monster Fat///1996 Ted Wojcik Sof-Trac FS///1997 Ted Wojcik Sof-Trac FS///85 Shogun 400///85 Shogun 500