SOLD
Selling my ex-wife's MTB that I built up for her; rarely ridden; excellent condition: $900.00 USD
Frame
Serial Number: 147S810
1998 Independent Fabrication
T.I.G. Welded Reynolds 853 steel tubing
http://www.retrobike.co.uk/gallery2/mai ... emId=11002
The Special
Size: 10"
Top Tube Length: 20.875"
Head Tube Length: 80 mm
Head Tube Angle: 71.0*
Seat Tube Angle: 72.0*
Wheelbase: 39.25"
Seatpost size: 29.4 mm
Headset Size: 1.125" (1 1/8)
Front Derailleur Clamp Diameter: 1.125"
Chainstay Length: 16.75"
Bottom Bracket Height: 12"
Bottom Bracket Shell: 68 mm
Frame has a few nicks and scratches, mostly from leaning against walls and setting down on the ground; took many photos to capture this, but otherwise, paint is pristine, and no rust, dents, cracks, breaks. The metallic flakes in the purple still shine, and decals are in great shape.
Components:
-Shimano XTR M950 V-Brakes and Levers, Crank arms
-Special xtr M950 crankset spider adapter to accomodate standard 110 bcd rings, with a two ring setup; a granny gear can be used, but is not currently installed.
- Sram Grips, Shifters and rear derailleur, but xtr shifter/brake lever pods are available, along with a xtr rear derailleur.
- Shimano Deore XT Front Derailleur
- Thomson 29.4 seat post
- WTB SHE Pro Gel saddle; other saddles available
- Spinergy Rev-X-Roks wheelset, in good shape
- Nuke Proof threadless stem (1 1/8)
- Scott Carbon Fiber handlebar
and now for the many photos from various angles and distances:
The frame is purple, not blue...this photo, due to the flash and the metallic in the frame, came out looking blue, otherwise, the rest of the photos are true to color:
I'm asking $900 us dollars, and willing to ship across the pond, in two boxes for $135. US shipping will be one box, and about $75.
First building it up a couple years ago (only one I could find):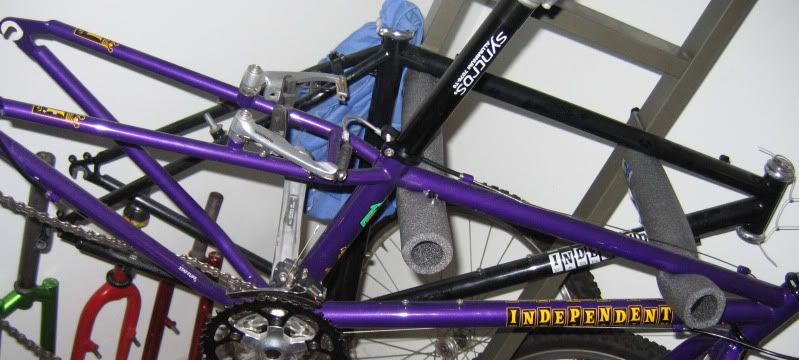 If it doesn't sell quickly, I will be parting it out down to the frame/fork, as I'll probably get more than my asking price, in pieces, but my price as a whole is very reasonable imho.
Also, check out the xtr crank with the optional spider that allowed me to run standard 110BCD chainrings (Race face) comes in handy when replacing rings, not to have to find a nos m950 set.
Though the "Special" bikes were made with "woman specific geometry", I don't look at this bike as a woman's bike. I had a male friend who gladly rode it, and liked the feel; grant it, he was 5'3" and no more than 140 pounds.
Anyway, great bike for you or your significant other. Thanks.