Hi there, guys.
I was checking out some of the parts i have at home, and decided to sell a few of them. Prices include postage to Europe, but i can ship worldwide.
Paypal payment prefered.
Got some NOS XTR headsets. Going to keep one of them, but i´m willing to pass the other one to someone who needs. Ball bearings not included.
£32
posted.
Pulstar front hub. 32h. I bought it 3 weeks ago, but not going to keep it.
£ 13
posted.
Also have a White Industries FH.
Stems ahead:
- Ritchey ForceLite Crmo, 1 1/8, 120mm, 5 degrees, great looking
- X-lite stem,1 1/8, 110mm, 0 degrees, almost new - SOLD
- GT crmo stem,1 1/8, 120mm, 0 degrees, very good looking
£16 for both
pics...
Stems, quill:
PFR crmo, 1 1/8, 110mm, 5 degrees, nice look
Crmo stem, like PFR, 1 1/8, 120mm, 5º rise, good looking
Control Tech, 1 1/8, 110mm, 5º rise, decals missing on RH side
£19 for the 3
pics...
Brakes:
NOS DiaCompe VS - complete, with Ritchey Logic pads -
£25
Also have NOS DiaCompe VC 985, make an offer...
Shimano MC60 levers - Good working condition, good looking, i will offer an SLR left one -
£15
pics..
Rock Shox Mag 21. Good working condition, some scratches, with Old Klein´s steerer tube.
PM me with offers.
NOS Sram Plasma rear mech.
£30
posted.
NOS Green, Blue and Purple SharkTooth Gripshift covers.
£7
posted.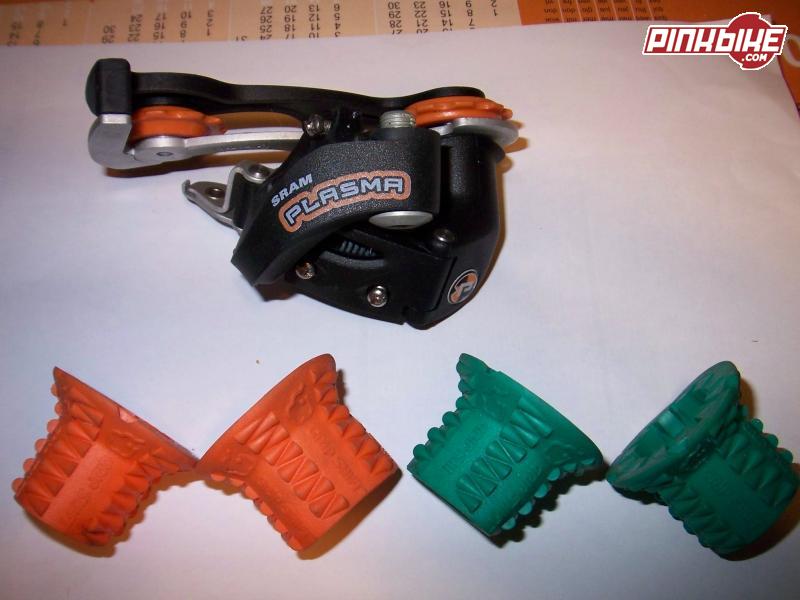 Giant Cadex frame, CFM-2 model, from 94, size 20". No scratches, very good condition.
PM me an offer
.
Thank´s for looking.
Cheers