I purchased this frame on the bay thinking i could build it up aqs my first EVER full susp bike. However when completed i came to the realisation that a 20" frame is actually just too big to be comfortable for me.
The frame is a 1999 model year, so not all that retro. The image below is of the same frame but in smaller a size. I can get actual images when i get back to oxfordshire during the week.
The frame is fitted with a fox float RL.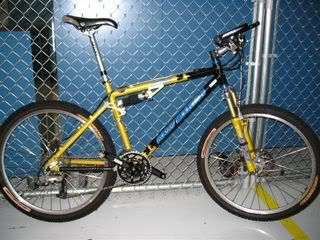 I am looking to swap it for another full susp XC frame in 16-18" flavour. I dont really know what im looking for exactly, but if any one has anything to offer i shall have a look at it and consider if it "does it" for me.
Cheers
Rob

_________________
[size=67]Where we're going we don't need roads!
Under cover operative of the YVMBAPFS cartel.

The Pace fleet:
16" RC100/ 21" RC100/ RC100 Trials prototype/ RC200 F5/ RC200 F8/ RC250 Trials/ RC300 Gunmetal/ RC300 Silver/ RC500 F1 DH