Panasonic digital cordless telephone answering system - KX-TG8220 - Black
£15.00 collected, £18.50 posted - UK Mainland only.
IMPORTANT:
The handset and base unit work perfectly, but the headset jack socket is faulty which is the reason I'm selling this, as I use a headset all the time.
The item is in the original box and includes the instruction manual. Everything is included that came in the box when new. I've included the new unused cables, power supply and a new set of rechargeable batteries from the phone I've bought to replace this one.
Feel free to contact me if you have any questions.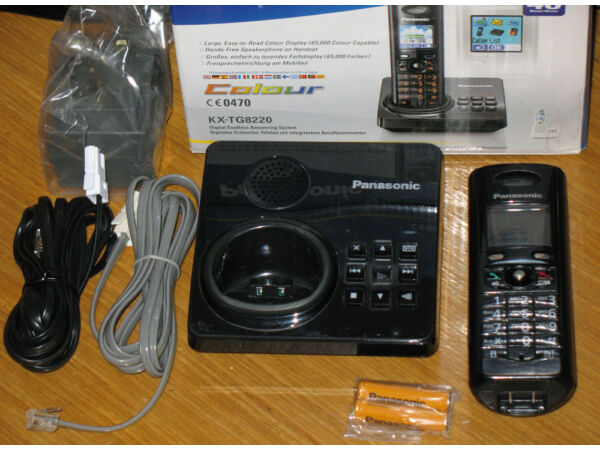 Manufacturers guff:
Handset and Base unit features:
•Large colour display
•14 polyphonic ring tones
•50 name & number call log
•200 name & number phone book
•Auto talk
•Caller ID
•Call privacy
•Call restriction
•Call share
•Call waiting
•Chain dial
•Call transfer
•Date & time display
•Intercom
•Key lock
•Night mode
•Mute
•One touch dial
•Recall feature
•SMS feature
•Speaker phone
•Voice enhancer
•Volume control (Base/handset/speaker)
•2.5mm headset jack --------------------- IMPORTANT: The headset jack is faulty, other than that the handset and base unit work perfectly.
•Voice mail
•40 minutes answer machine
•Remote access
•Record personal greeting
•Call screening
Handset dimensions & other facts:
•DECT/GAP unit
•Expandable up to 6 handsets
•PBX compatible
•1.88 to 1.90 GHz frequency range
•150 hour standby time
•12 hour talk time
•(AAA) NiMH rechargeable batteries
•Handset dimensions (L x W x D) 143mm x 47mm x 32mm
•Base unit dimensions (L x W x D) 44mm x 116mm x 113mm