Through a combination of chronic GAS, shrewd purchasing and good old fashioned kleptomania, I have ended up with several mixing desks too many for my needs. So it's time to move some on. Prices don't include postage, you're welcome to book a courier and I'll box them up for you. Pick up from Bristol welcome. Offers also welcome.
In descending order of price:
First up is my
Studiomaster STAR System recording desk
. It looks like this, except in much better condition and with both blanking plates fitted on the right hand side...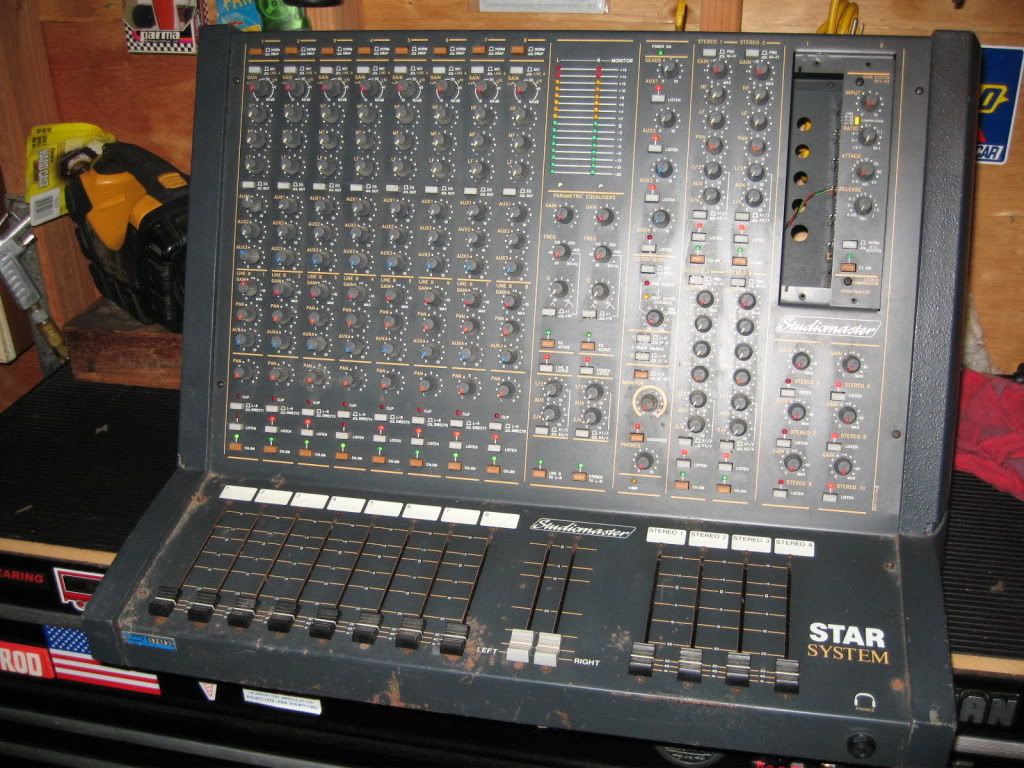 So what's the story here? Well, the STAR system was designed for the fledgling digital recording market. At the time, most people had 8-track recorders (ADATs), hence the 8 input channels. It's a very unusual form factor though: faders lying down but the rest of the desk upright. This means it takes up less room in the studio. [copied from SOS]
"It offers eight main channels, each with 3-band EQ and 100mm faders, eight monitor/line inputs, and 10 stereo inputs, four of which have 2-band EQ and can be brought up on additional faders. There are two channels of parametric EQ on the master section, which can be linked to any channel, left in the main stereo output path or interfaced with external equipment, and two of the stereo inputs can be switched to RIAA phonos for use with record decks."
It has loads of quirky features, like the "loudness" processor on the phones out, the patchable parametrics and the fact that you can patch into/out of pretty much anywhere on the desk via the huge rear panel which is basically one giant patchbay. I bought it because when I was getting my first album mastered I was chatting to the ME about Studiomaster gear. He opined that all of it was awful (fair enough) apart from "this one weird upright desk they made in the 90s which had fabulous preamps". I looked for one for about five years before buying this one. True to his word, it has lovely warm analogue tone and is great for recording drums.
Mine is in spectacularly good condition with barely a scratch anywhere. It comes with the correct external Studiomaster power supply. I'd be very surprised if you ever saw another one, never mind one in as good condition as this. When new it was £1351(!), I'm asking
£200.
Next my
Yamaha MX 12/6
. The MX were precursors to the super-popular, but inferior sounding, MG series. It looks like this:
As you can see it has 8 mic pres, which sound really excellent; two stereo channels with phono or jack connections; four groups; a 7-band graphic onboard; digital effects built in; mono sum output, two aux sends, inserts on the first four channels, phantom power, etc. It's a really excellent unit. Comes with the rack ears too, for fitting in a 19" space. I'm asking
£175
.
Next is another unusual one, my Roland VM-3100. Looks like this:
You could say the VM3100s were the first true digital desk to hit the home market. The downside is that it has quite a bad user interface compared to today's small digital desks. The upside - well, it's incredibly flexible and versatile. You can patch just about anything to just about anywhere, due to the EZ Routing feature. It has SPDIF i/o and optical i/o, transport buttons for DAW integration, two mic pres, a built-in compressor, and a built-in effects processor which is incredibly comprehensive. It even has guitar patches with full amp modelling, effects and cab simulation. It also has a high impedance input on ch4 to plug your guitar/bass straight in.
I've taken it around on most gigs because you just end up using it all the time - an extra couple of mic pres, high-quality guitar front end for the PA, quick and easy A/D conversion to SPDIF, an extra FX processor, etc etc etc. I had the pro version for years, sold it on ebay and immediately regretted it so much I went out and bought this one. Mine has some yellowing on the knobs and faders (must have been in the sun) but it's A1 functionally. As well as all the fiddly stuff I have used it for gigs with my ceilidh band (where pretty much everyone has a line input, not a mic) and it sounded excellent.
Originally £699, I'm asking
£100.
Getting to the cheaper end of things - a Tapco Mix 60.
Great sounding (made by Mackie) mini desk. I've mainly used this for DJing - for an easy mic input to my system. There's not much to say about it except that it does what it says on the tin, sounds good and is in great condition with the external PSU and original box. Despite being teeny tiny it has phantom power and an aux send. Looking for £30 for this.
And finally a Phonic MM122.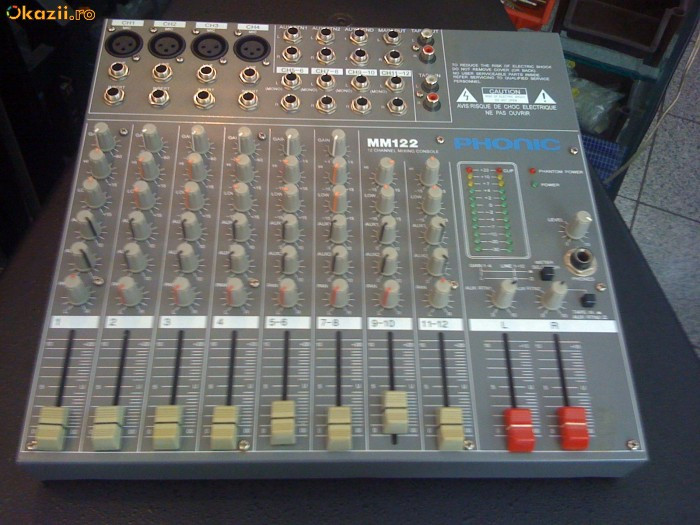 Nice little mixer with masses of useful ins and outs as well as 2 aux sends. Four mic pres with inserts and phantom power, four stereo line inputs. Mine is cosmetically not brilliant, and it's missing three fader caps, but works A1. Will include a kettle lead for it. Looking for a bargaintastic £25 for this.
For all enquiries please PM.