Acer Ferrari One-200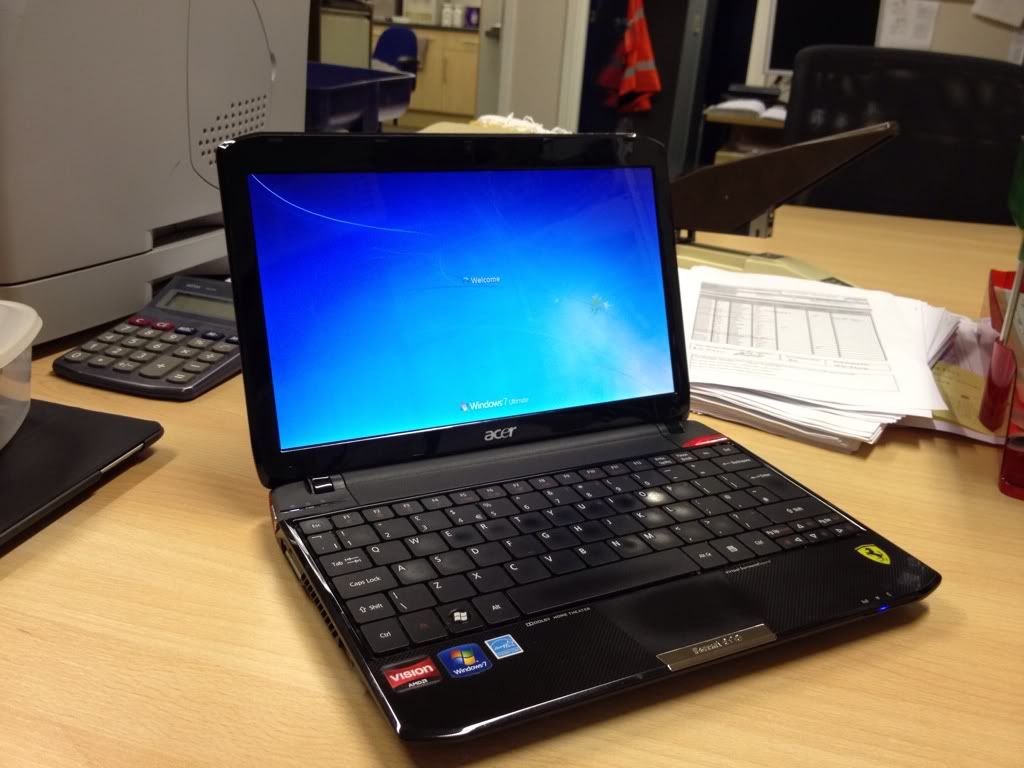 Specs
Processor AMD Athlon 64 X2 L310
(1.20GHz, 65nm, 2x512KB L2, 800FSB, 13W)
Chipset AMD M780G
Memory 3GB
Graphics Integrated ATI Radeon HD 3200
Display 11.6" LED Glossy 16:9 WXGA (1366x768)
Hard Drive 2.5" 250GB 5400RPM (Toshiba MK2555GSX)
Networking Atheros AR8131 PCI-E Gigabit Ethernet
Atheros AR5B93 802.11a/g/n WiFi
Audio Realtek AL269 2-Channel HD Audio
(2.0 Speakers with headphone/microphone jacks)
Battery 6-Cell, 10.8V, 4400mAh, 48Wh
Front Side None
Right Side
2 x USB 2.0
SD/MMC reader
Microphone/Headphone Jacks
AC Power Connection
Kensington Lock
Gigabit Ethernet
Left Side
1 x USB 2.0
VGA
ATI XGP Connector
Back Side None
Operating System Windows 7 Ultimate 64
Dimensions 11.22" x 8.03" x 1.03" (WxDxH)
Weight 3.31 lbs (with 6-cell battery)
Extras 1.3MP Webcam
Bought this netbook new and after buying an iPad, the netbook just isn't being used as much.
Very highly reviewed and I spent a lot of research into choosing this one.
It's never once let me down and has worked flawlessly since day one.
Is running Windows 7 Ultimate, and will be a fresh install when sold.
I can also include Office and Photoshop etc if needed.
The netbook itself is still in near perfect condition, with only small signs of wear on a few keys and the track pad.
Obviously this does not affect the function of either.
Just want to be honest in describing it.
The screen is unmarked with no dead pixels.
The battery still holds the charge well and is currently quoting 4 hours and 2 minutes fully charged.
The charger is in great condition and has no damage, kinks or anything untoward.
The netbook has always been stored in a soft case which I will include.
I have all the boxes and will be packaged to make sure its safe if it needs to be posted.
Will also include all the usual tracking, insurance and so on.
All the pictures are located here....
Picture of Netbook
Price, I'd like £250 posted.
but any questions please feel free to email anyway, I'm pretty reasonable and open.
cheers
Tony

_________________
1996 Kona Lava dome
2012 Custom Orange Alpine 160
Colnago Master Olympic