BENDYCAT ELEVENTEEN wrote:
GBDave wrote:
Hi there,
Got my one owner used and abused chrome burner gathering dust/rust in my garage. I guess it's prob not worth much to the scrap man but I was told a while back the Mags are quite obscure as they were made by "Acorn" I think!?!
Is this anything anyone might be interested in????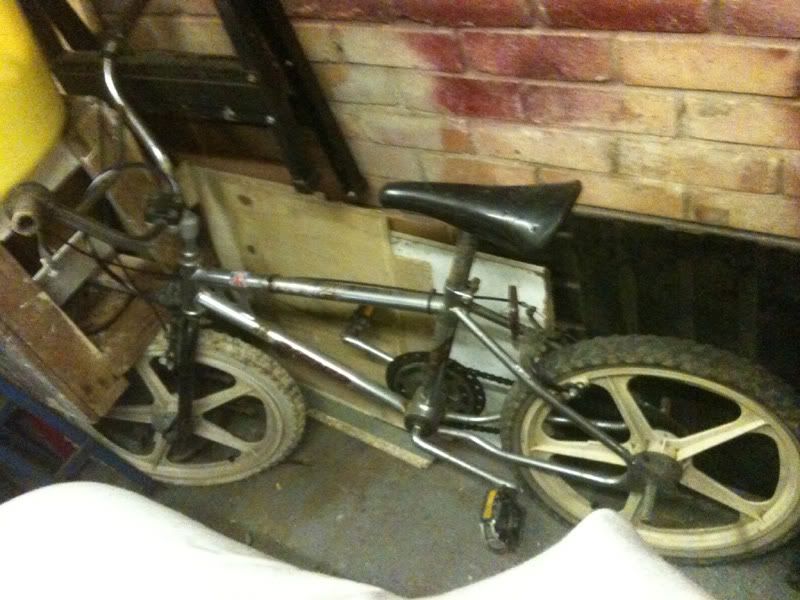 There seem to be more Burners turning up with the word of OLD BMX
yours is a MK 1 - maybe super or super tuff - looks like all the gold has been taken off in most place's - Acorn mags are ok but with us lot being bigger and heavier since we were kids
there not to strong for us now - they need a clean and bleach and maybe a polish
Most other bits will be worn out and need replacing
so for price ?
£40 + but putting it on ebay may get more but it just depends on the day
cheers B
Thanks Mr Bendycat
It is Deffo a Chrome Burner though as I remember getting it when Brand New from Trents in Reading! I even remember getting them to swap the Black with gold writing toptube and handlebar pads for the limited edition Black and white chequered ones!! Shame I dont have them anymore eh!
The gold you're probably seeing is more likely to be rust or dirt I'm afraid as it way past it's best with a siezed seatpost, wonkey saddle and shot headset nowerdays!!
I may well stick it on eBay as it's just clogging up my garage now. It's deffo had a good innings though with me!!
Thanx again for the reply!