Right, I've finished the Laserlite! Sorry for the huge post, but I put up a thread on RAD and have just come back to this one. Piccies and spec below:
In the end I wasn't thrilled with the condition of the frame so I had the frame completely restored and rechromed including repairing the damaged drop outs:
From this:
To this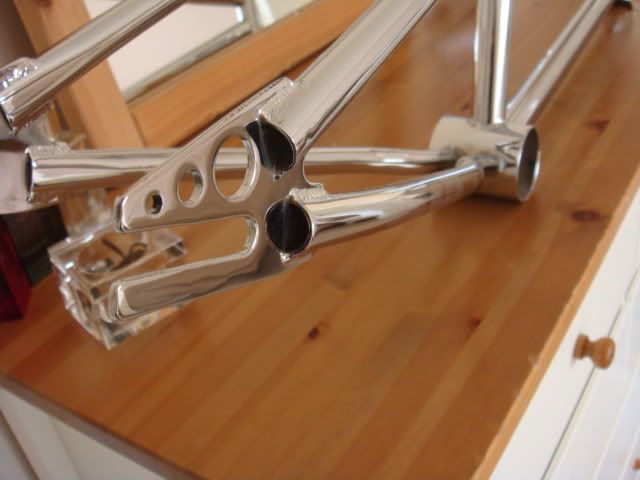 And from this: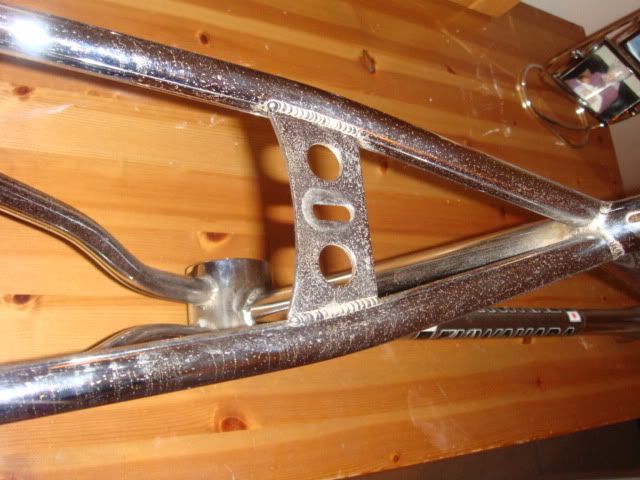 To this: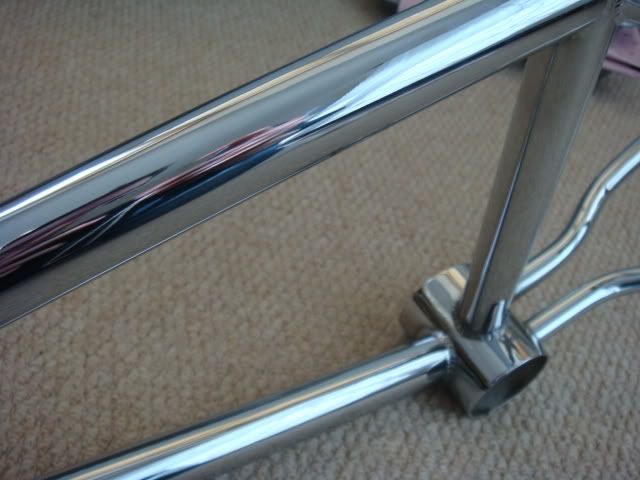 That set the tone for the build and I decided to build one as close to factory spec in NOS or reconditioned parts as possible. Particular issues were the OGK Cobra Grips, Elina Aero Turbo seat and finding a mint 400
flight crank with the correct bottom bracket and end caps.
Correct sealed bearing Sugino bottom bracket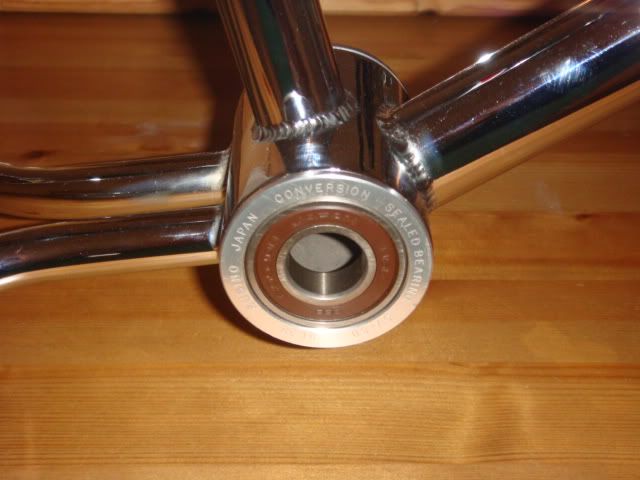 Show mounted only 180mm 400 Flight Cranks in mint condition, NOS Sugino chainring, NOS Itzumi chain and mint XCII pedals with NOS cages
NOS Chrome Araya 7X, NOS Suntour Sealed Bearing hubs built using NOS Chrome Asahi spokes and a NOS Suntour 16t freewheel, all original factory spec. NOS Tange TRX forks.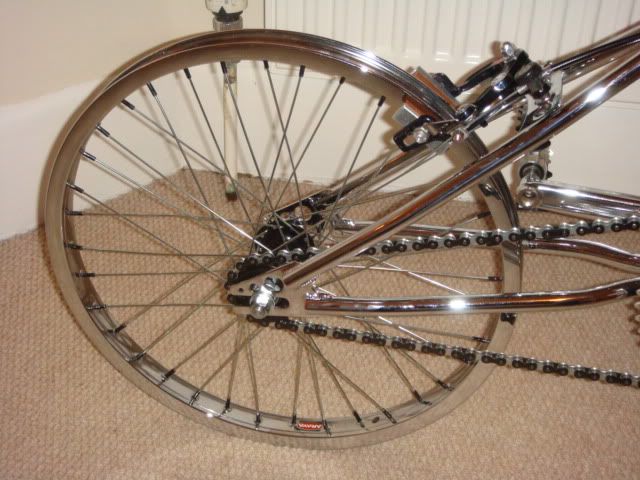 This is the finished bike: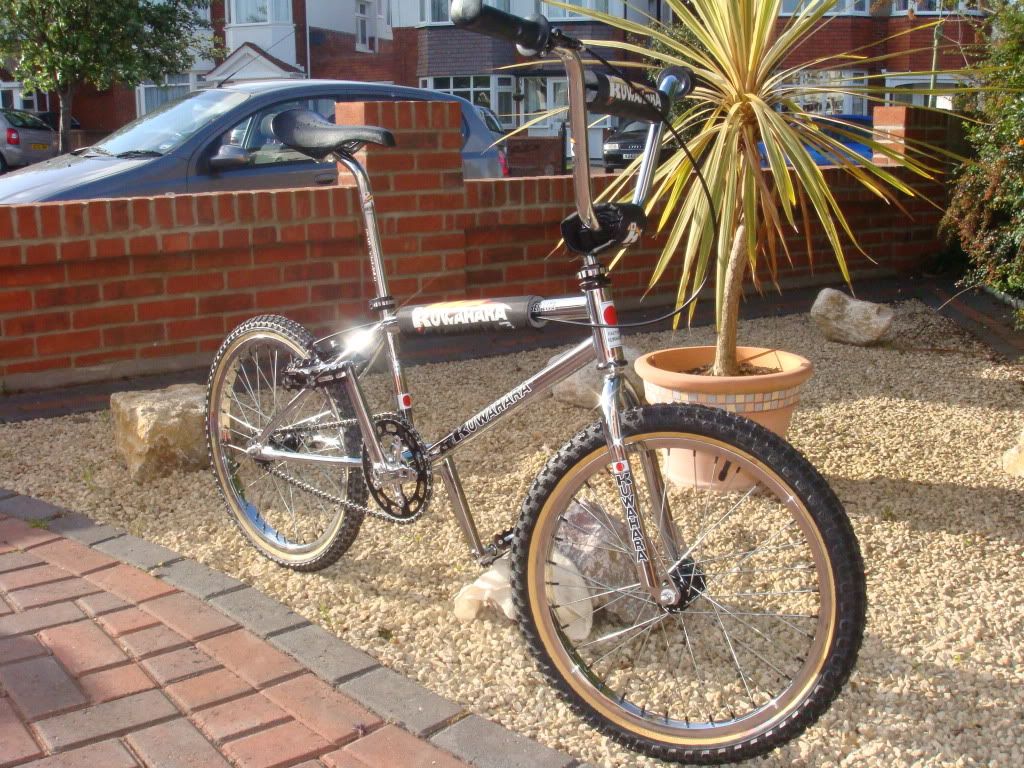 Since these pictures have been taken, I've added the chain adjuster to the drive side and got the XCII decals on the pedals.
Final spec ended up as:
Kuwahara Laserlite Frame (show chromed)
Kuwahara Laserbars (show chromed)
Kuwahara Laserpost NOS
Tange TRX Forks NOS
Suntour Powerstem in black NOS
OGK Cobra Grips
DC Tech 3 Lever NOS
DC Brake Cable NOS
DC MX1000 back brake with self centre device
DC Brake Blocks NOS
Elina Aero Turbo Saddle
Suntour Arrow Seat Clamp
Sugino 400 Flight Crank (show bike mounted only)
Sugino Sealed Bottom Bracket
Sugino Chainring bolts
Suntour XCII Pedals (mint bodies, NOS Cages)
Araya 7X 20 x 1.75 Chrome Rims NOS
Suntour Sealed Bearing Hubs NOS
Asahi 194mm Chrome Spokes NOS
Asahi Black Spoke Nipples NOS
Comp 3 Rainbow Label NOS in 2.15/1.75 Fat/Skinny combo
Chain Adjuster NOS
Repro Padset
I had to use low flange hubs to build up the wheelset but I've finally tracked down some NOS high flange ones in red. I'm getting them re-annodised in black with new decals, then built up onto another set of chrome Araya 7X's I've got along with new 184mm Asahi spokes. This means the only thing not original factory spec is the tyres. So if anyone has a NOS or minty set of IRC Racer 80X skinwall tryes, I'm interested.
Hope you like it - it's my first build and it's been a real labour of love. Don't ask how much it cost (I had to remortgage the house for those cranks).
The only problem is that I'm still left without a rider so I'm looking at either a Diamond Back or a Redline to bomb around the local track on!