right so its here and I've took a look at it and have a question or two?
the head seat is an ahead set, the forks are threaded, in order to get it to all fit together I either have to chop the steerer tube or use spacers, if I use spacers the stem will have to clamp to the threaded part of the tube! if this ok to do?
next question? in amongst all the bits there is this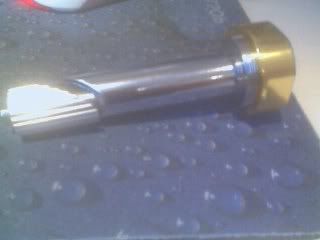 now normally with ahead sets you get the star nut, top cap and bolt that pulls it altogether and holds it tight, now as far as I can see, is the idea behind this bit of kit is that you chop the steerer tube drop on the stem slot this into the tube and then tighten the big gold nut down onto the stem to pull it together to hold it all place? like this...
in this shot you can see the pip under the main threaded section, I think that this is located into the slot in the stem clamp to stop it spinning?
having had a misplaced youth and never haveing a BMX all this stuff to new to me so all help/advice gratefully accepted