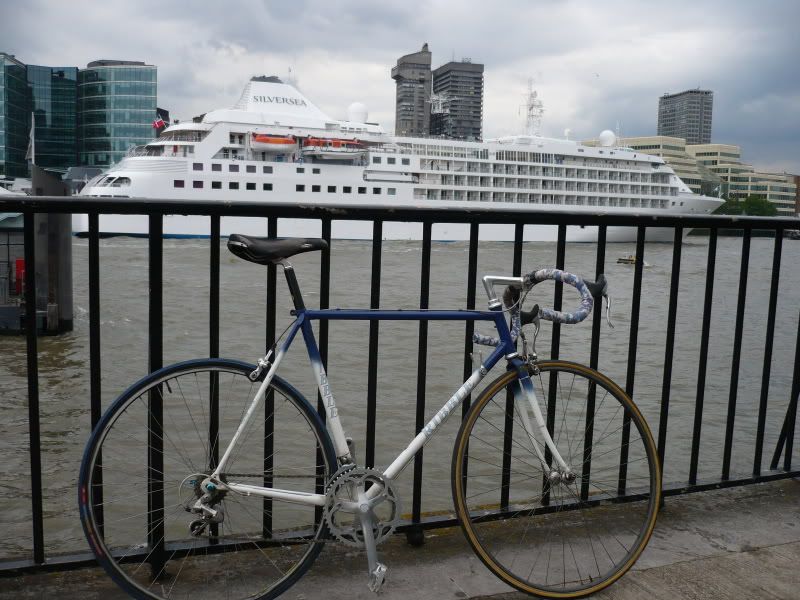 Alright in 1989 I was gifted a racer, but the first thing I did was flatbar it and stick on the most tread I could find.
I bought this ff the bay for £25 BIN, missing a front wheel. It cost me 12 to get it collected from merseyside and dropped off in London, the front wheel pushed the price just over £50 all in.
Spec
531 Ribble frame
Shimano RSX100 Groupset
Campag Record Hub on Mavic MA40 front wheel
Cinelli Criterium bars
Cinelli stem
Mavic Seatpost (stuck but at the right height!)
I gave it a once over with a damp cloth to clear the 8 years of dust, tightened up the headset and dropped the front wheel into the fork. Gave it a once around the block at lunchtime then used it to get me back to paddington in the evening (7-8miles)
It is now my key componant in plans to avoid the underground strike for the next few days.

_________________
[size=67]Where we're going we don't need roads!
Under cover operative of the YVMBAPFS cartel.

The Pace fleet:
16" RC100/ 21" RC100/ RC100 Trials prototype/ RC200 F5/ RC200 F8/ RC250 Trials/ RC300 Gunmetal/ RC300 Silver/ RC500 F1 DH