Thinking of offloading my Bianchi ML3, maybe not 100% retro yet but some parts are about 10 years old now and frames have very definitely moved on from this bike.
Frame: Bianchi ML3 aluminium (size L/XL)
Fork: Bianchi carbon
Headset: Cane Creek hidden aheadset
Groupset: 2001 Shimano Ultegra (9speed with STi) with the following exceptions: -
Non-branded Dura-Ace copy dual pivot brakes
2008 Hollowtech Ultegra chainset & matching external cup BB
New Ultegra rear mech fitted 2009.
Wheels: Shimano (whatever the 2005 version of the RS20 was)
Tyres: Specialized Mondo Pro
Cassette: Shimano 105 (12-23)
Saddle: Selle Italia Flite
Bars/Stem/Seatpin: ITM Road Racing
Pedals: Bianchi Look (old delta style fitting)
Bike is in good condition, couple of blemishes on the top-tube where my friendly LBS dropped a cone spanner on it plus the usual scuffs from riding, e.g. shoerub on the chainset, silver plastic finish on top of one STi lever worn through, braking marks on the rims, chain marks on the drive-side chainstay, paintrub from cables etc. Fits me perfectly & I'm 6'3.
Selling due to being on a "one out-one in" order from the Mrs & I really hanker after a cyclocross bike (so selling to part fund that or a disc wheel if my TT return continues to go well). I figure that with my current project of restoring my 1991 Cougar to a decent road standard and a TT bike with hopefully a new CX bike in my stable that leaves all avenues of bike use covered.
I was in vague negotiations with somebody on another forum about selling but just wanted to get your opinions on a possible price. Initially I thought £375 including wheels seemed achievable or £300 without (which was the deal I was trying to do with this guy on the other forum).
EDIT - Here's the pics (saddle & wheels in the photo won't be sold and alternatives put on).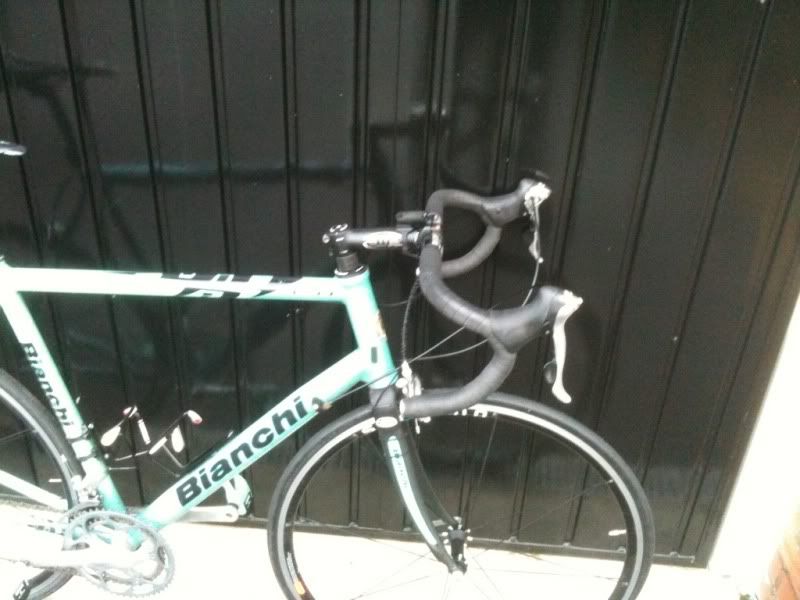 I've been thinking a lot about this today. Would I actually be better in switching out the "modern" Shimano and replacing it with retro 7spd Campag Chorus/Athena/Veloce mix and then selling it on here?
I'd really like to know what people think.
Thanks