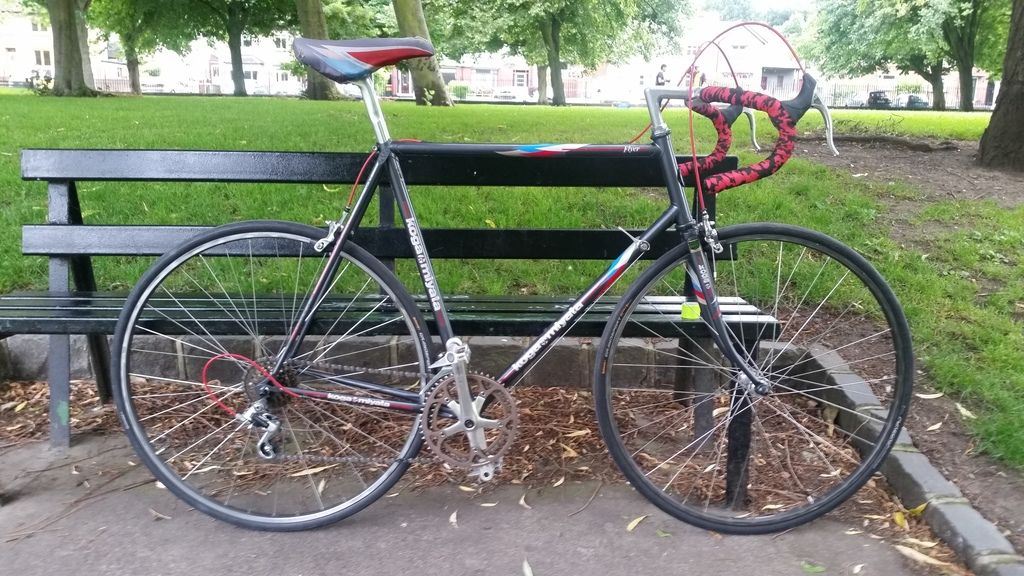 1988 version of Flyer, can be found in Koga's 1988 catalogue.
Most of the parts are original and in very good condition.
Nice lightweight bike that i'm looking to sell as it's too small for me
Parts list:
Frame -Koga Chrome Molybdenum Hard T Lite FM2 tubing - (frame decal says 60cm, actual measurements-seat tube 58cm c/c, top tube 56cm c/c and head tube 18cm)
Fork -Koga Special Manganese tubing Hi Manga HM-2
Shimano 1050 Series groupset:
-Bottom bracket - Shimano BB-1050
-Headset - Shimano HP-1050
-Hubs(Front HB-1050, Rear FH-1050, 36 holes)
-Brake Calipers - Shimano BR-1050(39-49 mm)
-Brake Levers - Shimano BL-1050
-Downtube Shifters - Shimano SL-1050
-Derailleurs: Shimano FD-1050, Shimano RD-1050
Crankset-Shimano 600 with Shimano Biopace bronze chainrings (52/42)
Shimano Uniglide 6 spd freewheel/cassette
Wolber GTX2 anodised rims, 36 holes
Shimano PD-1050 pedals
New tubes(Vittoria Ultralite), tyres(Continental Grand Sport Extra Road 25c, forgot to align valves and tyre markings
) and rim tape(Velox Rim Tape Cloth 16 mm)
New chain(Shimano Altus HG40), cables and bar tape
Hubs, BB and headset have been cleaned and serviced, hub bearings have been replaced just in case.
Koga quill stem
Sakae SR Road Champion drop bars
Seatpost -Shimano 600
Saddle-original Koga Miyata(covering fabric worn off a bit)