flash wrote:
I recently inherited a 1970 Allin which was built to order for my Uncle John. He changed the bars from drops to North Road then straight bars as his Parkinson's started to get worse. I have a bad back so need flat bars or bars level with the saddle but the straight bars currently fitted are way too narrow, so can anyone suggest suitable bars, age appropriate....ta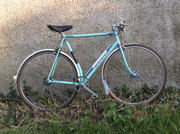 North Road would be period appropriate - Allin's would have fitted those bitd.
Rk.

_________________
V-CC member #584, co-founder of V-CC Lincolnshire section, member South Eastern Road Club. In the garage - 1987 Roberts(lugless)Audax, 1986 Raleigh SBDU Pro Super, 1984 Raleigh LU Corsa, 1984 Roberts Tourer, 1980 Allin Stan Butler Special, 1977 Geoffrey Butler(Cliff Shrubb built), 1976 Geoffrey Butler(Roberts built), 1975 Bill Philbrook(lugless)tourer, , 2 x v.early Roberts #107 & #127, 1966 Raleigh Superbe Roadster, 1964 Allin Stan Butler Special Belgique, 1951 Hobbs of Barbican S/C, 1950 Hobbs of Barbican S/C, 1947 Hetchins Super Special. MTBs - 1988 Specialized Stumpjumper, 1988 Muddy Fox Courier(Wife's).