very old french firm
advertisement from 1931
and a pair of hubs from late 30's or 40's but with round holes : Exceltoo Super Competition
other version low flange in steel at that time
later version - probably the one you have got abandoned the round holes for the "kydney shape" one.
Don't know if in the seventies Exceltoo was still "independant". Doubt it. Probably was swallowed by a bigger one such as Maillard ( which swallowed Atom and was producing also the Normandy hubs)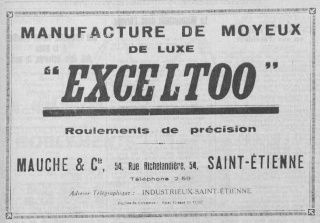 _________________
Serotta Max 853 to be "MTB politically correct"
and now having been bitten by the vintage roadie bug ! is this serious doctor ?
the roadie being more on the "randonneuse" side !