I always worry and especially with these hubs as the wheel has only just been built. More damage would make me cry!!
Anyways - back to the axle issue - i spoke to Nigel at Campyoldy -
http://www.campyoldy.co.uk/
.
He was more than helpful when i asked about the Nuovo Tipo hubs, he provided me with some details info and then sent me pics of NOS hubs which have not beed messed with - so i can compare my spacing etc with original ones.
Nigel provided the following info -
Two pics of correct untouched NOS spacing on NTipo hub:
Pic 1 showing complete hubs - NTipo 5s/120mm is lower one in pic.
Victory large fla 6s/126mm is upper hub-coincidentally FR thread.
You will see the correct 4mm spacer on left side on both to make up for use of std hex locknuts as against circular thicker Record.
In Pic 2, I reversed the cog sides for a close up of spacers; Camp added 4mm spacer to Vic 6s plus the long alloy spacer is 1mm+ longer than on 5s plus the tab washer on LEFT side on Vic hub is thicker, maybe 1mm- so it all adds up to the extra 6mm width required for 6s.
PIC 1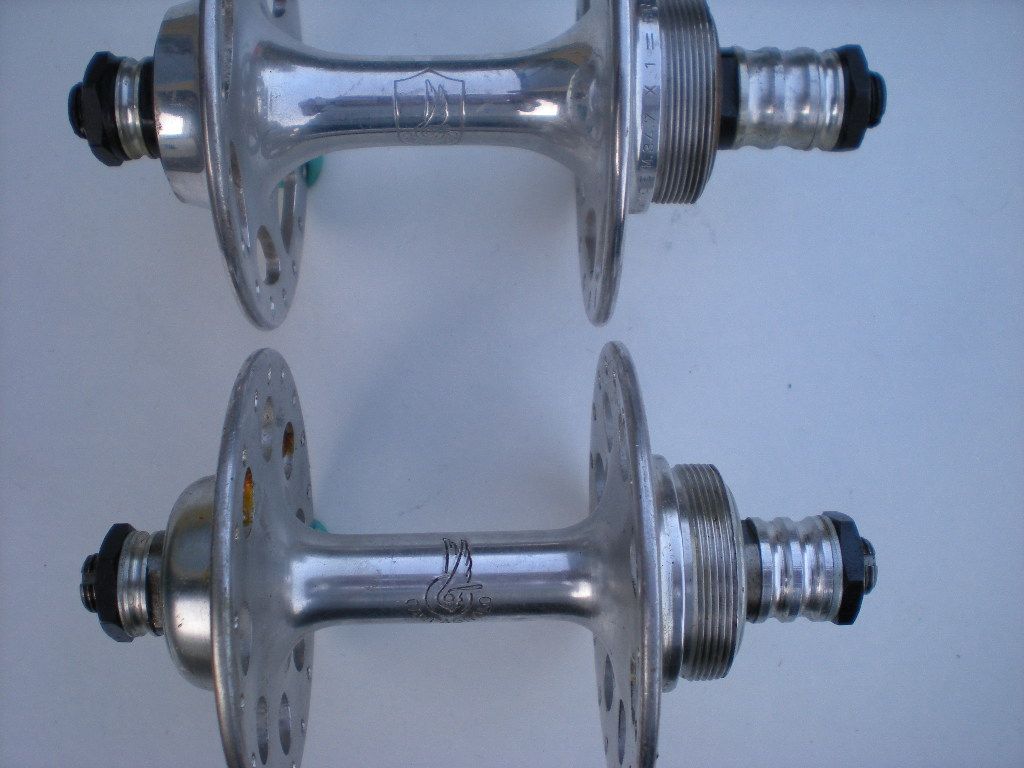 PIC 2
Thanks to Nigel for the info, he had me baffled at an early stage but was able to explain it to me in language i could understand.
Comments please, and have a great weekend RBers,
Richard
_________________
Built - Raleigh Rapide / Van Tuyl / Raleigh Ritmo / Forme Longcliffe / Will Cee Winter / Python Rock / Gazelle CM Mixte (aka Townsend) ///// Pending - Rossin Prestige Team / Gazelle CM A / Gazelle CM AB / Fulmar / Peugeot Sportive / Raleigh Flyer / Batavus Champion / Raleigh Flyer / Peugeot / Look 241 Kelme / Raleigh Pro Race