Gents n Ladies,
I've decided to sell my road bike circa late 1980's. Having never sold a bike on ebay before (or on here) which is the best way forward? I don't want to give it away but do realise that it's getting on a bit
So do I break it down and sell as bits or put it on fleabay with a reserve? What kind of reserve do you think?? It's been stored in the loft for the last 10yrs and now I've got back into Mountain Biking, being realistic, I'm not going to use it again so might as well put the proceeds of sale into a new MB
Brief spec -
Rick Powell Columbus SLX (South Yorkshire builder retired!) Campagnolo dropouts Cinelli B/B shell and aero fork crown. Tange Headset
Campagnolo C Record Delta - Brakes / Chainset / Rear Mech / Syncro Levers / Seatpost
Campagnolo Victory front mech and hubs
Look pedals
Mavic MA40 rims DB stainless spokes. 6 speed block
Selle Italia saddle
Shimano 600ax aero H/B stem
Cinelli bars
Dia comp aero levers
All the components are in excellent cond bar a few minor marks - crank arms and rear mech
Frame is in good cond but the paint is chipped in places and could do with re-finishing...
Couple of photos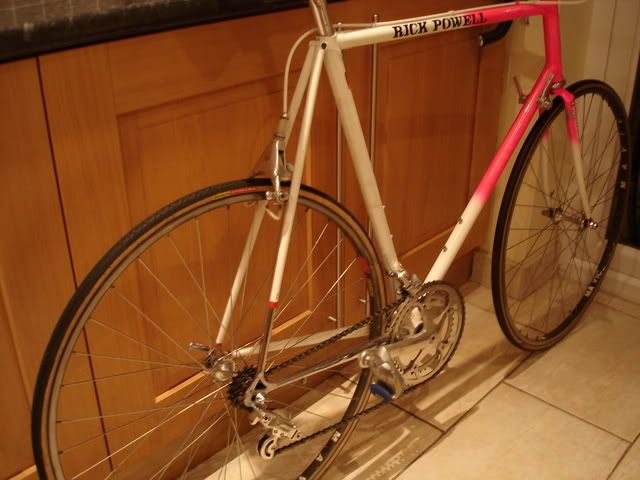 Any thoughts ideas greatfully received
Thanks
Dave O
PS - not a sales pitch genuinely after some guidance....