Yup, that's certainly an ugly one.
Quote:
the bottom part of the headset too- bottom of crown-race to bottom of head-tube.
Quote:
That's 7mm
That's pretty short, are you sure? Usually this is around 12-14mm.
Quote:
else i'd end up with threads showing as it does now?
No, if the measurement above is correct, you'll need a headset with a stack height just under 36mm.
If you look at all quality headsets, the top nut curves over at the top and covers the fork thread to give a tight 22.2mm fit around the handlebar stem quill.
I see you've just put it all back together, but here's how I measure how much stack height a frame/fork combo can accommodate: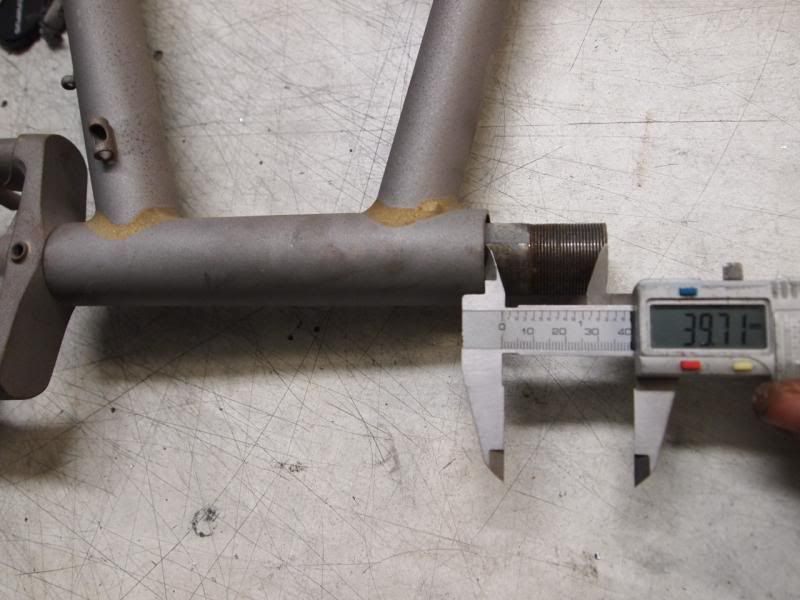 Strip off all the headset components, put the fork through the headtube so there's no space at the bottom, then measure how much sticks out of the top. In this case, near to 40mm. Then look for a headset with a quoted stack height less than 2mm longer than the measured length, or cut a little bit off the fork length (if you absolutely have to).
All the best,
_________________
Dan Chambers
danson67
Pause, take a breath and ask yourself: "What would
Rast
amo
use
do?"
New in the quiver:
Danson Pinion P1.18 hardtail