Hello all! A beginning road biker greeting you from Finland!
I've only just got into road bikes after wishing to do so for a very long time.
I like vintage things and I'm also currently quite budget constrained, so I started out by
buying a semi-original vintage Miyata. Since then I've learned the frame size wasn't close
enough for me - luckily it ended up being very,very close for my wife!
It has been a steep learning curve, but now I'm finally getting there...
Anyway, what I have
really
always wanted, was a classic Italian lugged steel roadie.
So after fighting myself for a few days I took the plunge and ordered this: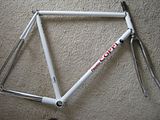 (click for bigger)
..arriving in a couple of weeks, but I need a head start if I want to really ride it this summer.
It's a NOS Fausto Coppi from mid '90s and has the modern 100/130 hub spacing. Thron/Genius tubes and built by Masciaghi, Italy.
Sure, it's not exactly a Colnago Master, but I really like the style and from what I've gathered it should be a nice ride even if not the lightest steel frame in history. And I love the chrome details
Now I'm looking for some help - I need to build this up on a tight budget, and I don't know where the best deals are. Most ebay stuff seem to be quite expensive for what you get, and generally the used market is surprisingly sparse.
For what I know, it looks to be very difficult to keep the costs down while trying to maintain the vintage look on a bike...
I am also very much open to good offers, so feel free to PM me!
1. The first question would be appearance. Help me out please! I'm after classic looks and I'm wondering what colour scheme for the wheels, bars, saddle, etc. Perhaps polished stem/post/bar and red tape/saddle? Or white tape/saddle. With a silver groupset. Wheelset in silver or maybe with red rims and clear s/s spokes? Then perhaps tires with a red stripe (or even gumwalls?) And red cable covers all round. Give me your suggestions please - pictures are most velcome too!
2. I want a 9-speed or 10-speed Campagnolo groupset for this. Is there any way to do this on a budget? New Veloce is ~400 €, and that is too much for me right now. I'm mostly looking for a compact crankset with 175 cranks (maybe even 172.5). Might consider a 53/39 too if I got a wide spread cassette in the same deal.
3. Is there any way to find Campy-hubbed (9-10 sp) wheelsets with a true classic look for a good price? I mean a really good price, as in not much over 100€ for a set, tops. Also the wheels need to support my 92 kgs of body weight until I get some of that weight shaved off.
I would like the wheels to be strong and durable, the last word in lightness is not a requirement.
4. What about pedals? I would like clipless maybe - but the combined cost of pedals and shoes freaks me out. Would toe clips with straps be OK? Some say they can be a pain to disengage in a hurry. But I would like the look of them and the option of different shoes. Also, where could I get all these things for a good price? Not Chinese either, would prefer Italian..
I know this is a big list but hopefully you guys will be able to / want to help me out. This is my first bike build, and I need the help.
As a self-learned car mechanic I know my tools and stuff, but I don't seem to find the good deals on bike parts yet.
Thanks!!