Corima's 40 yrs old this week...
Here Vino etc visit the factory museum: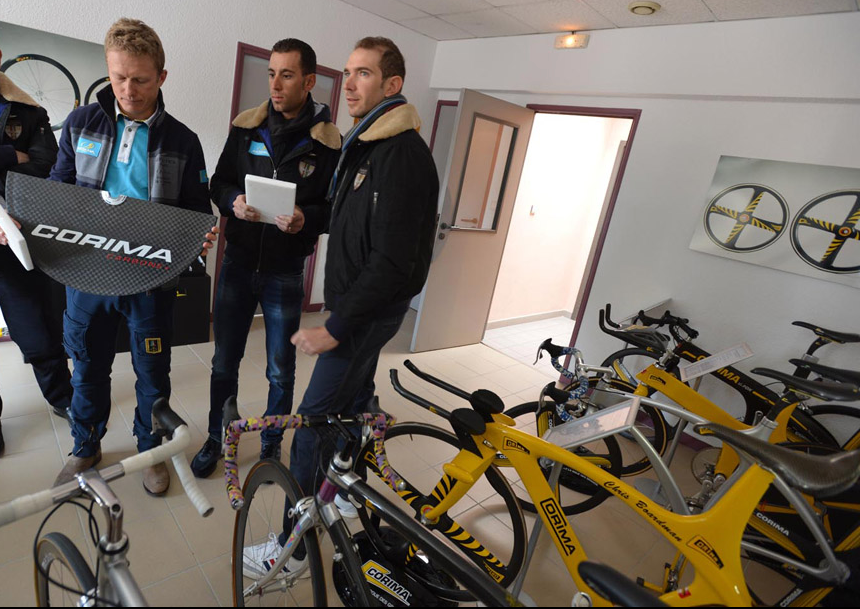 So that's where Boardman's track Cougar is
Quote:
CORIMA was created in 1973 by Pierre MARTIN and Jean-Marie RIFFARD and CORIMA celebrates its 40th Anniversary this year, 40 years of Innovations.
CORIMA celebrated its 40th Anniversary on February 22nd 2013 with many customers and pro riders, among them Justin JULES, recent winner of La Marseillaise and the Team Manager of LA POMME MARSEILLE, Frederic ROSTAING. Riders from the SOJASUN team, Julien SIMON, Remi PAURIOL, Julien EL FARRES. The team has started the season very well, 1st place of the UCI Europe Tour (individual and team ranking).
Vicenzo NIBALI, leader of the ASTANA Pro Tour team who had made a special trip to come as well as his partner Alessandro VANOTTI and Giuseppe MARTINELLI, Team Manager.
Alexander VINOKUROV, Olympic Champion in London who is now the General Manager of the Kazakh ASTANA team was also there for the anniversary and took the opportunity of this event to remind that he has been riding these great CORIMA wheels for years!
Photo Gallery of visit, party and factory here
All the best,
_________________
Dan Chambers
danson67
Pause, take a breath and ask yourself: "What would
Rast
amo
use
do?"
New in the quiver:
Danson Pinion P1.18 hardtail