Hello everyone,
I wanted to share my new frame with you to see what you think about it. I found this for sale in London and after a lot of consideration (as I have enough bikes already) couldn't resist it. I don't know much about the chap who built it, or indeed how old it is, but a quick Google revealed that his frames are fairly well respected. I can stick the various serial numbers up on here if that'd help anyone to give me more info about it.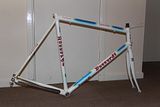 My plan is to build it up with current Campag 10-speed Centaur components and then ride it during the summer months as my daily road bike. I'm used to vintage Raleigh 531c framed bikes so hopefully this will be a similar experience in terms of comfort and performance.
The only problem I have is I don't know what sort of head bearing set it should have - does anyone know what would fit it, both in terms of sizing and manufacturer?
Cheers for now,
Simon R.