Hi, I bought my track bike bike complete for the princely sum of £20.00. Since then i have used the same bars and stem but changed the grouppo over to Miche Primato (C2004). The saddle is a 2005 Ltd swallow.
At time of purchase, the bike was equipped with Campag record Hubs; Rear being a Route Super Champion Competition, high flange (with 1969 National Track Championship scrutineers sticker), the front a Fiamme Red Label, low flange.
I do not have any idea of the BB beyond it being a Campagnolo version marked with Dims only. I guess ITA thread? The cranks are/were by Williams. The stem is a 1" quill with Cinelli alloy bars.
I am really keen to ID the frame though. I am about to restore it and would like to know who the frame builder was/is. It has a hole for a break boss at the rear (could have been drilled any time), but otherwise dimensionally is a track bike; 11" floor to BB etc.
Can anyone please help in ID'ing the frame or point me in the right direction from the photos below? There are no serial markings at all anywhere on the frame...
Thanks for reading
[img][img]http://i259.photobucket.com/albums/hh304/NickFitt_2008/Track%20Bike%202013/TrackBike001_zps71725ca0.jpg[/img]
[/img]
[img][img]http://i259.photobucket.com/albums/hh304/NickFitt_2008/Track%20Bike%202013/TrackBike005_zps790881b8.jpg[/img]
[/img]
[img][img]http://i259.photobucket.com/albums/hh304/NickFitt_2008/Track%20Bike%202013/TrackBike008_zps62f439ef.jpg[/img]
[/img]
[img][img]http://i259.photobucket.com/albums/hh304/NickFitt_2008/Track%20Bike%202013/TrackBike010_zps4138d65a.jpg[/img]
[/img]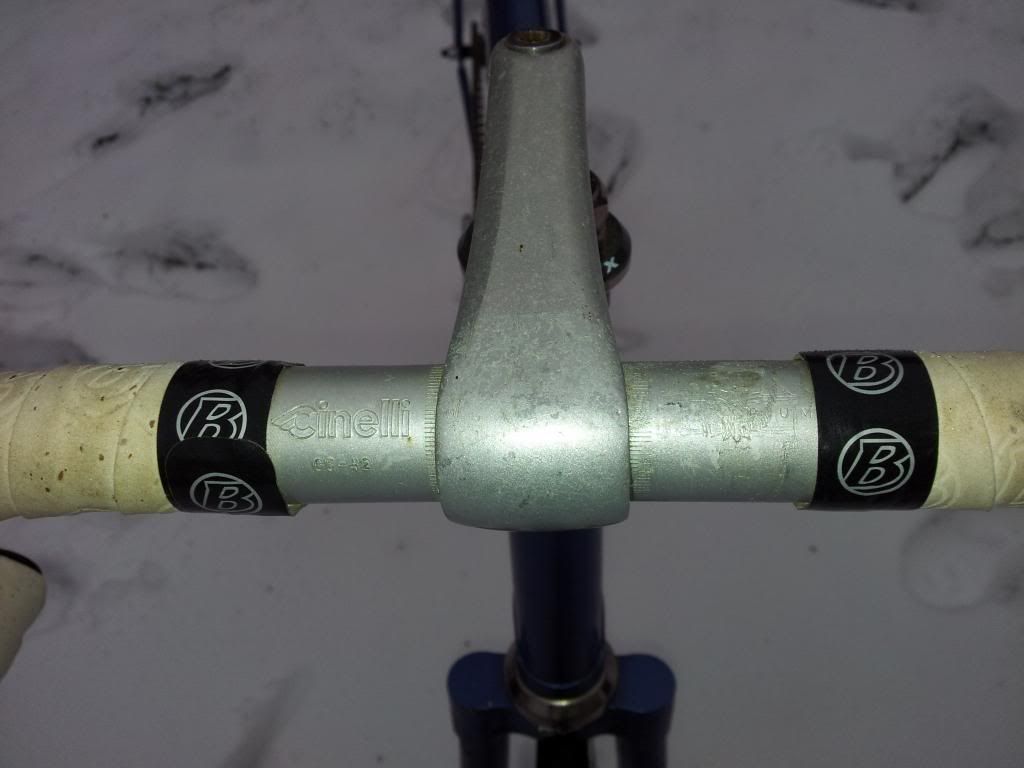 [img][img]http://i259.photobucket.com/albums/hh304/NickFitt_2008/Track%20Bike%202013/TrackBike014_zps45f195d8.jpg[/img]
[/img]