Indulge me, I've had a bike-centric day, and we don't seem to have an off-topic area.
Lance Armstrong, as well as being a weapons-grade, super-deluxe, fully-fitted, wall-to-wall knob cheese, was also completely and utterly wrong; it is unquestionably all about the bike. Always.
Working from home today, and got to spend an hour or so of my lunch break continuing the scrub up of my barn-find mum's Christmas present. Coming up quite nicely with the help of wire wool and autosol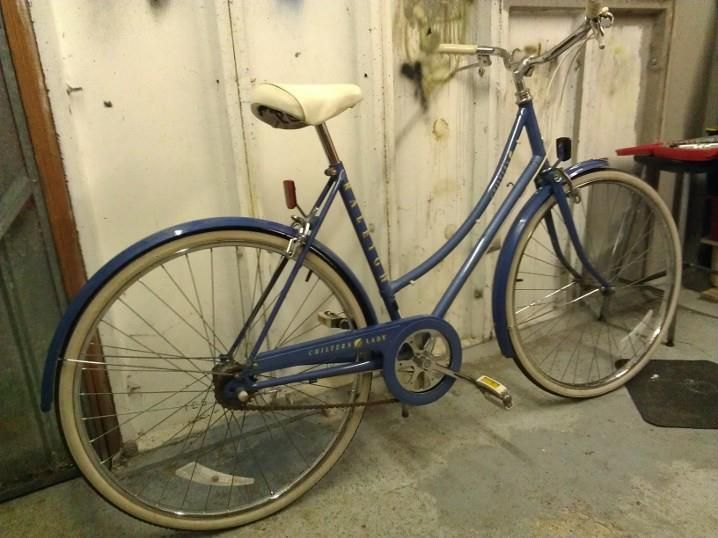 All it needs is a rear brake cable, and a basket for the front - estimated total cost; £20. Having pottered round on it (far too small for me) to test brakes and gears, I've come to like the basic honesty of sit-up cycling... I fancy a 30s Gent's thing for my next-but-one project.
End of lunchtime and I get an email from HR to say my cyclescheme voucher is approved at the maximum of £1000. So, fully committed employee that I am, I took a second lunch break and rang the local purveyors of bike porn Prestige Cycles to enquire as to whether they would build me a Surly crosser within budget. Unfortunately they said yes, which completely ruled out the rest of the afternoon as I
had
to spec the thing to within budget.
Then, tonight I cycled the couple of miles over to my mate's place on the Peugeot. Utterly hopeless CLB bendy brakes, tube shifters, massive gearing, 'interim' pedals, plinking rear spokes, and short top tube with arse up - nose down riding position. Icy roads, and Hove hills. Scared myself witless. Love the old nail, but those brakes are going the minute some decent long reach Shimano appear on eBay.
Having returned home for tea and medals, I dug out the Trek and went for a spin round the block to remind myself what functioning brakes feel like. Took great delight in being able to change gear without risking fingers in front wheel. Remembered how skittery Gatorskins are in the cold. (excuse the modernity)
Then lastly got a text from mate confirming that I could have the 70s frame/forks he has in his cupboard. If I recall correctly it's a 60cm Carlton, January's project is go!
A thoroughly constructive day all in all.