We've got a horse. Well, I say 'we' - I finance (bankroll would probably be a better word) a horse which my other half has.
Anyway, up at the farm where said nag is stabled, and I'm rummaging around in one of the many barns. All of them are an Aladdin's cave of long-forgotten stuff - old motorbikes, lorries, cars, etc. Having grown up in a place similar, I'm in my element.
In amongst a pile of 90s kid's/teen mountain bikes and other odds and ends, I spy the distinct shape of a step-through. Photo taken back home in the garage once I'd wiped the accumulated grime off it.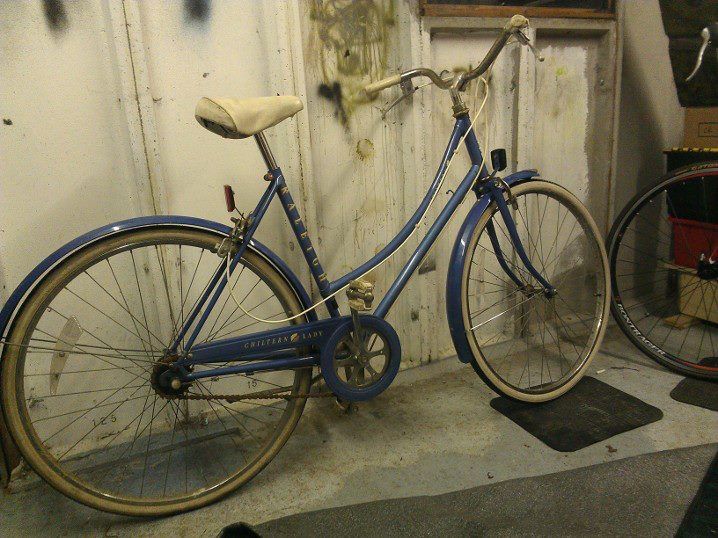 Went and found Dave the farmer and asked him about it. "Ah, that old thing. Yeah, mother-in-law bought it new, rode it a few miles then decided she didn't like it. Then my sister-in-law had it and rode it once. It's been sat in the barn for at least 20 year now... you can have it if you want it"
Original white(ish) wall tyres, tubes, brakes - the whole thing seems to be complete original. The chrome on the wheels, bars and brakes is shot with rust spots, the rear brake cable is seized solid, and all the bearings are drier than a witch's tit, but otherwise it's more or less new.
Bit of elbow grease, new cable and chain, replace the saddle and add a basket, skirt guard, and few other touches, and that's Mum's Christmas present sorted.
Not sure about what to do about the knackered Chrome bits though...