Your standard 700c tubular tyre rims with 633mm outside are the same diameter as the 622mm ETRTO size of 700c tyre/tube wheels.
The 622mm size refers to the diameter of the bead seat inside the rim. To get the actual outside diameter you need to add around 6mm for each flange...giving 634mm overall.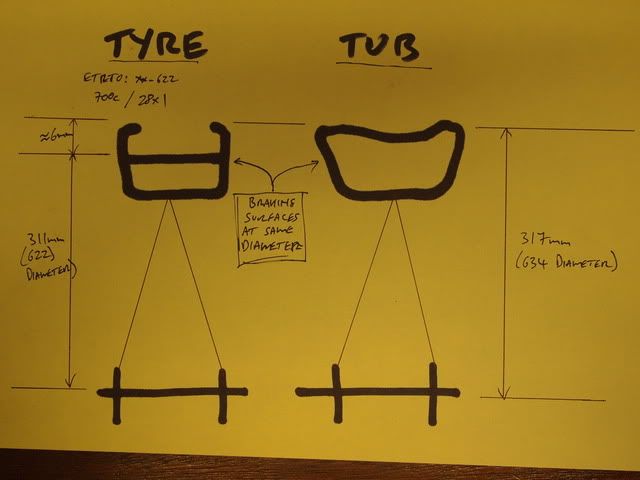 This means that a tub wheel can be swapped out for the newer tyre/tube size without adjusting the brake blocks. Useful when you've ridden to a race and want to swap your general wheels for your racing ones.
The 28" reference comes from this 700c size being roughly converted to Imperial in even numbered steps of roughly 2"/50mm...ie 24"(600c), 26"(650c), 28"(700c).
This was fine as a rough rule of thumb in France where the old UK imperial sizes (ie 26x 1 3/8, 27x 1 1/4, 28x 1/3/8 ) barely existed. But when the nominally 28" French racing size was imported to the UK, it was actually slightly smaller than the better established UK 27x 1 1/4" size (622mm vs 630mm), so to avoid confusion we carried on calling it 700c, the nominal outside diameter name (700mm diameter incl tyre. 27.6").
The named sizes make sense when compared to other sizes in the same size series...The problem we have now is that, thanks to globalisation, we have tyres from the British, French and US systems, all with a nominal size, an actual size and a metric ISO ETRTO size in the mix. No wonder everybody gets confused.
I'm not sure I haven't just added to the confusion...
All the best,
_________________
Dan Chambers
danson67
Pause, take a breath and ask yourself: "What would
Rast
amo
use
do?"
New in the quiver:
Danson Pinion P1.18 hardtail