Been a while, but finally got the bike finished last week. Its come up really well. All in all, everything is original, apart from the saddle, bar tape, cables and mudguards.
I got the wheels done up at mosscrop cycles in southport. Really good, helpfull and friendly shop. They laced the existing rims and hubs up with new spokes.
Been out for a quick ride at the weekend and it felt good. Anyway, heres a picture of the finished bike.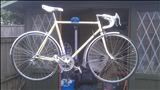 Ive just noticed theres been a couple more topics started up on this model, so this may help them too.
Thanks.[/img]