I would have thought that dropout to brake bolt distance would be the limiting factor, as it dictates tyre clearance and brake drop.
You've got some decent clearance there at the moment, so probably mountainbike 26"rims with a smallish tyre will give you the largest workable diameter. However, you'll need at least new rims, tyres and brake calipers for it to work.
Your original size, 24" x 1 3/8" is still widely used in the wheelchair world. Plenty of choice of tyres, from 23mm slicks to 1.5" knobblies (even tubulars
) in black, grey and colours. Just not in bike shops... 26" x 1 3/8" is also still pretty common in wheelchairs, as are narrow mountainbike-rim sized 26" tyres. I can help if you need.
ETRTO wheel sizing geek warning
:D
The best way to work this stuff out is to use the ETRTO mm sizing, not the inch names...24" x 1 3/8" is 540mm diameter at the tyre bead seat (not the outside of the rim, but about 12mm smaller):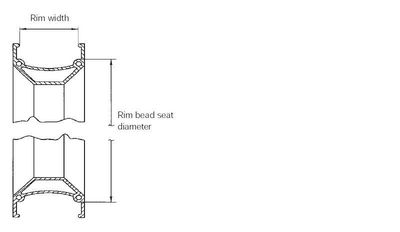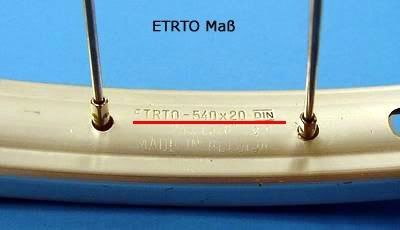 26" x 1 3/8" is ETRTO 590mm, so assuming you keep roughly the same depth tyres, new 26" x 1 3/8" wheels will be 50mm bigger diameter, with 25mm less clearance to the brake bridge, and 25mm shorter brakes. ((590-540)/2=25mm)
Similarly MTB 26" is ETRTO 559mm, so again assuming the same tyre depth, you'll get a wheel 19mm bigger overall, with 9.5mm less clearance and brake drop. ((559-540)/2 = 9.5mm)
To calculate the outside diameter of any wheel, take the ETRTO mm size and add 2 x tyre depth (in mm) and you'll be pretty close. Simples...
Some 26" ETRTO sizes
:
Mountainbike 26" (26 x 1.95 etc.) = 559mm
Road racing 26" (650c) = 571mm
Old French roadster 26" (650B) = 584mm
Old British 26" (26" x 1 3/8") = 590mm
Some 24" ETRTO sizes
:
Mountainbike 24" (24 x 1.25 etc.) = 507mm
Road racing 24" (600c) = 520mm
Old British 24" (24" x 1 3/8") = 540mm
All the best,
_________________
Dan Chambers/danson67
Pause, take a breath and ask yourself: "What would
Rast
amo
use
do?"
New in the quiver:
Danson Pinion P1.18 hardtail