I finally got this done over the weekend, can't believe it took me 10 days to get hold of a shim because Evans Cycles computer had a blonde week!
Anyway, here's some pics to supplement The Don's previous thread.
This is what the Klein streerer looks like once the headset is off. You may notice the star nut I put inside for the top cap, no need to search the world for a replacement Klein cap.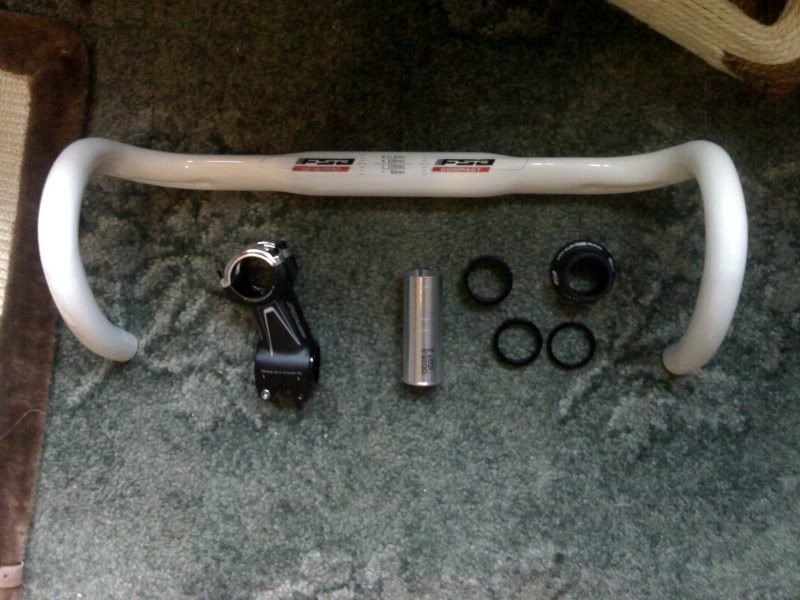 Here's new gear - FSA Wing Pro handlebars, Specialized Comp adjustable stem, a post moderne shim (27.2mm - 28.6mm) and some spacers.
Here they are on the bike, the shim was only a few mm to long so I didn't bother cutting the extra off, just put a spacer above the stem. Note the stem is placed where the steerer ends and NOT where there is only shim at the top.
And the bike is finally complete. I think it looks slightly odd with white handlebars and a black stem but I'm not bothered for now.
I rode it for the first time yesterday and it all works fine so thanks again to The Don for suggesting this idea. I found that the shorter stem has made the steering more sensitive and a bit twitchy but I seemed to get used it after a while.