I recently won an ebay auction for a lot of assorted bike bits, from the photo most of it looked like rubbish, however one of the frames caught my eye.
http://cgi.ebay.co.uk/ws/eBayISAPI.dll?ViewItem&ih=003&sspagename=STRK%3AMEWN%3AIT&viewitem=&item=130098729879&rd=1&rd=1
After some help from this forum in identifying the frame (
http://www.retrobike.co.uk/forum/viewtopic.php?t=9271&highlight=orange
) I put in a bid and won the lot for a single £10 note.
Well I said i'd get some photos together of the build so here we go.
Its obviously early days yet. The photos here are just a few bits slung together (-note the use of any shaped/sized disc shaped objects as spacers under the stem
, However im already starting to like the look of this bike.
The syncros stem i got as part of another ebay lot (rocky mountain instinct frame & bits). The forks (project 2's ???- although they look to have a bit of a curve to them compared to the last lot of P2's i got close to.) were in the same lot as the orange frame. And although the silver paint is very badly done and in even worse condition, i quite like the look of it as a colour scheme in relation to the other parts.
So black and silver is one option, however i decided (in a moment of boredom) to model up the frame on some CAD software and have a look at it in different schemes.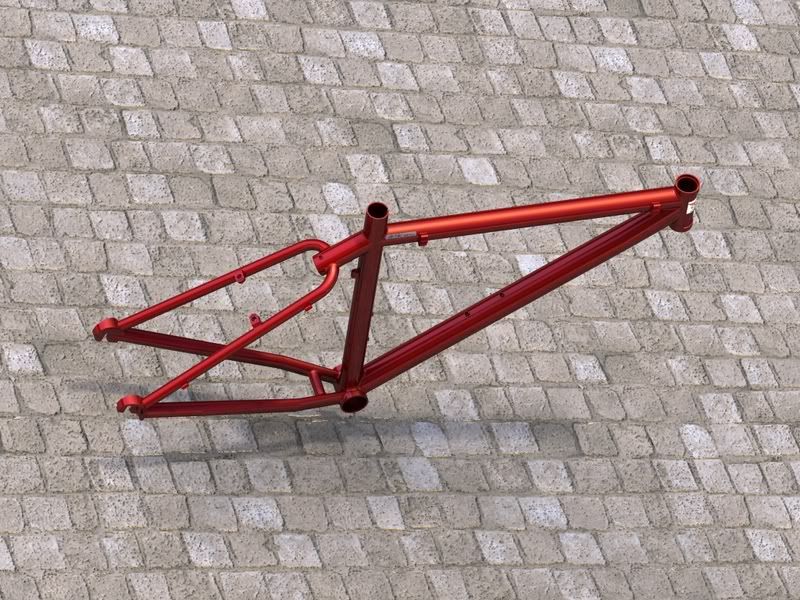 The red colour was my second choice. However since i have the syncros stem and black forks i think i'll stick with plan A. (sadly i couldnt find any decent resolution images of the orange decals of the period, other wise i would have added them to the images
)
So the plan from here is to get the frame stripped, tidied up a little and the seat tube which is currently stuck removed. Then get the frame sprayed/powder coated in a shade of silver.
Decal wise im looking to get some 1998 style decals reproduced but have the colour amended to suit the new frame colour.
Bits on my shopping list for this one:
Shifters
Levers (the ones in the photo are modern deore levers... i dont think they quite go)
Chainset, i was thinking of looking out for one of the 93/4 LX black 5 arm cranks and rings.
Matching LX mech's
Annoyingly the rear brake bosses are missing too, im hoping a call to orange will prove usefull in resolving this one.
I gave up cycling during my uni years back in 2000, selling my bikes to fund my studies (and student lifestyle) only keeping my old Marin for "sentimental" reasons. Its only this year ive started riding again, and since joining these forums at the tail end of Janurary I have trippled my collection! Curse you all for re-kindling my fondness for 90's bikes!
Edit : oops this was meant to be in readers bikes forum section thingy.... if an admin wants to move it .

_________________
[size=67]Where we're going we don't need roads!
Under cover operative of the YVMBAPFS cartel.

The Pace fleet:
16" RC100/ 21" RC100/ RC100 Trials prototype/ RC200 F5/ RC200 F8/ RC250 Trials/ RC300 Gunmetal/ RC300 Silver/ RC500 F1 DH