Right, i've pretty much gathered all the parts for my 1992 Kona Lava Dome so shortly she'll be off to Argos for a respray.
Here's how she looks right now:
I'm gonna keep the forks black to match the Syncros Stem and Hyperlight Bars but the frame is a blank canvas.
I won't lie, i think Ameybrooks Lava Dome is pretty much my dream bike: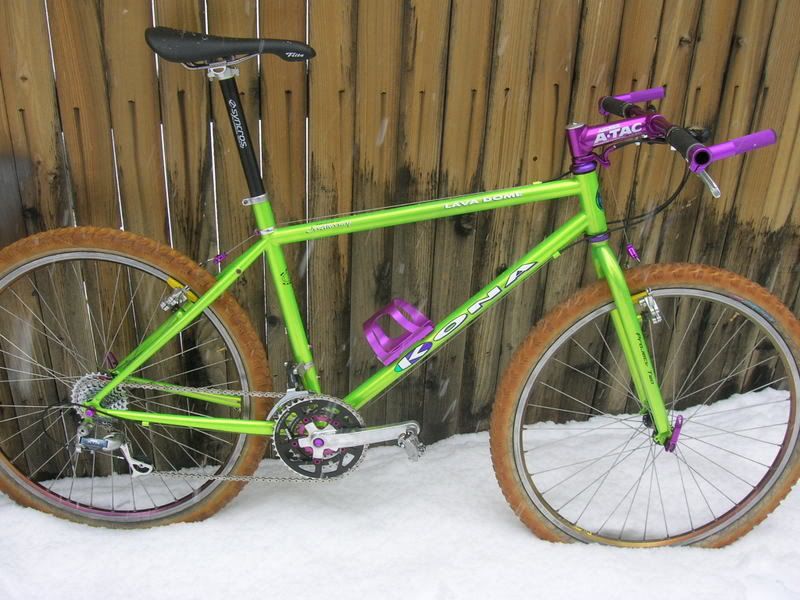 but i've chosen not to copy it completely (no purple in sight
) but i rather like the idea of a similar green on my frame... Before you say it, i've ruled out white but a bright solid Red appeals too.
Baring in mind the front is staying all black, anyone care to offer comments for suitable frame colours?
Finally, if anyone is interested, here is the Spec:
1992 Kona Lava Dome (19") with Project Two's
Mavic 217 SUP CD Rims. Front Hub: Middleburn, Rear: M737 8sp
DX Thumbies
M737 F/R Mechs
M900 Chainset
M900 8sp Cassette
Flite Ti Saddle
Kalloy Seatpost (Decent 26.4 posts are hard to find!)
Kona Impact Headset
Syncros Stem
Answer Hyperlight Bar
Onza Ules Grips
Kona High Command Brake Levers
Onza HO Canti's