bringing thread back to life, with a twist.....................
- Sex One budget build
- rear brake mount gubbed as brake arm pivot shaft is snapped
- useable with V's as is easily enough, but for some really odd reason I'm determined to fit LX cantis
- mounts for brake arms/calipers themselves are ok. its just the unusual cable routing specific to Sex One is snapped off and i'm not about to drill it out at the moment and am trying to fabricate The Quick Fix
- does the following look OK , see pic....mock up only - proper version will have better cable adjustment, length, wheel allingnment etc....i'm just checking the principle of operation here....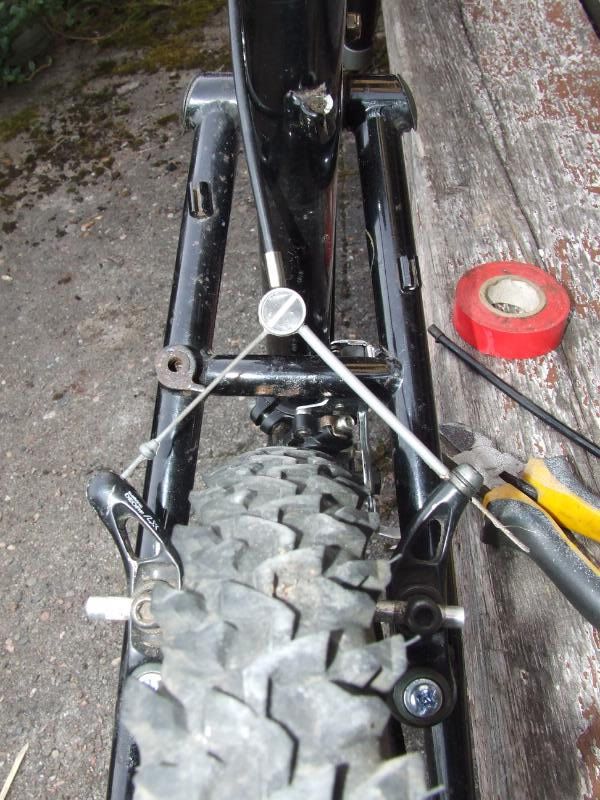 Cable runs sheathed from rear of top tube into the canti straddle. Seems solid enough, seems to work, if OK will use slightly longer length of outer.
Alternative option I have is to use an internal cylinder head locating dowel from a GPZ900R and fabricate something with an old canti arm. The dowel in question is perfect in dimension as it matches the external diameter of a brake pivot, is hollow and accepts std pivot bolt, and I have several spare in the garage. This will mount to the comma shaped boss on the LH seatstay with cable coming from the cable stop above it.
Opinions on rough setup in photo
_________________
WANTED: Kona Sex One rear brake canti hanger pivot thingy - GOT ONE!
I could be tempted by a 19" - 21" Dave Yates (mountain) frame.................and no I still don't do trail centres
http://www.corrieyairack.org/index2.html