I know they've just been voted uncool but I couldn't resist this.
It's badged as a team raleigh but that is all I know about it.
I was told it is a raleigh special products frame made by timet?
Does anyone have any knowledge of these inc age?
Catologue pics would be nice
There is a threaded hole at the back probably for a canti hanger if that helps date it at all.
Apologies for the pic, I pinched it off ebay.
Will post some better ones soon.
Chris.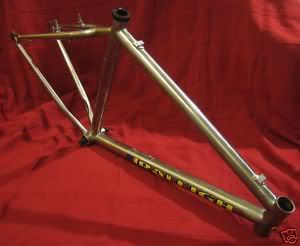 _________________
Wanted: Mountain Goat Deluxe.
Mostly riding:
2010 Mountain Goat WTR.
On way: Breezer Sky.