Hello all, woke up yesterday morn to find garage doors open and (a now two part) Kryptonite lock on the floor and two bikes missing.
If anybody spots them or hears anything i would be most grateful and im offering a large £££ reward for their return.
They were taken from Chichester, West Sussex area but could be anywhere now!!
Klein has no chainset, but has a M952 XTR left arm, had just brought the chainset from Jez but not fitted it yet!! XTR rapid rise, Bonty wheels, see the pic below, its not the type of bike to go un-noticed hoping somebody will find it!!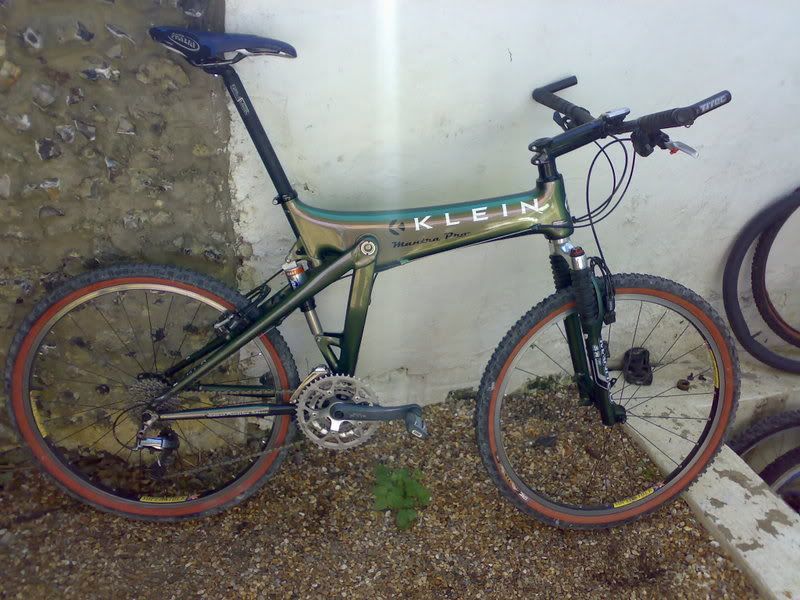 The other was my girlfriends Trek Y33 nude carbon 98 SID's in blue, XTR shifters XT r mech Mavic 517's on XT hubs
Trying not to think sbout it too much, but have already re·signed myself that i prob wont ever see them again
Got to laugh though as all three of my bikes were locked together, thank f**k for me they left me the shitty old one with no suspension!!

_________________
1991 Klein Attitude green / white / magenta
Merlin Oreas 06
Klein Mantra Pro
Merlin Cielo
Kona Jake The Snake
1997 Kona A'ha Stars and Bars