At last, a self help group for me!
Like WW Biffty I have a 1989 Tufftrax owned from new, picked up by me from the Edinburgh Bike Co-op on 17th August 1989, costing me £332.95, and that Was A Lot Of Money In Those Days. Still the frontline bike of choice, and used for a tour or two every year.
On mine the frame, forks, mechs, stem, bars, seatpost, seat(!) and thumbshifters are original, and the Biopace chainset came off only a few weeks ago, when the futility of trying to get a 38T biopace ring hit home. Replaced with an Alivio 48/38/28, which needs a narrower 113mm bottom bracket to feel the same as the old one.
The original 13-30 cassette has been replaced by a series of about 5 12-28s over the years, and the brakes were upgraded to Vs a while back. Still got the cantis if anyone is interested. Wheels only lasted 15 years, at which point the rims started to peel off, disconcerting when you are 150 miles from home...
A few recent pics show it all its powder blue finery, although I think I'll have to get it stripped and resprayed this winter, as it is rusting under the top tube from accumulated sweat when it's on the turbo trainer. Looking for a source of decals if anyone can point me in the right direction. Also resprayer recommendations (bear in mind that I'm in Orkney so it'll be mail order).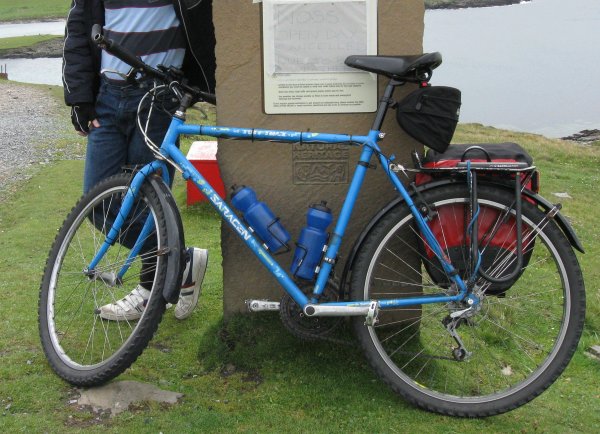 - in Shetland last summer
- after a charity run to St Andrews a couple of years ago, with original chainset shown!
- a mountain bike at the top of a mountain. Skye in the background.
Good thread! If anyone fancies a Saracen Owners Club LEJOG this year give me a shout!
Cheers
Steven