Hi guys,
I recently (6 months ago
) replaced the shifters on my Bear Valley with these Shimano: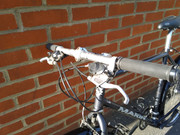 The number of speed is the same, 7, and so is the brand, Shimano. But for some reason I can't for the life of me find the correct alignment that makes shifting accurate.
It works OK on the way up (i.e. from small to big cog) but it misses the central cogs on the way down. So, for example to go from speed 4 to 5, I need to skip to 6 and the go up to 5.
Doable, but annoying, especially because it was supposed to be an upgrade
Is it possible the indexing is different?
P.S. I'm having problems only with the right hand side shifter, not the one in the foreground in the picture (confusing picture, I know, but it's the only one I have)
Cheers