This is the best pic i have right now (sorry)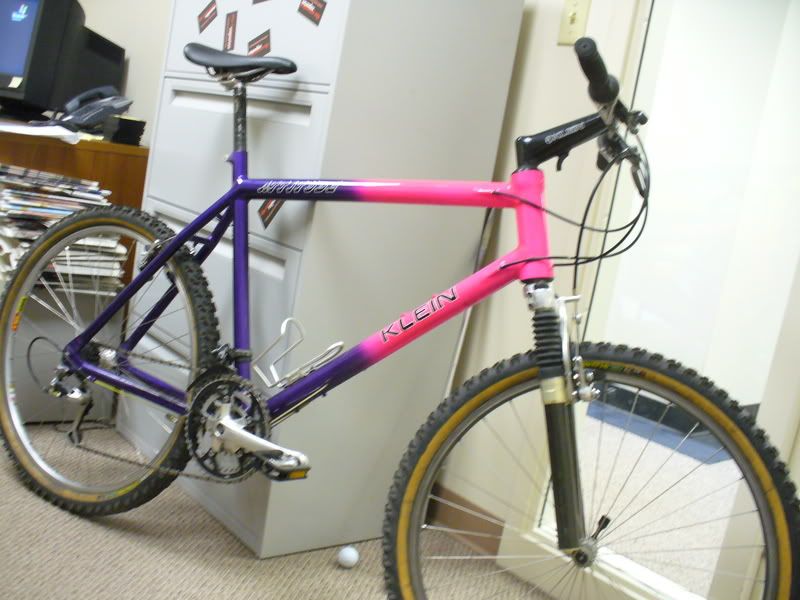 The frame is in good shape, a few scratches, and the paint still holds it it's "pop".
Frame size: Large, i imagine
Handlebar/stem/headset: Mission Control, integrated, rather upright position
Rear derailleur: XT, 737
Front derailleur: Suntour XCD (must've been a parts bin addtion. Works fine so it stays for now)
Shifters: Grip Shift X-Ray
Cables: Gore Ride-On
Brakeset: 730/727 (maybe it's full 730, i can't read the model on the back, i think)
Brake Levers: 730
Crankset: XT, 730
Chainrings: Vuelta 48 SE Plus 48 tooth, Specialized 38, Specialized something small
Cassette: I don't know, but 8 speed and it's geared HIGH (first owner must've been strong as hell)
Rear Hub: XT, model unknown to me
Rear Wheel: Ritchey 415 E
Front Hub: Nukeproof
Front Wheel: Sun Chinook, custom built
Tires: Piranha Pro, 2.1"
Fork: FSX, I believe, with Englund Air Cartridges, includes pump and various parts to go w/ fork (original pink fork included as well)
Seatpost: XTR, not sure on the exact model
Seat: Terry something
I think i got a decent deal, not great, but decent (less than $450, more than $350).
I'm not looking to sell it but do you think I did alright or did I get ripped off? I usually wouldn't ask something like this but the price of Kleins seems to be all over the place.