Just want to share a project idea I have got and see what are your thoughts about it
I have presently this machine to ride in Paris. 1x8 speed
A very light Vitus 971 frame built with dura ace rear derailleur, brakes and crankset, light fenders and a suntour xc pro thumbshifter on a small riser for my old age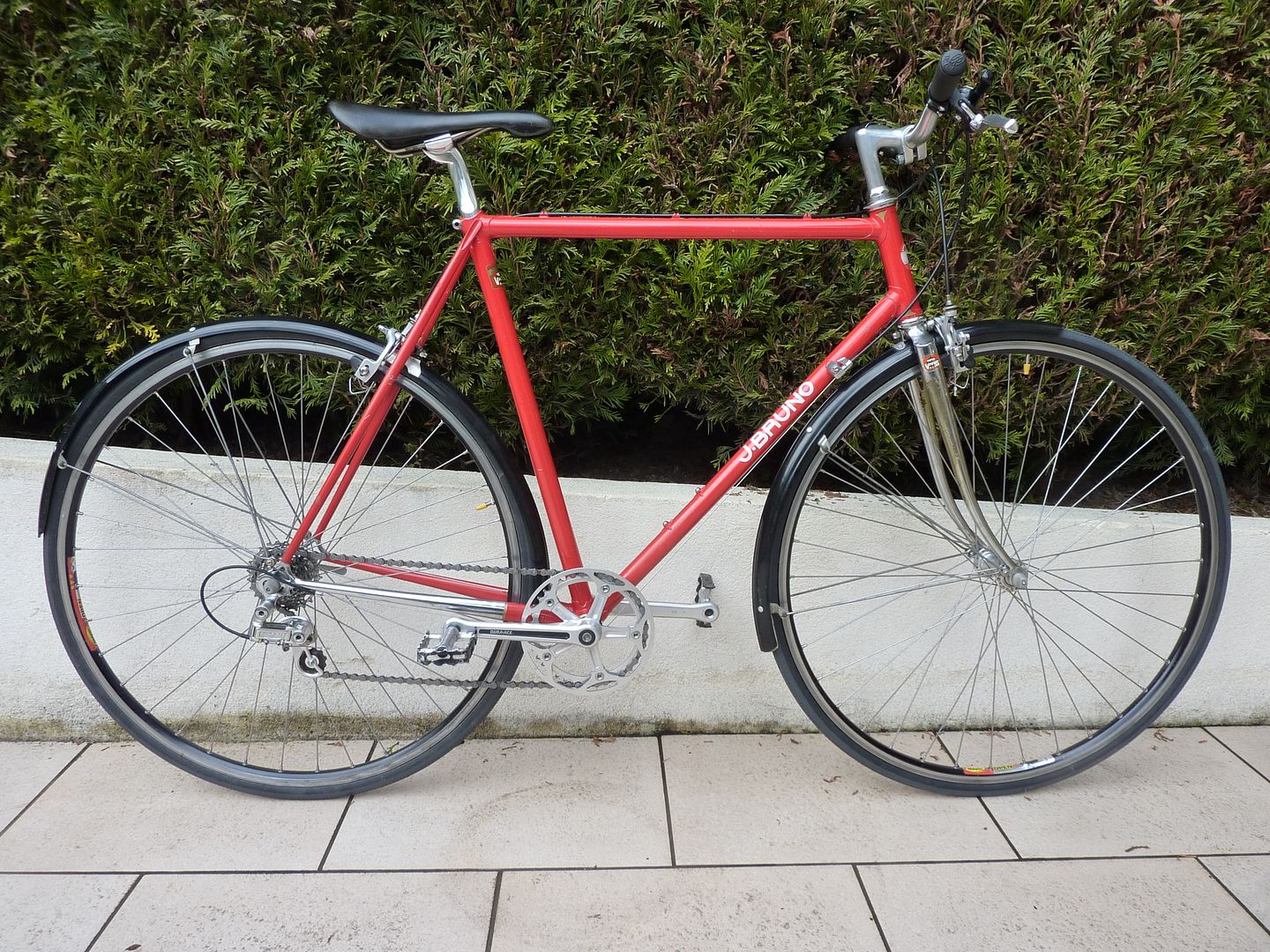 problem : I can't really ride it with a business suit and go to interviews ( I am presently jobless
)
Its actually too sporty and each time I am using it, I can't help it, I am pushing on the pedals and I am sweating
so not really fine to arrive at an interview
furthermore, pedals are not really super for use with business shoes
people would say - no trouble, use a "hollandish" bike
but I answer, I have one, and it is too heavy, drum brakes are not secure enough in Paris for me and it is heavy as a brick, and the three speed sturmey archer is not enough for a comfortable use I find
so an idea has germed into my mind, Can i build a less sporty machine than my racer but still very light and where I can attach light fenders.
For the moment, I have the following project ideas
Sunn Revolt MTB frame - light at about 1.7 kil ( of 1998 so for suspended fork)
Rigid titanium skyde fork suspension corrected
Rear wheel with an alfine Hub on a 700 mavic open pro rim
Front wheel Mavic open pro on ultegra hub
Brakes : Onza HO where new arms are to be machined to allow for a higher position of the brake shoe so being able to work with a 700 rim ( in the manner of the pauls but these Pauls are too expensive for me)
XT pedals but with toeclips
will post pics of parts later on
I am just wondering about two things
What bar shall I use ( to allow for a rather laid back position)
would a on one mary bar be Ok ? A moustache bar ? any other ideas ?
and I want to attach elegantly light fenders ( for 23 or 25C tyres)
but I have not found yet a steel or aluminium elegant collar to allow for that
What do you think about this project
does it seems crazy ?
Do you feel its well grounded with such parts ?
would another frame be better suited ?
Any ideas welcomed

_________________
Serotta Max 853 to be "MTB politically correct"
and now having been bitten by the vintage roadie bug ! is this serious doctor ?
the roadie being more on the "randonneuse" side !