As some of you may have seen via my posts in
this thread
, I recently bought an old (1992ish) Specialized Hardrock with a stuck seatpost, with the intention of getting the post out and fixing the bike up as a spare ride.
I finished off the hacksaw method job the previous owner had started but it was still stuck, prompting me to start the dreaded caustic method... The bottom bracket wasn't going to come out in a hurry so I decided to feed the caustic solution through one of the bottle cage holes in the seat tube with the bike upside-down, as suggested by another Retrobike member. Rather than using an old syringe like they did, I botched an old spray cleaning bottle into something that would do the same job. This was my second one, the first got a bit melted and leaky after a few uses....
Attachment:
photo(20).JPG [ 27.05 KiB | Viewed 750 times ]
As there was bits of metal protruding out of the top, I ended up using plasticine to seal the seat tube. I mixed the caustic solution in a thick plastic bottle, and poured in about 300ml each session. (In hindsight, I probably should have stripped the bike down to its bare frame, but nevermind...)
Attachment:
photo(21).JPG [ 36.05 KiB | Viewed 750 times ]
As time went on I got braver/impatient so went from using a solution of 1 part caustic to 5 parts water, to using nearly 1:1 by the end of it. Each time after about five minutes smoke would start coming out of the bottle cage hole, along with a black, gooey sludge (see the vid below!). After each session the post seem to be getting a lot thinner, and the top few inches started to disappear.
Attachment:
photo(22).JPG [ 30.92 KiB | Viewed 750 times ]
After one final, rather strong load last Sunday, it looked as though I'd finally done it. Flushed out the rest of the black goo today, and used some pliers to extract this final bit: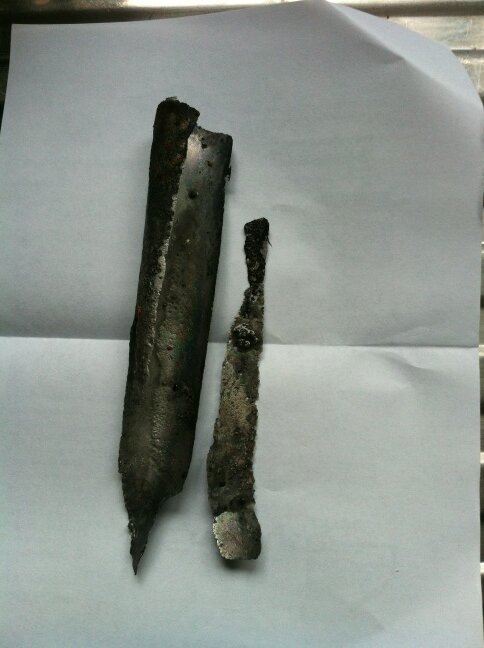 Lost track of how many lots it took in the end, I'd say probably 5-6ish, plus a couple of failed attempts with a dodgy lot of caustic crystals that didn't seem to dissolve properly. Ended up using around a kilo of soda crystals in the end, not so bad I thought. Very chuffed now, but I've got an extensive clean up job on my hands!
If anyone is thinking of trying this but is a little fearful of damaging themselves/the bike, just go for it, with some sensible precautions it's a great method of getting an alu post out of a steel frame if absolutely nothing else will work.