In 1992 I had a second hand Roberts White Spider in 16'' size, and had been using a 400mm seat post for too long, and had Saved up my Student loan to buy a D.o.g.s B.o.l.l.o.x in the right size, While in Bromley bike discussing this, I was show the fat Chance book and told i could buy a Wicked lite for the same money. Hmm, A few weeks later I'd decided I'd rather have a top bike rather than the second one down, and a Yoeddy was ordered.
In September 1993 i walked in with £1400 of hard earned cash and left with a Yoeddy Frameset, with Manitou 3's (the latest model), Syncros Stem and Seatpost.
a year later it looked like this :
between 1994 and 2000 the forks and bulls eye snowflake wheel were swapped for the Judy's and a Ringlé wheel. But by 2005 it had ended up like this when i joined Retrobike.
by the 2007 Southdowns meet it looked like this: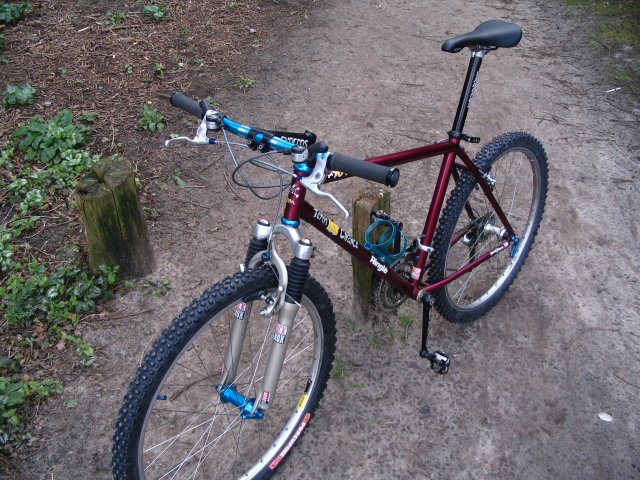 and currently looks like this:

_________________
Kandi Wild Cherry Yo, (93) 224Y3ML
1991 GT KaraKoram SOLD
1992 Roberts white spider SOLD
1993 Trek 7000 SOLD
2010 Marin Toscana SOLD
2014 Cube LTD 29er