What's the outside diameter of the headtube?
You can get 36mm ID stainless steel rings from
Ceeway
if the OD's right.
It's probably more like 38-41mm, though
Otherwise, how about getting some rings machined like the Yeti has?
Looks like they've heated them and dropped them on over the headtube (paint removed & chilled, Pipefreeze), giving a good tight interference fit, like a cartwheel tyre.
Maybe even just bonded with a high strength Loctite (638?), but that won't close the crack up to restore the headset fit.
If you have to resort to a clamp,
DKG
make some pretty big seatclamps at 1 1/2"(38.1mm+-0.2) and 1 5/8"(41.3mm +- 0.2). I've got both sizes in stock.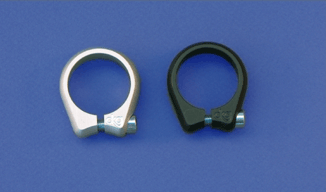 All the best,
_________________
Dan Chambers
danson67
Pause, take a breath and ask yourself: "What would
Rast
amo
use
do?"
New in the quiver:
Danson Pinion P1.18 hardtail