Does anybody ever see any of the 89-90 saracen trekker comps still kicking around ? Do you have one ? Did you have one?,
Pea green colour with the rear seatstay-wishbone mounted U-brake and fork U-brake up front................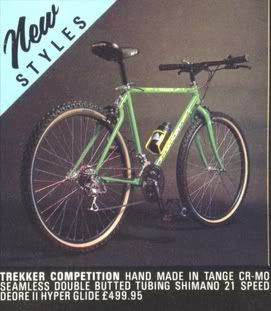 What did you guys think of them
Love
Hate
I loved these things and there was a lot around at one point, Used to be a mint one in york and was gonna offer to buy it next time I saw it, but typically now I have dosh I dont see it any more
.
If youve got one you want to offload or know of one FS somewhere, give us a nod.

_________________
Stabled = 91 Browning Test unit - 87 Chas Roberts Snow Leopard - 88 Overbury's pioneer - 89 Bromwich - Dave Yates Diabolo - Mk1 Thorn Nomad - Thorn Raven tour - Dave hinde disc - frontiera 531 - Serotta Proflex - 92 orange clockwork - 86 Orbit Frontier - 85 F.W.Evans