Hatched yesterday after one too many glasses of Leffe, I committed to ride the same route today, three times, on three different bikes to see if there were any particular conclusions that could be drawn.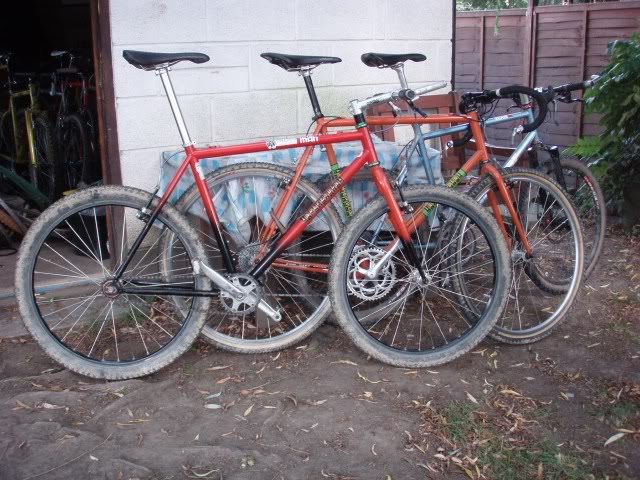 Route
Typically takes about 100 minutes, a bit of up and down, mostly singletrack, rooty but not rocky, all rideable bar some steep wooden steps. Conditions under tyre were mainly dry and dusty with only a few softer patches.
The bikes
First up was a rigid ss with v brakes and fairly modern 2.2" tyres with minimal grip, pumped up hard.
Next up was a geared cyclocross bike, compact chainset, barend shifters, cantis and fairly aggressive knobblies pumped up to 75psi.
Finally a rigid geared bike with mechanical disk brakes and 15 year old 1.9" tyres, again pumped up hard (notice a theme?)
The approach
The intention was to ride reasonably steadily - the purpose wasn't which bike was quickest as doubtless whatever I rode first would be - and take roughly the same time for each section.
In the interests of 'science' I will record what I consumed:
Before - left over barbecue with spicy sauce on two cheap rolls.
During each ride - a bidon of water, nothing else.
After 1st ride - salt beef sandwich, small portion of spicy tomato pasta salad, half a small bar of Dairy Milk, a can of Diet Red Bull
After 2nd ride - jalepeno chicken wrap, small portion of roasted tomato and basil couscous, half a small bar of Dairy Milk, a can of Diet Red Bull
Conclusions?
- all three bikes were 'fit for purpose'
- each one made the route different. On the ss the temptation was to get stuck in and the v brakes and ceramic rims worked a treat in the dry. The cyclocross bike had me being a bit more selective in avoiding things with the cantis making me more anticipative when I had to brake - go into a corner a bit 'hot' and there wasn't much you could do but hope you'd come out the other side. On the disk braked bike, while I was tired, you could charge around with the knowledge that stopping wasn't a problem.
- getting your legs ripped by thorns three times over isn't fun
- I should have included a bike with suspension in the test
- I think the differences in brakes and tyres would be much more apparent in the wet or on a more technical route so might be worth repeating at some point
- it was a good way of making me go out three times!
Anyone else tried this or similar?