Thanks for the comments
This is probably a better picture of the bits :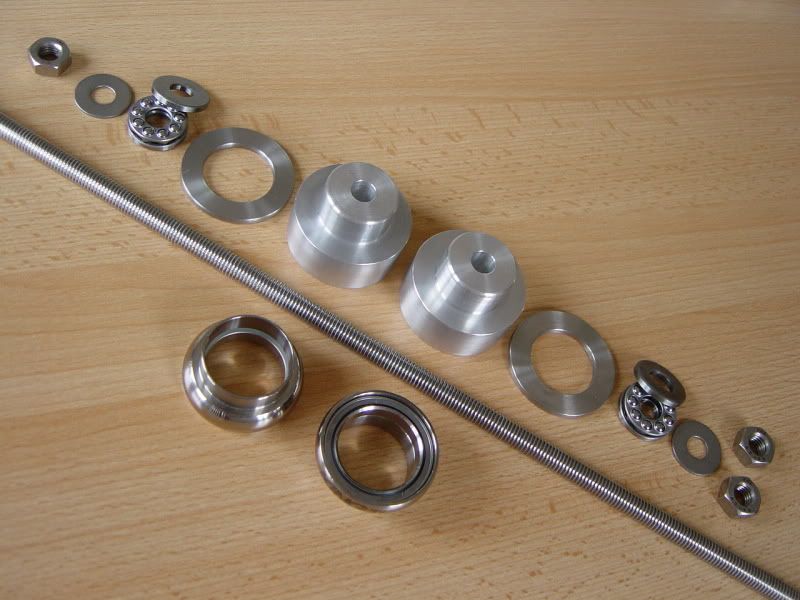 Yes, the bits were quite cheap :
• M10 Stainless nuts : pennies (and I already had them in my stash - check eBay)
• M10 Stainless washers : pennies (already had as above)
• M10 Stainless studding : I think about a fiver off eBay (for three lengths)
• 2 x thrust washers : £2 each of eBay
• The ally bits and large stainless washers : I would have made these myself but as I have lost access to a lathe
I used the services of broardy (he's posted above), but I got them with a batch of stuff so I couldn't comment on individual cost, you had better contact him directly
I (like most things
) probably over thought it but things I considered :
• Long ally bodies to provide even / parallel pull by location on the studding.
• Close tolerance on the bore to help above.
• Close tolerance on the OD to suit the ID of the King - better location.
• Stainless washers on the ally parts so the Ti didn't dig in (use without for ally headsets so as not to damage ano).
• Thrust washers on the ends so the turning motion of the shaft nuts doesn't rotate the cups before they start to bite in the frame - it would be rude for the King logo not to face perfectly forward ...
• Double nut on the top locked together so I could use a socket on the wrench (less chance of slipping and dinging the top tube) - I will get these tig welded next time I have some done.
• Single nut on the bottom - this is the one I tightend with a ratchet ring spanner, always pull away from the frame
The crown race press is made from offcuts. If I remember rightly the main piece is imperial and the collar is metric. By chance they are a near perfect fit so a bit of glue bonds them solid. The cap is to try and top the top splitting when you whack it (it worked). I used a rubber dead blow hammer.
Hope that helps
WD