Things are finally settling back to normal after the Cackalacky weekend. Here is a brief recap of the weekends activities
Paul Sadoff, of Rock Lobster, was scheduled to fly in Thursday night but had fallen off of his bike the previous week and hurt his hand which required surgery. The procedure was scheduled for Wednesday and Paul was informed that he couldn't fly that soon after surgery....so Paul was out at the last minute.
Friday evening saw the arrival of Otis Guy and Capt. Dondo into Charlotte Douglas Int'l Airport and they were whisked away to a local BBQ joint. EL and Don joined in after an eventful trip from Raleigh in the single speed (truck). Lancasters features a full sized school bus that you can sit in plus hundreds are NASCAR race car hoods, pedal cars, video games, big screens, helmets, fire suits..........dripping from every crevice of the building. Pig and beer were consumed.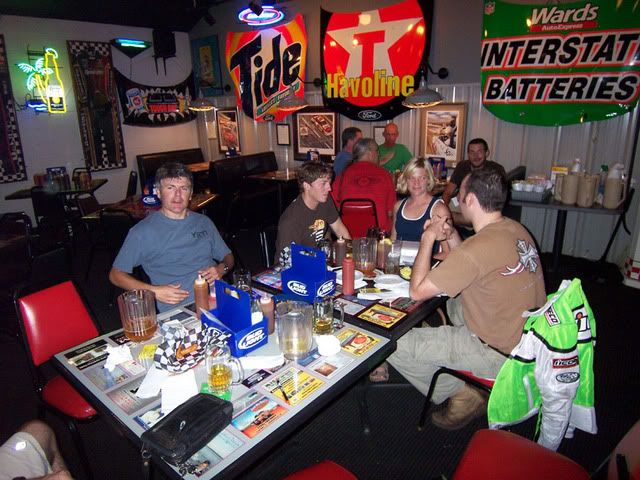 Saturday morning brought the first mountain bike competition ever held at the Itusi Trail at Lake Norman State Park. We have over 6 years and thousands of hours invested in 13 miles of rolling single track. The first event was a 4 mile technical time trial featuring a couple of cone slaloms, a 12' skinny and a limbo with 2 different heights. If you skipped or missed an obstacle, seconds were added to your race time. The second event was a 6 mile "all out" time trial on the new Monbo Loop. The ride times were combined for an overall winner. Otis won the 50+ category and Dondo finished six Source Burns (to be regretted later). The fastest lap in each event chose between a Fox Fork and Cane Creek wheel set. There were some really great prizes that went 3 deep in each category. While we were putting on the event, wES called from the shop to let us know that Bill Grove was wandering around town with a van load of Grove bikes. Rody, of Groovy Cycleworks, had brought Bill and his two sons down to check out the festivities. After checking out the shop for a couple of hours, they came down to the park and put in a lap.
The Ti Grove X 29" made the scene with a Rohloff hub: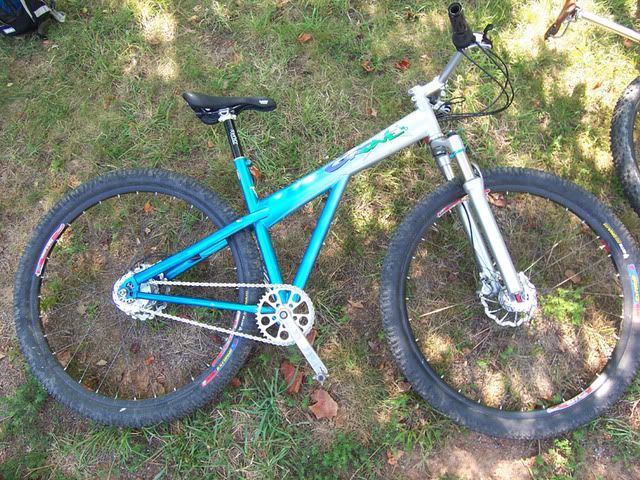 Bill also brought their Grove Woods bike. There were only 3 produced and one was destroyed leaving ours and Bills as the only surviving bikes of that model: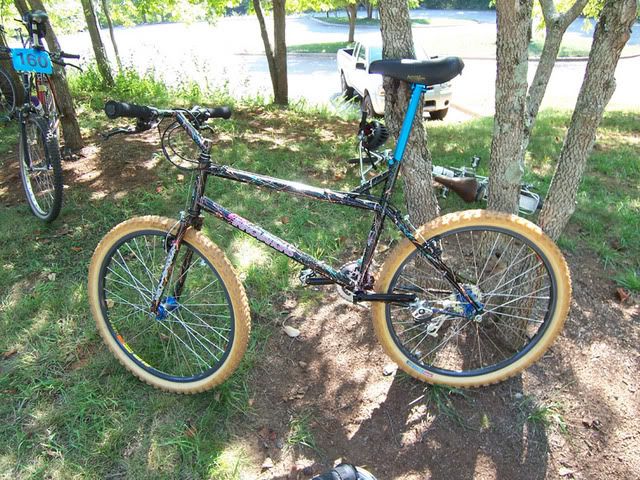 Rody brought a cool Groovy with his new bars on it. We are trying a couple of sets of them and feedback has been great: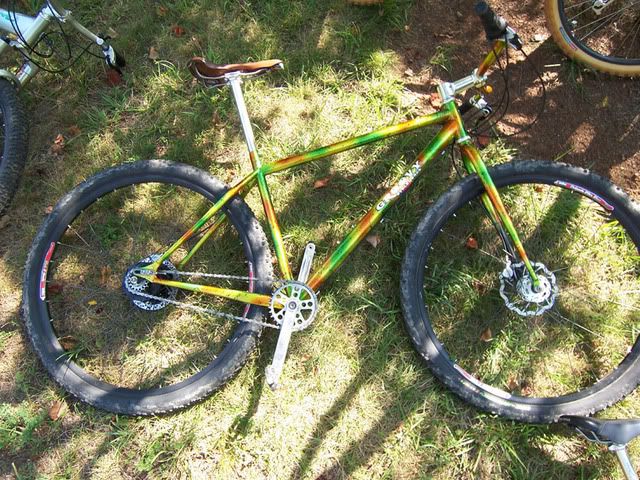 Don took the theme to heart and rode his Otis Guy all weekend. As a bonus, Otis promised to send him a "nickel plug" to replace his Salsa bar end plug on top of the steerer tube.
After the ride, we adjourned to the shop for pizza, veggies and beers. bOb, our local trail guru, was celebrating his 50th on Sunday so we combined the open house with a birthday party.
Work room at the shop:
About 1/16 of the upstairs: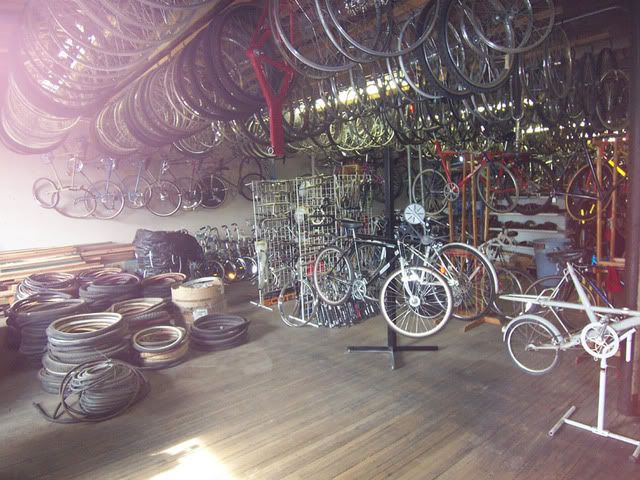 Otis, Dondo, wES, myself:
Sunday morning brought the bike Pisgah excursion. We rode a 16 mile loop that started with a nice warm-up fire road climb and was capped by a 1,400 foot elevation drop in a mile. The Garmin read up to -34 degree slopes! After the big descent, there are about a dozen creek crossing to help cool you off. Someone on the ride must have angered the insect gods since we were fighting with the yellow jackets and hornets throughout the ride.
Rick on his Fat Chance: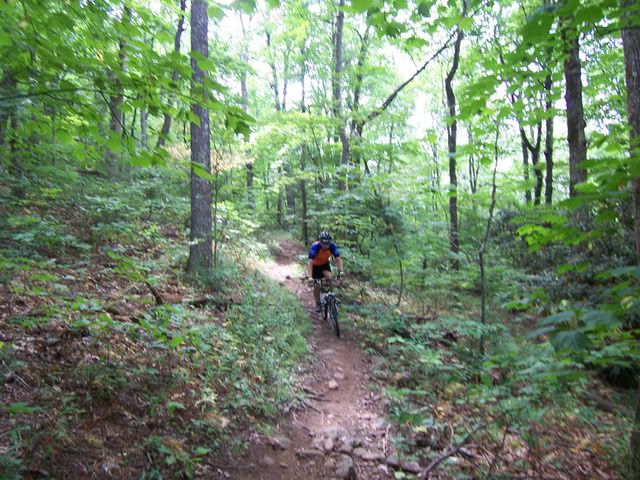 Otis and Dondo getting ready:
Regrouping on the fire road climb (4 new Mountain Goats!):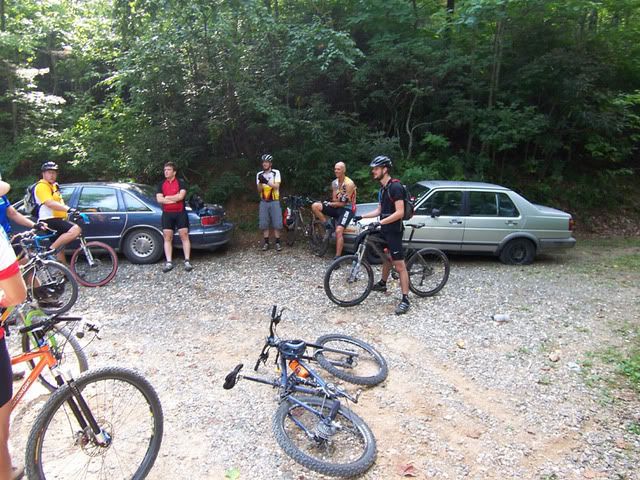 After the ride, we had to haul butt back to Charlotte to get Otis on his flight so he didn't miss the kids first day of class. Dondo had remembered the Pisgah ride being on Monday from 2006 and wasn't flying out until Tuesday which gave him a little more time to hang around the shop and buy snow globes.
All in all, a FANTASTIC time. Just hanging out with Bill, Otis and Dondo was great. I spend 4+ hours on the way to and from Pisgah just listening to Dondo and Otis talk about their time in the sport we love. Everything from 1970's road races, world championships, Breeze/Fisher/Ritchey, Repack, magazine reviews, Iditabike (twice!), best bikes...........as the commercial says: priceless. And being able to share it with VRC regulars like EL, Rick, Don, wES and Rody made it even better.
We have already started working on ways to make next year even better. There have also been discussions with two of what I would consider that biggest VRC names to attend Cackalacky 2008, details as they unfold.
The pictures are still coming in so we'll hopefully have a few more to share in the near future. See ya in '08.